Overview
Overview
In the United States, the medicolegal investigation of unusual, suspicious, sudden and unexplained, violent, and non-natural deaths, including those deemed a possible threat to the public health, is usually performed by a coroner system or a medical examiner (ME) system. [1] Such systems may be organized at a county, regional, or state level, depending upon the laws of particular states. [2]
Although laws governing the types of deaths to be investigated and autopsied differ from state to state, almost all deaths that are sudden, unexplained, or non-natural will be investigated. Whether or not an autopsy is performed in certain subtypes of these deaths is often determined by statute, precedent, custom, or discretion of the investigating agency. These "non-permit" autopsy examinations are distinct from those hospital deaths that are natural and for which the legal next-of-kin gives permission to the prosecting pathologist.
In cases that come under the purview of the coroner or ME, the need of the jurisdiction to determine the cause of death (the underlying event leading to death) and the manner of death (homicide, suicide, accident, natural, or not determined) overrides objections the next-of-kin may have regarding autopsy. Coroner and ME offices also work hand-in-hand with law enforcement, regulatory, security, and other agencies to explain and monitor biologic and chemical threats, deaths due to consumer products and medical devices, drug-related death, and infectious diseases such as influenza and others. [3, 4, 5, 6, 7, 8]
See the following for more information:
Historical Information
The coroner system has its roots in the English colonial period of settlement in the New World, as the English brought their death investigation procedures of the 17th century with them, the coroner being the representative of the Crown (hence the title) in investigating death.
Early American coroners attempted to apply current knowledge and common sense to death investigation; however, physicians were few, and the specialty of pathology and laboratory medicine was not yet extant. [9] The first law authorizing the coroner to require participation of a physician in the death investigation process was enacted in 1860 in Maryland, and in 1868, a physician coroner was appointed in Baltimore.
In 1877, Massachusetts replaced lay coroners with physicians called medical examiners (MEs), the first official use of the title in the United States. At the time, the ME was confined to investigating cases of death possibly occurring by violence. By 1918, New York City had a medical examiner department headed by a physician. As physicians and lay professionals obtained training in medicolegal investigation of death in the northeastern United States, they took that training and began to move to other areas of the nation, establishing ME systems. [2]
Present-Day ME and Coroner Systems
In most areas having a coroner system, coroners are elected officials and do not need to be physicians (with the exception of Kansas, Louisiana, North Dakota, and Ohio). Should an autopsy be warranted, the coroner will often consult with a pathologist or forensic pathologist. Medical examiners (MEs) are usually appointed and are physicians, although they may not necessarily be mandated to have special training in pathology or forensic pathology.
Terminology may differ from state-to-state, as in states such as North Carolina, Tennessee, and Michigan, in which county MEs are physicians but do not necessarily perform autopsies, whereas in Kentucky the term "medical examiner" is synonymous with "forensic pathologist." In general, a "medical examiner" is most often a physician and, in many states, a forensic pathologist as well. [2]
Many concerns about the relative merits of (usually) nonphysician coroners and (usually) physician MEs have been passionately debated for decades, and the conversation, heated at times, shows no signs of abating. Recognition of the need for improvement in the patchwork death investigation systems of the nation has been around for 80 years, beginning with National Research Council reports of 1928 and 1932 that identified problems and made recommendations that are still germane today. [10]
The Model Postmortem Examinations Act in 1954 described a foundation to develop ME systems, but over half a century later, it has not been generally accepted or implemented. Subsequently, coroner/ME issues of education, training, funding, and legislation have been addressed in a 1968 National Research Council Committee on Forensic Pathology, a 1985 National Association of Counties conference, and a 2003 Institute of Medicine Workshop. [11] Most recently, the National Academies of Science has published Strengthening Forensic Science in the United States: A Path Forward, [12] once again addressing the same issues as before, with many new ones added to the mix of discussion, including the application of existing and new technologies to forensic medicine and pathology.
Many organizations, such as the National Association of Medical Examiners (NAME) [13] and American Academy of Forensic Sciences (AAFS) [14] are in the forefront of efforts to improve death investigation and to address longstanding issues of education, training, and funding. Hanzlick has eloquently described the legislative, political, geographic, population-based, financial, and manpower challenges that stand in the way of improving death investigation systems. [10] Recognizing that these are impediments in the establishment of ME systems, Hanzlick advocates concentrating on bolstering coroner training (already mandated in some states, such as Kentucky) and credentials, as well as ensuring the availability of trained physicians and forensic pathologists. [10]
The types of death investigation systems in each state are shown in the following images, along with mention of features that make certain states unique. Among the 50 states, if a person wants to contact the titular head of each death investigation system, that person would have to telephone, e-mail, or send mail to more than 2000 individuals. The large number of systems is just 1 obstacle to the promotion of standardized practices throughout the United States.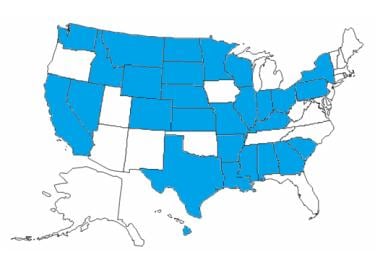 The shaded states have coroners in some or all counties. In Nebraska and some parts of Washington, the county prosecutor is the coroner. In some areas of California, the sheriff is also the coroner. In Kansas, the appointed physician Coroners serve districts of multiple counties. In New York, some counties may have more than one coroner. Kentucky, Montana, North Dakota, Arkansas, and Mississippi have coroners in all counties, but the state also has a state medical examiner. In Texas, justices of the peace may perform coroner duties. Idaho, Nevada, Colorado, Wyoming, South Dakota, Nebraska, and South Carolina have coroners in every county. The remaining shaded states have combinations of coroner and medical examiner systems.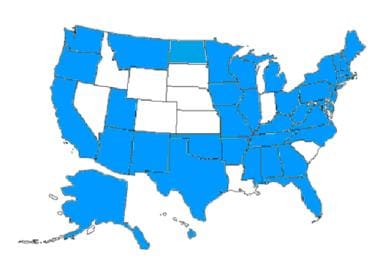 The shaded states have some form of medical examiner system serving the state or parts of the states. Alaska, Oregon, Montana, North Dakota, Utah, New Mexico, Oklahoma, Arkansas, Iowa, Kentucky, West Virginia, Virginia, Tennessee, Georgia, Alabama, Mississippi, North Carolina, Maryland, New Jersey, Connecticut, Delaware, Rhode Island, Massachusetts, Vermont, New Hampshire, and Maine each have state medical examiner offices. As shown in the previous image, some of the aforementioned states also have coroners, and Georgia and Alabama also have county medical examiners in one or more counties. The state medical examiner in Virginia, New Jersey, and Kentucky has district or regional Offices. Florida has 28 district medical examiner offices but no state medical examiner. Arizona and Michigan have medical examiners in each county, but these medical examiners may not be pathologists and may actually serve more in the capacity of a coroner. The remaining shades states (Washington, Texas, Hawaii, Minnesota, Wisconsin, Ohio, Illinois, Pennsylvania, and New York) have mixtures of coroner and medical examiner systems.
The struggle continues to truly honor the deceased of our nation and the loved ones they leave behind, as well as our public health and legal systems, by providing all Americans with truly professional death investigation systems regardless of where they may live.
What would you like to print?