Workup
Laboratory Studies
See the list below:
Hypoproteinemia: The most common laboratory finding is hypoproteinemia. Hypoalbuminemia is most prominent, and lymphocytopenia and hypogammaglobulinemia (eg, immunoglobulin A [IgA], immunoglobulin G [IgG], immunoglobulin M [IgM]) are also prominent. Cholesterol levels are not usually elevated.

Alpha1-antitrypsin

In random dry stools, alpha1-antitrypsin has been used to indirectly measure protein leakage in the GI tract. Alpha1-antitrypsin is negligibly broken down by intestinal proteases and, thus, is excreted in the stool intact. While measurement of stool alpha1-antitrypsin may serve as a good screening examination for protein loss, several studies show poor correlation between the value of alpha1-antitrypsin in the stool and its clearance measurement. In part, this is because of increased degradation of alpha1-antitrypsin in different milieus. For example, the breakdown of alpha1-antitrypsin is higher in environments where the pH level is less than 3, as in the stomach or small bowel in hyperacidity states.
The most specific test for protein loss in the GI tract is direct measurement of alpha1-antitrypsin clearance from plasma. Values greater than 24 cc/d in patients without diarrhea (diarrhea increases alpha1-antitrypsin clearance) and greater than 56 cc/d in those with diarrhea indicate protein loss in the GI tract. GI bleeding has also been shown to increase alpha1-antitrypsin clearance as a result of whole blood loss.
Imaging Studies
See the list below:
Double-contrast radiographs of the small bowel may be helpful because they may show thickened folds due to intestinal edema from hypoproteinemia, nodular protrusions, and absence of mucosal ulcerations.

Ultrasound and CT scans are also useful in identifying dilated intestinal loops, regular and diffuse thickening of the intestinal walls, plical hypertrophy, and mesenteric edema. CT scans may help show circumferential thickening of the small bowel wall with low attenuation (< 30 H).
Procedures
See the list below:
Endoscopy

Repeatedly, the role of endoscopy has been proven useful. Small bowel enteroscopy not only helps detect mucosal changes suggestive of the disease but also allows acquisition of histologic samples to establish a diagnosis. [6, 7, 8]
White villi and/or spots (dilated lacteals), white nodules, and submucosal elevations are observed.
Xanthomatous plaques are often visualized.

Capsule endoscopy has also been used to help identify the characteristic changes not reachable with standard endoscopy.

Jejunal biopsy

This procedure establishes a definitive diagnosis and shows dilation of mucosal and submucosal lymphatic channels.
To increase the diagnostic yield, large biopsy forceps should be used when available. In addition, because of the patchy involvement of the small bowel, obtaining multiple biopsy samples from different areas is recommended.
Histologic Findings
Intestinal biopsy results reveal the characteristic dilatation of the lymph vessels of the mucosa and submucosa without any evidence for inflammation.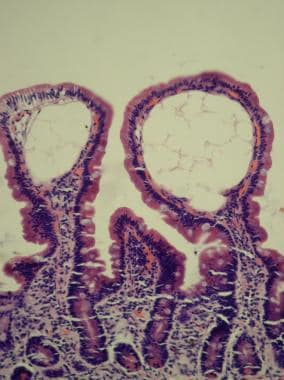 Intestinal villi of normal height with dilated lymphatics as usually seen on histology of villi in intestinal lymphagiectasia.
What would you like to print?