Workup
Laboratory Studies
Outbreaks of H1N1 influenza (swine flu) are common in pigs year-round. Historically, when humans have become infected, it is a result of close contact with infected pigs (but not consumption of pork). However, the current virus is a novel influenza A (H1N1) virus not previously identified in humans, and it appears to be spread by human-to-human transmission.
The WHO has raised its pandemic alert level for H1N1 influenza to phase 6, which means that community-level outbreaks are in at least one additional country in a different WHO region from phase 5. A global pandemic is under way. See the image below.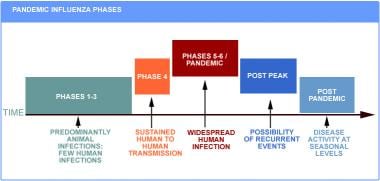 Phase 6 criteria: In addition to the criteria defined in Phase 5, the same virus has caused sustained community-level outbreaks in at least one other country in another WHO region. Courtesy of the WHO.
In the 2009-2010 outbreak in the United States, preliminary testing showed that, in all cases, the viruses had the same genetic pattern. The virus is being described as a new subtype of influenza A/H1N1 not previously detected in pigs or humans.
Clinicians should consider the possibility of H1N1 influenza virus infections in patients who present with febrile respiratory illness. The CDC criteria for suspected H1N1 influenza are as follows [2] :
Onset of acute febrile respiratory illness within 7 days of close contact with a person who has a confirmed case of H1N1 influenza A virus infection, or

Onset of acute febrile respiratory illness within 7 days of travel to a community (within the United States or internationally) where one or more H1N1 influenza A cases have been confirmed, or

Acute febrile respiratory illness in a person who resides in a community where at least one H1N1 influenza case has been confirmed.
In September 2011 the FDA approved a new CDC-developed test to diagnose seasonal flu as well as the flu viruses that could become pandemic. The Human Influenza Virus Real-Time RT-PCR Detection and Characterization Panel (rRT-PCR Flu Panel) is an in vitro laboratory diagnostic test that can provide results within 4 hours. It is the only in vitro diagnostic test for influenza that is cleared by the FDA for use with lower respiratory tract specimens and will be given at no cost to qualified international public health laboratories.
The kit utilizes a 3-module design and can:
Identify and distinguish between influenza A and B viruses,

Classify influenza A viruses by subtype, and

Detect highly pathogenic avian influenza A (H5N1) virus infection in human respiratory tract specimens.
Laboratories should send all influenza A specimens that they are unable to subtype to the Viral Surveillance and Diagnostic Branch of the CDC's Influenza Division as soon as possible for further diagnostic testing. [24]
Viral tracking and research
Internationally, scientists have been collaborating on genetic analysis of current animal and human influenza viruses. These researchers have created a human/swine A/H1N1 influenza wiki to facilitate rapid dissemination of the results of this work. The collaboration is producing insights on the origin of the H1N1 virus and should enable scientists to track its evolution as the outbreak spreads around the world. Information from the National Institute of Allergy and Infectious Disease regarding influenza genome sequencing is available to researchers studying how influenza viruses evolve and those developing new and improved ways to prevent, diagnose, and treat influenza disease. [25, 26]
What would you like to print?