Workup
Approach Considerations
See Pancreatic Function Tests, Radiography and CT Scanning, Endoscopic Retrograde Cholangiopancreatography, Magnetic Resonance Cholangiopancreatography, and Endoscopic Ultrasonography for information on elements of the workup.
In regard to childhood pancreatitis, the European Pancreatic Club and Hungarian Pancreatic Study Group note that chronic pancreatitis is an irreversible inflammatory process that culminates in changes in the pancreatic parenchyma and function. [11] Therefore, to make the diagnosis, documentation of characteristic histologic and morphologic alterations or decreased exocrine or endocrine pancreas function is required. [11]
Blood tests
Serum amylase and lipase levels may be slightly elevated in chronic pancreatitis; high levels are found only during acute attacks of pancreatitis. In the later stages of chronic pancreatitis, atrophy of the pancreatic parenchyma can result in normal serum enzyme levels because of significant fibrosis of the pancreas, resulting in decreased concentrations of these enzymes within the pancreas.
Although low concentrations of serum trypsin are relatively specific for advanced chronic pancreatitis, they are not sensitive enough to be helpful in most patients with mild to moderate disease.
Laboratory studies to identify the causative factors of chronic pancreatitis include serum calcium and triglyceride levels. When common etiologies are not found, research protocols are available to test for genetic mutations in cationic trypsinogen and CFTR.
Fecal tests
Because maldigestion and malabsorption do not occur until more than 90% of the pancreas has been destroyed, steatorrhea is a manifestation of advanced chronic pancreatitis. Neither qualitative nor quantitative fecal fat analysis can detect early disease.
Assays of fecal chymotrypsin and human pancreatic elastase 1 have the same limitations but are useful in confirming advanced chronic pancreatitis with exocrine insufficiency.
2018 Working Group for the International Consensus Guidelines for Chronic Pancreatitis recommendations
The clinical practice guidelines for the diagnostic cross-sectional imaging and severity scoring of chronic pancreatitis were released in October 2018 by the Working Group for the International Consensus Guidelines for Chronic Pancreatitis. [12]
Computed tomography (CT) is often the most appropriate initial imaging modality to evaluate suspected chronic pancreatitis (CP); it depicts most of the changes in pancreatic morphology.
CT is also indicated to exclude other potential intra-abdominal pathologies that present with symptoms similar to those of chronic pancreatitis, but CT cannot exclude a diagnosis of CP and cannot exclusively diagnose early or mild CP.
Magnetic resonance imaging (MRI) and MR cholangiopancreatography (MRCP) are superior and are indicated especially in patients in whom no specific pathologic changes are seen on CT.
Secretin-stimulated MRCP is more accurate than standard MRCP to identify subtle ductal changes. Secretin-stimulated MRCP should be performed after a negative MRCP if there is still clinical suspicion of CP.
Secretin-stimulated MRCP can provide assessment of exocrine function and ductal compliance.
Endoscopic ultrasound (EUS) can also be used to diagnose parenchymal and ductal changes mainly during the early stage of CP.
There are no known validated radiologic severity scoring systems for CP, but a modified Cambridge Classification has been used for MRCP.
A new and validated radiologic CP severity scoring system is needed that is based on imaging criteria (CT and/or MRI), including glandular volume loss, ductal changes, parenchymal calcifications, and parenchymal fibrosis.​
Pancreatic Function Tests
Direct tests
These tests are the most sensitive and can be used to detect chronic pancreatitis at its earliest stage; however, they are somewhat invasive, labor intensive, and expensive.
Determination in duodenal aspirates
Intubation of the duodenum usually is performed with a Dreiling tube, which allows for separate aspiration of the gastric and duodenal contents. The methodology varies depending on the specific laboratory; however, exogenous secretin with cholecystokinin (CCK) is used to achieve maximal stimulation of the pancreas. The output of pancreatic bicarbonate, protease, amylase, and lipase then is measured in the duodenal aspirates.
This test currently is available only in specialized centers. While the greatest sensitivity can be obtained in prolonged infusions of a secretagogue to uncover a decreased pancreatic secretory reserve, it is impractical for general clinical use.
Determination in pancreatic juice
This test generally is performed in conjunction with ERCP. The pancreatic duct is freely cannulated, an exogenous secretagogue is administered as above, and the pancreatic juice then is aspirated out of the duct as it is produced. The output of pancreatic bicarbonate, protease, amylase, and lipase are measured.
Indirect tests
Noninvasive tests of pancreatic function have been developed for detecting chronic pancreatitis. In principle, these tests work via oral administration of a complex substance that is hydrolyzed by a specific pancreatic enzyme to release a marker substance. The intestine absorbs the marker, which then is measured in the serum or urine. These tests are capable of detecting moderate to severe chronic pancreatitis. The presence of renal, intestinal, and liver disease may interfere with the accuracy of these tests. Neither currently is freely available in the United States.
Radiography and CT Scanning
Hallmarks of chronic pancreatitis that can be detected on advanced imaging studies include calcifications, pancreatic duct dilatation, chronic pseudocysts, focal pancreatic enlargement, and biliary ductal dilatation. [13]
Abdominal radiography
Pancreatic calcifications, often considered pathognomonic of chronic pancreatitis, are observed in approximately 30% of cases. Paired anteroposterior (AP) and oblique views are preferred because the vertebral column otherwise could obscure small flecks of calcium. The calcifications form within the ductal system—initially in the head, and later in the body and tail, of the gland. Calcium deposition is most common with alcoholic pancreatitis, hereditary pancreatitis, and tropical pancreatitis; however, it is rare in idiopathic pancreatitis.
CT scanning
The advantage of CT scanning is that interpretation of pancreatic CT images is relatively intuitive. However, although CT scanning excels at depicting the morphologic changes of advanced chronic pancreatitis described above, the subtle abnormalities of early to moderate chronic pancreatitis are beyond its resolution, and a normal finding on this study does not rule out chronic pancreatitis.
CT scan studies are indicated to look for complications of the disease and are useful in planning surgical or endoscopic intervention. The sensitivity and specificity of CT scanning are 80% and 85%, respectively. (See the images below.)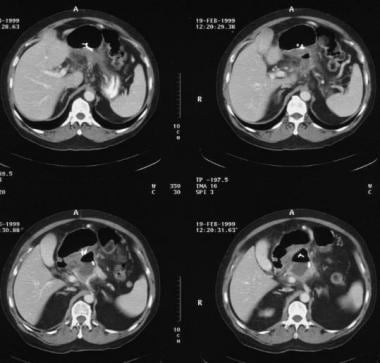 Chronic pancreatitis. CT scans of the abdomen following an endoscopic transgastric pseudocystogastrostomy. Note that 2 stents are placed through the stomach and into the pseudocyst. Before undertaking this type of endoscopic intervention, the endoscopist must be confident that a cystadenoma has not been mistaken for a pseudocyst.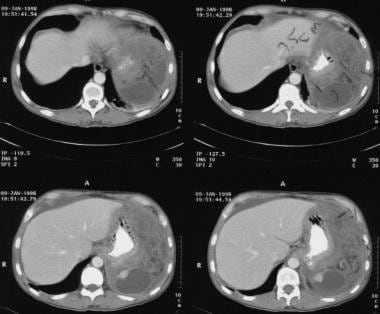 Chronic pancreatitis. This patient developed abdominal pain several weeks after being accidentally hit with a baseball bat. A CT scan showed a large splenic hematoma, and the patient underwent a splenectomy. His postoperative course was notable for recurrent pain, abdominal distension, and elevation of serum amylase levels over the course of 2-3 months. This repeat CT scan shows postsurgical changes in the left upper quadrant and a large fluid collection.
Endoscopic Retrograde Cholangiopancreatography
ERCP, demonstrated in the image below, provides the most accurate visualization of the pancreatic ductal system and has been regarded as the criterion standard for diagnosing chronic pancreatitis. One limitation of ERCP, however, is that it cannot be used to evaluate the pancreatic parenchyma, and histologically proven chronic pancreatitis has been documented in the setting of normal findings on pancreatogram.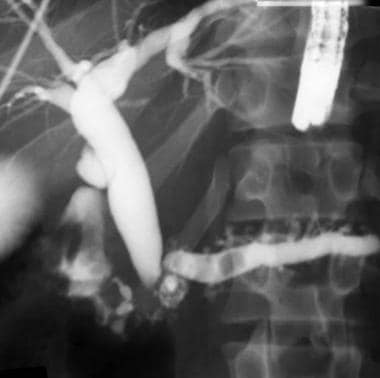 This endoscopic retrograde cholangiopancreatography (ERCP) shows advanced chronic pancreatitis. The pancreatogram has blunting of the lateral branches, dilation of the main pancreatic duct, and filling defects consistent with pancreatolithiasis. The cholangiogram also shows a stenosis of the distal bile duct and a dilated biliary tree.
Pancreatograms can be interpreted and classified according to several schemes, such as the Cambridge criteria. A comparison of ERCP scoring with direct pancreatic function tests demonstrated good correlation. However, pancreatography tended to show significantly more severe changes.
The problems with ERCP are that it is invasive and expensive, requires complete opacification of the pancreatic duct to visualize side branches, and carries a risk (operator-dependent) of pancreatitis.
Magnetic Resonance Cholangiopancreatography
MRCP, demonstrated in the image below, provides information on the pancreatic parenchyma and adjacent abdominal viscera, and MRCP uses heavily T2-weighted images to visualize the biliary and pancreatic ductal system. The use of secretin during the study enhances the quality of the pancreatogram. Accuracy is improving, and MRCP is relatively safe, reasonably accurate, noninvasive, fast, and very useful in planning surgical or endoscopic intervention.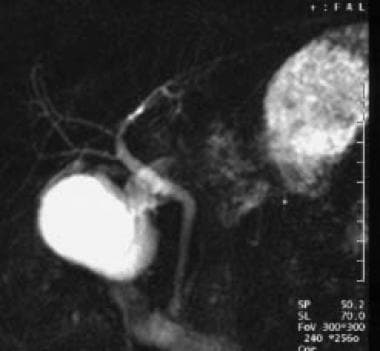 Chronic pancreatitis. This magnetic resonance cholangiopancreatography (MRCP) shows a healthy biliary system. The pancreatic ductal system is not well visualized. A subsequent endoscopic retrograde cholangiopancreatography (ERCP [not pictured]) showed pancreas divisum, with no evidence of a communication with the pseudocyst. The endoscopic features were ideal for an endoscopic transgastric pseudocystogastrostomy.
Endoscopic Ultrasonography
Although studies suggest that endoscopic ultrasonography (EUS) may be the best test for imaging the pancreas, it requires a highly skilled gastroenterologist. [14]
Eleven sonographic criteria have been developed that identify characteristic findings of chronic pancreatitis. The most predictive endosonographic feature is the presence of stones. Other suggestive features include the following:
An irregular main pancreatic duct

Hyperechoic foci and strands

Dilation of the main pancreatic duct

Hyperechoic margins of the main pancreatic duct
Before 2001, three or more of these criteria on EUS were used to diagnose chronic pancreatitis. However, subsequent data has suggested the use of five or more criteria to have higher specificity, rather than sensitivity, to diagnose chronic pancreatitis. In general, the presence of five or more of these features is considered highly suggestive of chronic pancreatitis.
EUS may be as sensitive and specific as tube tests for mild and advanced disease, especially when combined with fine needle aspiration or Tru-Cut biopsy.
Histologic Findings
In the early stages of chronic pancreatitis, the parenchyma exhibits an increase in connective tissue around the ducts and between the lobules. The degree of inflammation is minimal to moderate, consisting mostly of T lymphocytes, and a patchy, focal process unevenly affects the pancreas. With increasing severity, the connective tissue progresses between the acini, which gradually become distorted and tend to disappear. In advanced disease, fibrous tissue replaces the acinar tissue, and the pancreas becomes contracted, small, and hard. The islets of Langerhans are relatively spared until very late in the disease process.
Patients can have severe histopathologic changes of chronic pancreatitis despite normal findings on imaging studies. In patients undergoing resection of the pancreas for chronic pancreatitis, focal necrosis is found in 11.9% of cases and segmental fibrosis is observed in approximately 40% of cases.
In chronic calcific pancreatitis, plugs of precipitated protein develop within the ductal system. While they may be observed in all types of chronic pancreatitis, in alcoholic and tropical forms these plugs tend to evolve into calculi by deposition of calcium within them. The calcified pancreatic calculi are distributed irregularly, affecting ducts of various sizes, and may be associated with ulcerations of the ductal epithelium. Periductal connective tissue may encroach into the lumen and cause ductal stenoses, creating the "chain of lakes" pancreatogram appearance observed in advanced chronic calcific pancreatitis.
What would you like to print?