Periprocedural Care
Preprocedural Planning
Before the procedure, the responsible cardiologist should fully explain the risks and benefits to the patient, should obtain written consent, and should answer questions asked by the patient or family. A close physician-patient relationship is important to reduce fears about the procedure. Before the procedure, a complete history, a thorough physical examination, a complete blood count, blood chemistries, chest radiography, and electrocardiography are indicated.
Special attention should be given to identifying patients with insulin-dependent diabetes mellitus, renal insufficiency, peripheral vascular disease, contrast allergy, or long-term anticoagulation use. These conditions are associated with a higher risk of procedure-related complications.
Risk can be minimized by providing appropriate therapies before the procedure. For example, adequate hydration before the contrast load is administered will minimize the risk of contrast-induced nephropathy, [4] and pretreatment with corticosteroids will diminish the likelihood of an allergic reaction to the contrast agent. There is strong evidence that pretreatment with sodium bicarbonate, theophylline, and acetylcysteine is nephroprotective. [5]
Patients should fast for at least 8 hours before the procedure. Premedication with a mild sedative is common, and some operators administer diphenhydramine or a narcotic.
Equipment
Numerous items of disposable equipment are used for the procedure, including various catheters, wires, needles, syringes, introducer sheaths, and stopcocks. Frequently, a Swan-Ganz catheter is used for measuring right-heart pressures, collecting blood to measure oxygen saturation in various chambers, and determining cardiac output.
Pressure measurements within the left ventricle usually are obtained by using a pigtail catheter; this same catheter is used for left ventricular and aortic angiography (see the images below). A wide variety of preformed catheter shapes exist for coronary and bypass graft angiography. The outer diameter of a catheter is measured in French units, with 1 French equivalent to 0.33 mm. The inner diameter of the catheter is smaller than the outer diameter because of the thickness of the catheter material.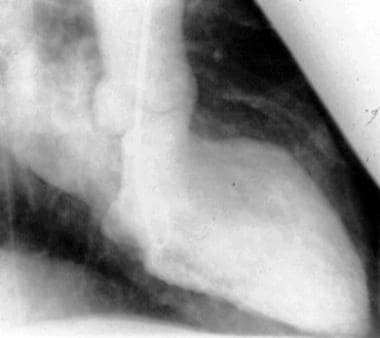 Acute severe mitral regurgitation. Image courtesy of Olurotimi Badero, MD, FACP and www.tctmd.com.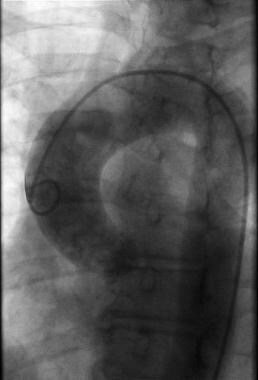 Aortogram obtained with a 6F pigtail catheter showing the ascending aorta, descending aorta, and great vessels. Image courtesy of Olurotimi Badero, MD, FACP.
Decisions about which catheter to use are based on several factors, including the following:
Vascular and cardiac anatomy

The need to opacify the coronary arteries and cardiac chambers adequately in different clinical situations

The extent to which the catheter must be manipulated and the desire to limit vascular injury and complications

The route by which arterial access is obtained (ie, the femoral artery or an upper-extremity artery)
Larger-diameter catheters (7-10 French) allow greater catheter manipulation and provide excellent visualization but have a higher potential for trauma to the coronary or peripheral vasculature. Smaller-diameter catheters (4-6 French) are less traumatic and permit earlier ambulation after catheterization, but contrast delivery may be limited in certain situations, thus compromising the quality of the procedure. The 6-French diagnostic catheter is used widely for routine angiography because it has a good balance of the necessary requirements.
A short vascular access sheath, though not a necessity, is often used to facilitate arterial access and multiple catheter exchanges, which are frequently required in this setting. To diminish the chance of trauma to the vasculature, all catheters and sheaths are advanced over a guide wire. A 150-cm length of a 0.035-in. J-tip guide wire is commonly used.
What would you like to print?