Workup
Approach Considerations
As noted under Physical Examination, rectal examination that reveals a black, soft, tarry stool on the gloved examining finger suggests upper gastrointestinal bleeding.
Ultrasonography is a safe, economical, and effective method of screening for portal hypertension. It can also demonstrate portal flow and helps in diagnosing cavernous transformation of the portal vein, portal vein thrombosis, and splenic vein thrombosis. [25] Ultrasonography of the upper abdomen may be indicated in patients with esophageal varices, especially if biliary obstruction or liver cancer is suspected. Computed tomography (CT) scanning and magnetic resonance imaging (MRI) can be used when ultrasonographic findings are inconclusive.
When bleeding is obscure and the source is unclear, a bleeding scan or angiography may be warranted; angiography can also provide therapeutic intervention in an acute bleeding episode. Selective angiography of the superior mesenteric artery or splenic artery with venous return phase can also be performed in patients with portal hypertension.
On liver biopsy, histologic findings are varied and depend not only on the cause of the liver disease but also on the cause of portal hypertension. Zone 3 necrosis can be observed in portal hypertension secondary to congestive heart failure and Budd-Chiari syndrome. In cases of normal liver parenchyma, investigate for prehepatic causes of portal hypertension.
Laboratory Studies
Laboratory studies are directed towards investigating the etiologies of cirrhosis, which is the most common cause of portal hypertension. The rate and volume of bleeding in the patient should be assessed.
Gain venous access and obtain blood for immediate hematocrit measurement. Obtain a type and cross-match for possible blood product transfusion. Measure the platelet count and prothrombin time (PT), send blood for renal and liver function tests (LFTs), and measure serum electrolyte levels.
Complete blood count (CBC)
The presence of anemia, leukopenia, and thrombocytopenia may be present in patients with cirrhosis. Anemia may be secondary to bleeding, nutritional deficiencies, or bone marrow suppression secondary to alcoholism. Pancytopenia can result from hypersplenism, a common complication in patients with portal hypertension. Serial monitoring of the hemoglobin and hematocrit value is useful in patients with suspected ongoing gastrointestinal bleeding.
Liver disease–associated tests
Abnormal liver function can be approached as a transaminitis (an elevation of the plasma activity of aspartate aminotransferase [AST] and alanine aminotransferase [ALT]) or cholestasis (an elevation of bilirubin, especially conjugated bilirubin, with or without increased alkaline phosphatase [ALP] activity), both of which may occur in cirrhosis. However, normal liver function studies do not exclude liver disease, as a "burned out" liver (ie, one that loses features of disease activity) may not give rise to aminotransferase activity.
Type and cross-match
Transfusion with packed red blood cells (RBCs) and fresh frozen plasma (FFP) are usually required in patients with massive variceal bleeding.
Coagulation tests
Coagulation studies include PT, partial thromboplastin time (PTT), and international normalized ratio (INR). Because the synthetic function of the liver is impaired in cirrhotic patients, coagulopathy with prolonged PT and PTT is expected; INR is also used to assess the severity and prognosis of the liver disease through Model for End-Stage Liver Disease (MELD) score calculation (see the MELD Score calculator). Prolonged INR is suggestive of impaired hepatic synthetic function. See also the Medscape Drugs & Diseases articles Cirrhosis and Liver Transplantation.
Blood urea nitrogen, creatinine, and electrolytes
Blood urea nitrogen (BUN) and creatinine levels may be elevated in patients with esophageal bleeding; BUN is also used in calculating the Blatchford bleeding score in the initial evaluation, and serum creatinine results are used in calculating the MELD score.
Arterial blood gas (ABG) and pH measurements
A high anion gap may suggest hyperlactatemia or hyperammonemia.
Hepatic and viral hepatitis serologies
Obtain viral hepatitis serologies, particularly hepatitis B and C. These may help in assessing the cause of liver cirrhosis.
Other laboratory tests may include the following:
Albumin levels - Hypoalbuminemia is commonly found owing to the liver's impaired synthetic function

Antinuclear antibody, antimitochondrial antibody, antismooth muscle antibody

Alpha1-antitrypsin deficiency

Ceruloplasmin, 24-hour urinary copper - Consider this test only in individuals aged 3-40 years who have unexplained hepatic, neurologic, or psychiatric disease
Duplex Doppler Ultrasonography
On duplex Doppler ultrasonography, features suggestive of hepatic cirrhosis with portal hypertension include the following:
Nodular liver surface - However, this finding is not specific for cirrhosis; it can also be observed with congenital hepatic fibrosis and nodular regenerative hyperplasia
Limitations of ultrasonography include the fact that the reproducibility of data is problematic and that many variables, such as circadian rhythm, meals, medications, and the sympathetic nervous system, affect the portal hemodynamics. Moreover, significant interobserver and intraobserver variation exist in quantitative ultrasonographic measurement.
CT Scanning and MRI
CT scanning
Computed tomography (CT) scanning is a useful qualitative study when ultrasonographic evaluations are inconclusive. CT scanning is not affected by the patient's body habitus or the presence of bowel gas. With improvement of spiral CT scanning and 3-dimensional (3-D) angiographic reconstructive techniques, portal vasculature may be visualized more accurately. (See the image below.)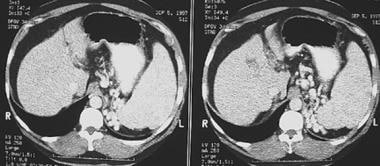 Computed tomography scan showing esophageal varices. Note the extensive collateralization within the abdomen adjacent to the spleen as a result of severe portal hypertension.
Findings suggestive of portal hypertension include collaterals arising from the portal system and dilatation of the inferior vena cava (IVC).
Limitations of CT scanning include the fact that it cannot demonstrate the venous and arterial flow profile and that intravenous contrast agents cannot be used in patients with renal failure or contrast allergy.
MRI
Magnetic resonance imaging (MRI) provides qualitative information similar to that from CT scanning when Doppler ultrasonographic findings are inconclusive. MRI angiography detects the presence of portosystemic collaterals and obstruction of portal vasculature. MRI also provides quantitative data on portal venous and azygos blood flow.
Liver-spleen scan
Liver-screen scanning is described for historical interest only, because this technique has been superseded by ultrasonography and CT scanning. Liver-spleen scans use technetium sulfur colloid, which is taken up by cells in the reticuloendothelial system. A colloidal shift from the liver to the spleen or bone marrow is suggestive of increased portal pressure.
Limitations of these scans include the fact that portal hypertension cannot be ruled out in the absence of this shift. In addition, liver-spleen scans lack spatial resolution.
Hemodynamic Measurement of Portal Pressure
Direct portal measurements are usually not performed, due to their invasive nature, the risk of complications, and the interference of anesthetic agents with portal hemodynamics.
More commonly, measurement of the hepatic venous pressure gradient (HVPG) is performed; this is an indirect measurement that closely approximates portal venous pressure. Monitoring HVPG is useful in assessing the patient's response to treatment, progression of the disease, and prognosis. Reduction in HVPG of greater than 20% of baseline or to less than 12 mm Hg significantly reduces mortality and the risk of recurrent variceal hemorrhage. [12]
A fluid-filled balloon catheter is introduced into the femoral or internal jugular vein and advanced under fluoroscopy into a branch of the hepatic vein. Free hepatic venous pressure (FHVP) is then measured. The balloon is inflated until it is wedged inside the hepatic vein, occluding it completely and thus equalizing the pressure throughout the static column of blood. The occluded hepatic venous pressure (ie, wedged hepatic venous pressure) minus the unoccluded, or free, portal venous pressure (ie, FHVP) is the HVPG.
In cirrhotic patients, measurements of peripheral endothelin-1 (ET-1) and transforming growth factor-beta1 levels may be used as noninvasive markers of portal hypertension and liver insufficiency. [26] Wereszczynka-Siemiatkowska et al found that peripheral levels of these mediators are strongly correlated with their hepatic levels. Among their findings were that patients with cirrhosis had significantly higher levels of peripheral ET-1 but decreased levels of transforming growth factor-beta1, as well as before and after treatment, peripheral and hepatic ET-1, transforming growth factor-beta1 and 2 levels correlated significantly with liver failure indicators (eg, laboratory parameters, Child-Pough and MELD scores) and pressure gradient values. [26]
Upper Gastrointestinal Endoscopy
Endoscopy (esophagogastroduodenoscopy [EGD]) is an essential diagnostic and therapeutic tool at an early stage to formulate the management plan for patients with esophageal varices. If active variceal bleeding or an adherent clot is observed, variceal hemorrhage can be diagnosed confidently. The presence of any of the following risk factors warrants a screening endoscopy to search for varices [12] :
International normalized ratio (INR) level of 1.5 or greater

Hepatic venous pressure gradient (HVPG) measurement of 10 mm Hg or greater

Portal vein diameter of more than 13 mm

Presence of thrombocytopenia
The presence of variceal red color signs (eg, cherry red spots, red wale markings [longitudinal red streaks on varices], blue varices) and the "white nipple sign" (platelet fibrin plug overlying a varix, resembling a white nipple) indicates an increased risk of rebleeding. [12, 27, 28]
Perform upper endoscopy, as appropriate, to screen for varices in every patient with suggestive findings of portal hypertension. This procedure allows not only direct visual evaluation of the size, location, and bleeding stigmata of the lesion, but it can also provide prompt therapeutic intervention.
At the initial diagnosis of cirrhosis, all of these patients should be considered for the presence of varices; however, endoscopy may be omitted in patients who are already on a nonselective beta-blocker for other indications. Gastroesophageal varices confirm the diagnosis of portal hypertension; however, their absence does not rule it out. At times, gastroesophageal varices are incidental findings in patients undergoing upper endoscopy for other reasons (eg, dyspepsia refractory to medications, dysphagia, weight loss); these patients should undergo further investigations for etiologies of portal hypertension.
Various indirect indices, such as platelet count, spleen size, albumin, and Child-Pugh score, have been studied to help diagnose varices without endoscopy. A case review study, however, revealed that some of these predictors are unreliable. For the time being, endoscopy remains the criterion standard for screening patients with cirrhosis for varices.
Periodic surveillance endoscopy should be performed in patients with cirrhosis as follows [29] :
Compensated patients with no varices at screening endoscopy and with ongoing liver injury (eg, active drinking in alcoholics, lack of sustained virologic response [SVR] in those with hepatitis C [HCV] infection): Surveillance endoscopy should be repeated at 2 year intervals.

Compensated patients with small varices and with ongoing liver injury (eg, active drinking in alcoholics, lack of SVR in HCV patients): Surveillance endoscopy should be repeated at 1-year intervals.

Compensated patients with no varices at screening endoscopy in whom the etiologic factor has been removed (eg, long-lasting abstinence in alcoholics, achievement of SVR in HCV patients) and who have no cofactors (eg, obesity): Surveillance endoscopy should be repeated at 3-year intervals.

Compensated patients with small varices at screening endoscopy in whom the etiologic factor has been removed (eg, long-lasting abstinence in alcoholics, achievement of SVR in HCV patients), and who do not have cofactors (eg, obesity): Surveillance endoscopy should be repeated at 2-year intervals.
Transient elastography
Although measurement of hepatic venous pressure gradient (HVPG) and upper endoscopy are considered the criterion standards for assessment of portal hypertension, ultrasonography-based transient elastography is a novel noninvasive technology to detect clinically significant portal hypertension. Further studies are being conducted to validate this. [30]
Korean investigators have indicated that shear wave elastography is a reliable noninvasive study for predicting clinically significant and severe portal hypertension. [31] In 92 patients with cirrhosis, real-time shear wave elastography measurement of liver stiffness appeared to be strongly correlated with HVPG regardless of the presence/absence of ascites. [31]
Imaging Studies
In a study that evaluated the utility of acoustic radiation force impulse imaging (ARFI), transient elastography (TE), and aspartate aminotransferase (AST) level to platelet ratio index (APRI) in 88 cirrhotic patients for the noninvasive diagnosis of clinically significant portal hypertension (CSPH) (defined as hepatic venous pressure gradient [HVPG] ≥ 10 mmHg]) and esophageal varices (EV), Salzi et al found that although all three methods had a high diagnostic accuracy for CSPH, ARFI was particularly useful in obese and ascitic patients. [32]
In a prospective study that compared the technical success rate and accuracy of shear-wave elastography (SWE) and TE for the detection of clinically significant portal hypertension (PH) in 79 patients with advanced cirrhosis who underwent SWE and TE at the time of HVPG measurements, Elkrief et al reported that the evaluation of liver stiffness for clinically significant PH had a higher technical success rate and improved diagnostic value when obtained via SWE than by TE. [33]
What would you like to print?