Workup
Laboratory Studies
Liver function test results are only mildly elevated in the absence of an underlying cirrhosis or massive hepatic malignancy.
Inherited coagulation disorders, such as activated protein C resistance, are listed in the image below. Tests for these disorders should be ordered in any case of portal vein thrombosis in which the diagnosis is unclear.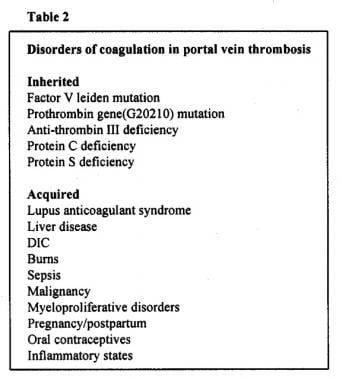 Coagulation disorders in portal vein thrombosis.
In the presence of an underlying hepatic insufficiency, levels may be low, presumably secondary to decreased production in the liver. Caution is therefore needed in making the diagnosis of an inherited thrombophilic disorder in this scenario.
Some authors suggest checking for an inherited coagulation disorder even when a local factor for portal vein thrombosis is obvious and, conversely, also checking for local factors even in the presence of inherited coagulation disorders because more than one risk factor may be present in a single patient.
Imaging Studies
Ultrasonography
Ultrasonography is the first-line diagnostic modality because of its accuracy, affordability, and noninvasiveness. Note the following:
The thrombus is observed as an echogenic lesion within the portal vein, though a recently formed thrombus may be anechoic (ie, not observable on standard grey-scale ultrasound).

The addition of color Doppler imaging is especially helpful in the detection of portal vein flow and the diagnosis of portal vein obstruction.

The sensitivity is around 70-90%, with a specificity of 99%. With Doppler, the false-positive rate is 9% in patients with cirrhosis because of sluggish or turbulent portal vein flow.

Major limitations are obesity and nonvisualization secondary to bowel gas. [12]

The presence of pulsatile, arterial flow in the thrombus correlates with a malignant, not bland, thrombus.
Endoscopic ultrasonography (EUS)
Although not a common diagnostic modality, EUS has recently been found to be 81% sensitive and 93% specific in patients with portal vein thrombosis as compared to patients with thrombus confirmed by contrast-enhanced CT scan or surgery.
MRI and magnetic resonance angiography (MRA)
MRI/MRA is the next step if further portal venous information is needed. MRI is helpful if hepatic parenchymal detail is required (in hepatic malignancies), and, unlike CT scan, MRI can also quantitate portal and hepatic vessel flow, which is required in the planning of interventions, such as shunt surgery, transjugular intrahepatic portosystemic shunt (TIPS), or liver transplantation. Note the following:
Acute clot (< 5 wk) appears hyperintense on both T1- and T2-weighted images, whereas older clots appear hyperintense only on T2-weighted images. Tumor thrombi can be differentiated from bland thrombi because they appear more hyperintense on T2-weighted images and enhance with gadolinium.

The overall sensitivity, specificity, and accuracy of the MRA are 100%, 98%, and 99%, respectively. [13] There is a high sensitivity for the detection of submucosal, serosal, paraesophageal collaterals.
CT scanning
Contrast-enhanced CT scanning shows a thrombus as a nonenhanced intraluminal-filling defect. (See the images below.) This imaging modality has the advantage over ultrasonography in displaying varices (sensitivity, 65-85%) and parenchymal hepatic abnormalities.
The combination of CT scan and Doppler ultrasonography is common in the evaluation of portal vein obstruction.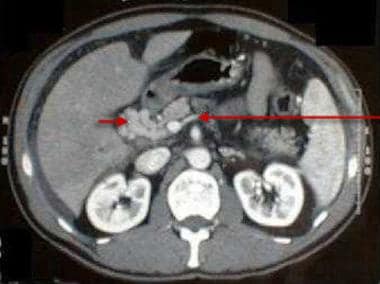 Portal vein thrombosis with cavernous transformation. The long arrow indicates the splenic vein at the junction with the superior mesenteric vein just below the site of the thrombosis. The short arrow points to a serpiginous mass consistent with periportal collaterals, the so-called cavernous transformation of the portal vein.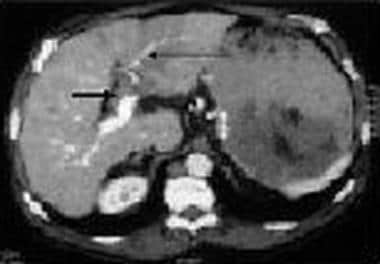 Hepatocellular carcinoma with portal vein thrombosis. The short arrow indicates the tumor thrombus with an abrupt cut off of the portal vein. The long arrow points to a compensatory, prominent left hepatic arterial branch.
Angiography
Angiography is not usually required to confirm the diagnosis of portal vein thrombosis in the presence of CT scan or MRI. Angiography's major value lies in preoperative planning before shunt surgery or liver transplantation; however, it is not a prerequisite, and many transplant centers use MRI/MRA for this purpose.
Even angiography can provide false-positive results in portal hypertension in the presence of extensive portosystemic collaterals in which the mesenteric flow is directed away from a patent portal vein.
Histologic Findings
Usually, no specific alterations are observed on the histologic examination of the liver. In rats, apoptosis has been described in the underperfused portion, with increased mitotic activity in the remaining well-perfused liver.
What would you like to print?