Workup
Imaging Studies
Barium esophagram
Perform a prone full-column barium esophagram as the initial study because it is more sensitive than double-contrast radiography or endoscopy, especially when the luminal diameter is more than 10 mm. (See the following images.) Distending the lower esophagus by performing the Valsalva maneuver enhances sensitivity. The sensitivity may be further improved by using a barium tablet or a coated marshmallow.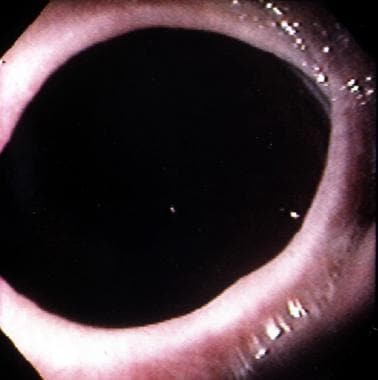 Schatzki Ring. Endoscopic appearance of the distal esophagus illustrating a Schatzki ring.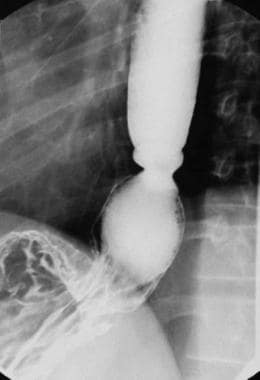 Schatzki Ring. Barium swallow illustrating an indentation at the gastroesophageal junction consistent with a Schatzki ring above a sliding hiatal hernia.
Endoscopy
Findings differ significantly by sex, age, and procedure. The most common findings in one study were stricture, normal results, esophagitis/ulcer, Schatzki ring, esophageal food impaction, and suspected malignancy. [12]
Abdominal compression during endoscopy (Bolster technique) can increase the detection rate of Schatzki rings during endoscopy. [13]
Procedures
Esophagogastroduodenoscopy (EGD)
Although barium studies are performed initially for suspected Schatzki ring, esophagogastroduodenoscopy is performed subsequently to confirm the diagnosis and to exclude any other diagnosis.
Endoscopic examination evaluates the mucosa of the distal esophagus, confirming the diagnosis of concomitant gastroesophageal reflux disease or a short peptic stricture instead of a ring.
Histologic Findings
The upper surface of a Schatzki ring is covered by squamous epithelium, and the lower surface is covered by columnar epithelium because the ring is usually located at the squamocolumnar junction. The ring is composed of the mucosa and submucosa and does not contain the muscularis propria. Occasionally, the lamina propria may contain fibrous tissue.
What would you like to print?