Technique
Percutaneous Cholecystostomy
The procedure is performed under ultrasonographic and fluoroscopic guidance, though it can be performed with only ultrasonographic guidance. [10]
Most clinicians prefer a transhepatic approach because a transperitoneal approach poses a risk of bile peritonitis. However, a transperitoneal approach can be used if the gallbladder is greatly distended.
The gallbladder can be punctured with a trocar needle-catheter or by using a Seldinger technique. Various catheters in use include the Hawkins accordion catheter and the McGahan catheter; however, an all-purpose pigtail drainage catheter can be used safely.
Bile samples are collected for Gram staining and cultures.
A small amount of contrast agent is injected to confirm the position of the catheter, and the catheter is secured to skin by using suture material. It is left to drain by gravity.
Definitive treatment for calculous cholecystitis is gallbladder removal. If surgery is not considered, as in acalculous cholecystitis, the tube can be removed after signs of infection resolve. The time for tract maturation is not well established. Davis et al advocated 7-10 days to allow tract maturation, though they did not describe whether they evaluated tract maturation by injecting contrast material. [11]
At the author's institution, the cholecystostomy catheter is generally removed after 2-3 weeks. The tube is clamped for about 48 hours to evaluate the patency of the cystic duct and to observe for any signs and symptoms suggestive of cystic duct obstruction. If the patient does not develop any complications, such as fever, pain, or an increasing white blood cell (WBC) count, the tube is removed.
Tract maturation is evaluated before the catheter is removed by injecting contrast material through the catheter while the catheter is pulled over a wire (see the image below). If extravasation into the peritoneum is noted, the catheter should be reinserted to prevent bile peritonitis. A follow-up study is performed in a few weeks in a similar fashion to evaluate for tube removal.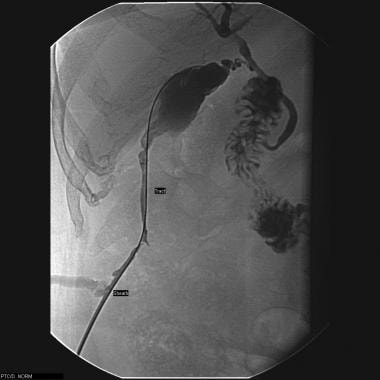 Tract evaluation for cholecystostomic catheter removal. A sheath is inserted and gradually withdrawn while contrast material is injected. No leakage of the contrast medium is seen. Note the free flow of the contrast agent to the common bile duct (CBD) and duodenum.
Complications
Complications of percutaneous cholecystostomy include the following:
Bile peritonitis

Hemobilia

Gallbladder perforation

Vagal effect due to catheter placement
What would you like to print?