Workup
Laboratory Studies
See the list below:
Clinical presentation, including diarrhea, malabsorption of nutrients, and anemia workup, influences the extent of diagnostic tests. Findings of steatorrhea, mucosal malabsorption of 2 substances (eg, fat, D-xylose), and villous atrophy (demonstrated by means of biopsy) are adequate to make a diagnosis. Response to treatment is considered by some to be the conclusive evidence that confirms the diagnosis.

CBC count: This shows megaloblastic anemia associated with reduced folate and vitamin B-12 levels in as many as 60% of patients.

Blood chemistry test: This includes potassium, calcium, magnesium, phosphate, albumin, cholesterol, and iron studies.

Stool collection test

This measures fat content over 72 hours on a diet of 80-100 g of fat.

A result of more than 6 g in 24 hours is abnormal (positive for fat malabsorption). Fatty stools are usually observed when the stool fat content is 15 g or more.

D-Xylose absorption test

For this study, 25 g D-xylose is administered orally.

In well-hydrated patients with normal renal function, abnormal results (ie, positive for mucosal malabsorption) include a 5-hour urine collection of less than 4 g and a 1-hour serum collection of less than 20 mg/dL.
Imaging Studies
See the list below:
A barium swallow and follow-through may reveal increased caliber and thickening of mucosal folds or flocculation and segmentation of barium, depending on the type of barium used.

Use of esophagoduodenoscopy may reveal subtle or dramatic mucosal changes, [7] as seen in the following images.

Endoscopic views of unsuspected celiac disease. A: Absent duodenal folds. B: Mucosal fissures and scalloped folds. C: Scalloped fold.
Other Tests
Another possible tool to determine gut health may be a noninvasive marker. In a small Australian study, Ritchie et al reported a novel use of of13 C-sucrose breath test in 36 Aboriginal and non-Aboriginal children to measure enterocyte sucrase activity as a marker of small intestinal villus integrity and function. [8] The investigators simultaneously performed intestinal permeability measurements with the lactulose/rhamnose (L/R) ratio on a timed 90-minute blood test with the13 C-sucrose breath test.
Findings included a significantly decreased absorption capacity in Aboriginal children with acute diarrhea (mean 1.9%; cumulative percentage calculated of dose recovered at 90 min) relative to Aboriginal children without diarrhea (4.1%) or non-Aboriginal children (6.1%). [8] The mean L/R ratio in the Aboriginal children with diarrhea was 31.8, whereas the nondiarrheal Aboriginal children's was 11.4.
Ritchie et al noted a significant inverse correlation between the13 C-sucrose breath test and the L/R ratio and concluded the breath test discrimated "among Aboriginal children with diarrhea, asymptomatic Aboriginal children with an underlying environmental enteropathy, and healthy non-Aboriginal controls." [8] The investigators believe the13 C-sucrose breath test "provides a noninvasive, easy-to-use, integrated marker of the absorptive capacity and integrity of the small intestine and could be a valuable tool in evaluating the efficacy of interventions aimed at improving gut health." [8]
Procedures
See the list below:
Jejunal biopsy

Mild villous atrophy

Increased villous crypts and mononuclear cellular infiltrates, enlarged epithelial cells, and large nuclei caused by folate and/or vitamin B-12 deficiency

Characteristic accumulation of lipid beneath the basement membrane
Histologic Findings
The following images are supportive of histopathologic findings of tropical sprue. [9]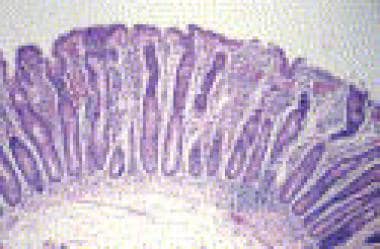 Subtotal villous atrophy (H&E, orig. mag. ×10).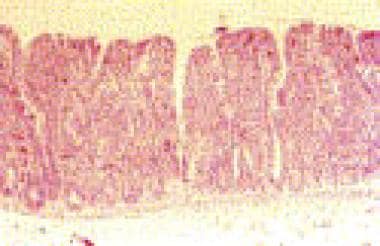 Tropical sprue (H&E, orig. mag. ×10).
What would you like to print?