Periprocedural Care
Equipment
A standard laparoscopic tray is used for a laparoscopic splenectomy, including laparoscopic scissors and atraumatic graspers.
Telescopes, including a 30° or 45° 5- or 10-mm laparoscope, are used, depending on the surgeon's preference and need for visualization.
Three or four trocars are usually needed; one trocar should be a 12-mm port that can be used for laparoscopic stapler introduction and specimen removal.
Electrosurgical devices such as an electrothermal bipolar sealing device (Ligasure; Covidien, Mansfield, MA) or ultrasonic coagulation shears (Harmonic; Ethicon Endo-Surgery, Cincinnati, OH) can be used to assist with splenic mobilization and dissection.
Typically, the splenic hilar vasculature is divided by using an endoscopic stapling device with a vascular load; however, reports have described the safety and efficacy of the electrothermal bipolar sealing device. [19, 20, 21, 22]
An impervious retrieval bag is needed for morcellation and removal of the specimen. Usually, sacs made from ripcord nylon are used because materials such as polyurethane are vulnerable to perforation.
Special items such as a suction/irrigator and fan or snake retractors for elevation of the spleen are sometimes needed; however, this is left to the discretion of the surgeon.
Ring forceps are useful for morcellating the spleen in the retrieval sac.
Patient Preparation
Anesthesia
General anesthesia is required for laparoscopic splenectomy. Adjuncts for pain management are left to the discretion of the surgeon and anesthesiologist.
Positioning
There are two major approaches to laparoscopic splenectomy: lateral and anterior.
Lateral approach
For the lateral or semilateral approach, the patient is positioned in the right lateral decubitus position at an angle of approximately 45-90° (see the images below).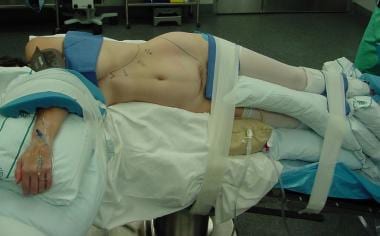 Laparoscopic splenectomy. Patient positioning for lateral approach with port placement.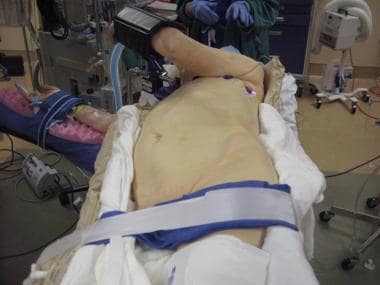 Laparoscopic splenectomy. Patient positioning for lateral approach.
Positioning and stabilization of the patient are facilitated by the use of a beanbag mattress, though various rolls and pads may be used. The patient is positioned with the umbilicus at or near the break in the table. This allows more distance between the lower ribs and iliac crest when the table is flexed and the bolster/kidney rest is elevated. All pressure points must be adequately padded. The surgeon and camera operator stand on the patient's right side, with the video monitors above and lateral to the patient's left shoulder (see the image below).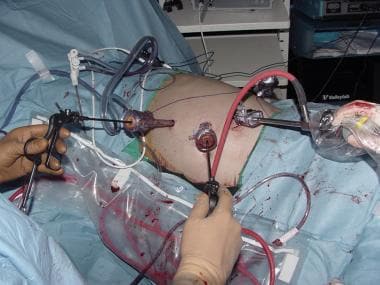 Laparoscopic splenectomy. Port placement for lateral approach.
Anterior approach
For the less frequently used anterior approach, the patient is placed supine in the modified lithotomy position; this allows the surgeon to operate while standing between the patient's legs or on the right side of the patient.
What would you like to print?