Technique
Bypass From Iliac Artery to Femoral Artery
Operative exposure
An oblique lower quadrant incision is created, with the medial portion below the umbilicus angling superiorly. This incision affords ample exposure all the way to the distal aorta if necessary. Extraperitoneal exposure to the iliac artery is achieved with the help of several Deaver or Bookwalter retractors.
Exposure of the femoral artery is obtained in a standard longitudinal or oblique fashion. Longitudinal incisions provide better access to both proximal and distal femoral arteries, especially if the deep femoral artery (profunda femoris) is deemed the main outflow vessel. Subcutaneous tissues are dissected, and the femoral sheath is entered. The artery lies lateral to the femoral vein. The common, superficial, and deep femoral arteries are dissected and controlled. Circumflex branches are controlled and preserved.
Tunneling of graft
Before heparinization, a tunnel is created with blunt dissection from the retroperitoneum to the femoral artery. Care should be taken not to avulse an artery, and the tunnel should run directly on top of the iliac artery.
Creation of anastomoses
Systemic anticoagulation, usually with heparin, is employed. Proximally, the graft is anastomosed to the common or external iliac artery, usually in an end-to-side fashion (see the image below). The graft is then tunneled under the inguinal ligament (unless this was transected during the dissection), and the distal anastomosis is placed as indicated. [2] In the case of iliac artery aneurysm, the aneurysm is excluded before the bypass procedure. [4]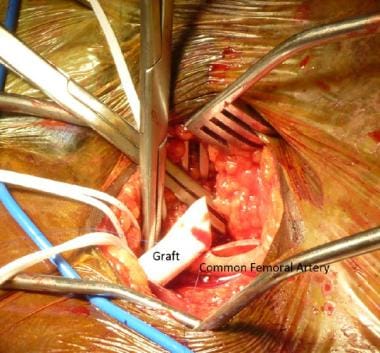 End-to-side graft to femoral anastomosis
What would you like to print?