Presentation
History
Most patients who are affected with neutropenic enterocolitis are receiving antineoplastic drugs and are profoundly neutropenic (ie, < 1000 cells/μL).
The time course and severity of the clinical presentation of neutropenic enterocolitis is variable. Symptoms usually occur within 10-14 days after the initiation of cytotoxic chemotherapy. The typical presentation mimics that of acute appendicitis.
Symptoms include the following:
Right-lower-quadrant abdominal pain, which may be cramping and intermittent or a continuous dull ache

Fever

Watery or bloody diarrhea,

[23]

which occurs in about 25-45% of patients

Nausea

Vomiting

Abdominal distention
Oral and pharyngeal mucositis (see the image below) may manifest before the onset of colonic symptoms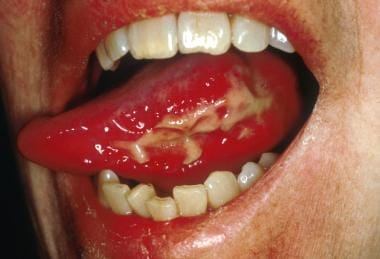 Neutropenic enterocolitis. Ulcerative oral mucositis lesion on the lateral and ventral surfaces of the tongue.
Physical Examination
Physical findings in patients with neutropenic enterocolitis vary according to the severity of the disease and the presence or absence of complications. The following may be noted:
Abdominal distention, hypoactive bowel sounds, and a tympanitic abdomen may suggest ileus

The abdomen may be markedly tender, especially in the right lower quadrant

The cecum may be palpated as a boggy mass

Rebound tenderness and rigidity may suggest colonic perforation

Shock may be present as a consequence of sepsis
What would you like to print?