Periprocedural Care
Patient Education and Consent
Before the cardiac catheterization, the cardiologist should explain all of the potential risks and benefits to the patient, including the possible need for unplanned coronary intervention. Discussion of the intervention should include information regarding placement of a stent and other invasive techniques used for evaluation, including fractional flow reserve (FFR) measurement.
Risks specific to the FFR procedure include the need for additional contrast use and radiation exposure, as well as a slightly increased risk of coronary arterial dissection with FFR wire passage. Besides explaining the risks and benefits, the physician should answer any other questions the patient may have regarding the procedure.
Preprocedural Planning
After a diagnostic cardiac catheterization has been performed and a stenosis has been identified (see the image below), the cardiologist makes the decision as to whether FFR measurement is likely to be useful.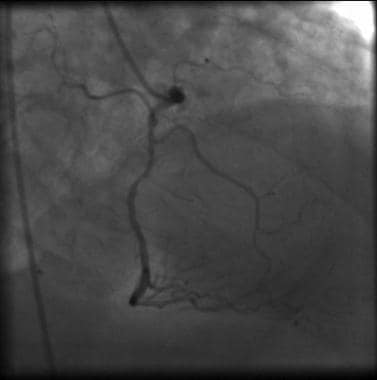 Fractional flow reserve measurement (FFR). Angiography of the right coronary artery demonstrates an intermediate-grade lesion in the mid vessel. Intermediate-grade lesions such as this should be further evaluated with fractional flow reserve measurement.
Equipment
Volcano Corporation (San Diego, Calif) [9] and St Jude Medical, Inc (St. Paul, Minn) [10] are the 2 main producers of the devices and systems used to measure FFR.
FFR equipment manufactured by Volcano includes the following:
ComboMap Pressure and Flow System - This is a combined system that displays both pressure and flow

ComboWire XT Guide Wire - This wire allows simultaneous measurement of intravascular pressure and Doppler flow and, thus, is capable of measuring stenotic and microvascular resistance; it is available in 2 models, one with Doppler flow and pressure sensors at the tip of the wire and the other with a Doppler flow sensor at the tip and a pressure sensor 1.5 cm from the tip

PrimeWire Guide Wire - This wire allows measurement of intravascular pressure; the pressure sensor is at the tip, and the wire comes in 185-cm and 300-cm lengths

FloWire Doppler Guide Wire - This wire allows measurement of coronary arterial blood flow velocity and coronary flow reserve; the flow sensor is at the tip, and the wire comes in 175-cm and 300-cm lengths, along with a straight or a J tip
FFR equipment manufactured by St Jude Medical includes the following:
What would you like to print?