Overview
Background
Percutaneous mitral valve repair (MVR) is used to treat mitral regurgitation (MR; depicted in the image below). Percutaneous procedures used to treat valvular heart disease were first developed decades ago; the first pulmonic balloon valvuloplasty was reported in 1982 and was quickly followed by applications to the aortic and mitral valves. [1, 2] Mitral stenosis was the first pathologic condition of a heart valve to be treated both surgically [3] and percutaneously. [4]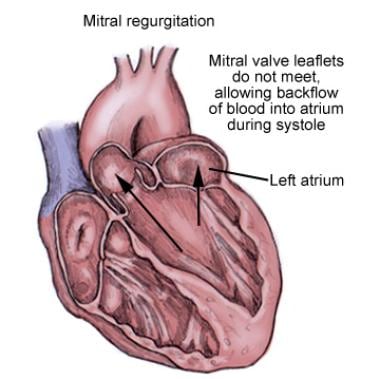 Mitral regurgitation.
Over the past 20 years, percutaneous mitral balloon valvuloplasty used to treat mitral stenosis has yielded excellent success rates in patients with suitable valvular and subvalvular morphology. [5] However, clinically viable percutaneous treatments for mitral regurgitation have become available only recently.
Newer approaches have progressed far beyond balloon valvuloplasty to include catheter techniques for emulating surgical annuloplasty and edge-to-edge repair of regurgitant mitral valves. These are still in early-stage clinical (or preclinical) testing, and the ultimate degree of clinical success and adoption is still unclear. Given the outstanding results of open valve repair, surgery is likely to remain the criterion standard for most cases of symptomatic valvular heart disease.
A study by Nickenig et al of transcatheter MVR in Europe found that such treatment had a high acute procedural success rate (95.4%) and that reduction in the severity of mitral regurgitation persisted at 1 year. The multinational study, which involved 628 patients, also determined that the acute procedural success rate was similar between patients with functional mitral regurgitation and those with degenerative mitral regurgitation, as were the inhospital and estimated 1-year mortality rates (2.9% and 15.3%, respectively). However, the patients with functional mitral regurgitation had a significantly higher estimated 1-year rate of heart failure-related rehospitalization than did the other group (25.8% versus 12.0%, respectively). [6]
In the near term, percutaneous valve intervention will probably have two indications, as follows:
Severe disease deemed inoperable owing to comorbid disease

Early-stage regurgitant lesions if less-invasive valve repair may prevent progressive ventricular enlargement
Although definitive catheter-based therapies for valvular heart disease are clearly in their infancy, various percutaneous approaches are now being evaluated and used. The field is likely to develop rapidly over the next several years, with refinement of the above approaches and emergence of still newer technologies.
The landscape of clinical trials is also still under active discussion; if these percutaneous techniques are to be considered as alternatives to traditional surgical methodologies in low-risk to medium-risk patients, they must demonstrate hemodynamic effects, safety, and durability comparable to those of the current highly refined surgical techniques. Conversely, these percutaneous techniques may be best applied to patients at the margins of current surgical indications.
Relevant anatomy
The human heart has 4 valves. The left atrium (LA) is connected to the left ventricle (LV) via the mitral valve, which opens during diastole to allow blood to flow from the LA to the LV. During ventricular systole, the mitral valve closes and prevents backflow to the LA. The normal function of the mitral valve depends on its 6 components, which include the left atrial wall, the annulus, the leaflets, the chordae tendineae, the papillary muscles, and the left ventricular wall.
For more information about the relevant anatomy, see Mitral Valve Anatomy and Cardiovascular System Anatomy.
Indications
Despite the general enthusiasm generated by these emerging devices, establishing which patient populations are suitable for such technologies is important. The two causes of mitral regurgitation most amenable to surgical repair include degenerative and functional etiologies.
Annuloplasty is the main technique for treating functional mitral regurgitation, whereas leaflet repair is also usually performed to treat degenerative mitral regurgitation.
Therefore, the percutaneous options currently available may be useful only in selected patients. The excellent results and low perioperative mortality associated with surgical repair further emphasize the need for a cautious approach to percutaneous MVR.
What would you like to print?