Technique
Transmetatarsal Amputation
A curved fish-mouth incision is made just proximal to the infected tissue of the foot (see the image below). The incision runs from the midshaft of the fifth metatarsal laterally to the midshaft of the first metatarsal medially through a midplane axis. Alternatively, a dorsal incision is made transversely, with the residual plantar flap left longer to allow for closure. The residual flap should be slightly longer on the medial side than on the lateral side.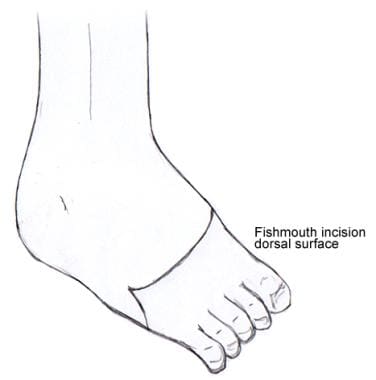 Fish-mouth incision on dorsal surface of foot.
The incision is started at the dorsal surface and extended downward to bone. As the incision is deepened, hemostasis is achieved by means of diathermy or vessel ligation and ties. The bony landmarks of the metatarsals are identified and presented by means of a periosteal elevator. The metatarsals are cut with a saw, and the bony ends are rounded with a bone nibbler (see the image below).
Metatarsal heads have been osteotomized.
Next, the plantar incision is made (see the image below). The assistant applies traction to allow tissue separation at the correct plane. A plantar flap is created. Plantar and dorsal tendons are stripped off their insertions and cut. Copious amounts of irrigant fluid are then used. Pulse lavage is sometimes used for more pressurized irrigation.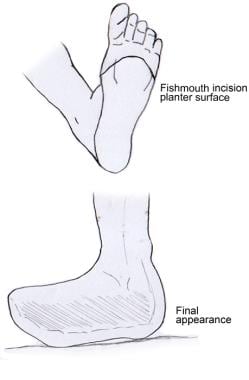 Top image shows fish-mouth incision on plantar surface; bottom image shows final appearance of stump.
Wound closure is the final step. The flaps are approximated with nonabsorbable sutures according to the clinical indication and the surgeon's preference for closure. Final hemostasis is achieved with ligation of superficial vessels.
Standard synthetic braided suture (eg, polyglactin) is used for closure of muscular and subcutaneous layers. Subcuticular skin closure with synthetic nonbraided suture (eg, poliglecaprone) results in low skin tension and good approximation. The ends may be bridged. Skin clips may be used for traumatic cases; this measure allows drainage of any underlying hematoma (if the need arises). A dressing is applied to the stump.
Boffeli and Waverly suggested that in cases where there is a substantial amount of compromised plantar tissue in association with neuropathic ulcers, forefoot gangrene, or infection, the plantar flap incision design can be modified so as to incorporate a medial or lateral plantar artery angiosome-based rotational flap. [10] A lateral plantar artery angiosome flap can be used to treat a plantar medial soft-tissue defect; a medial plantar artery angiosome flap can be used for a plantar lateral defect; and medial and lateral flaps can be combined to cover a central plantar wound defect.
Complications
Although transmetatarsal amputation (TMA) has a lower mortality than higher-level amputations do, it is not without complications, including the possibility of further surgical intervention or even death. A study conducted by Sage et al reported that more than two fifths of patients who underwent TMA had complications. [11] Another study found that nearly one third of patients who underwent TMA had a further higher-level amputation at a later date. [4] The consensus is that proximal amputations have a greater probability of stump healing.
Although some studies have failed to show a statistically significant difference in healing rate between patients who have diabetes mellitus and those who do not, risk factors such as diabetes mellitus, ischemic heart disease, hypertension, and chronic renal disease are widely considered to increase the risk of delayed healing.
Postoperative skin breakdown probably has multiple causes; however, studies have shown that most patients who have diabetes mellitus and a TMA experience sensory neuropathy. Hence, injury to the stump in a neuropathic patient could lead to skin loss or wound failure, thus eventually resulting in infection and the need for a higher-level amputation.
Heterotopic ossification is a fairly common sequela after partial foot amputation; perioperative pharmacologic or radiation-based prophylaxis to prevent this should be considered. [12, 13]
What would you like to print?