Treatment
Medical Care
The goal of therapy is avoidance of complications. Note the following:
About 10% of pseudocysts become infected.

Pseudocysts can also rupture. A controlled rupture into an enteric organ can sometimes cause GI bleeding. A free rupture into the peritoneal cavity produces abdominal pain and, rarely, peritonitis or even death.

Most pseudocysts resolve without interference and only require supportive care.

Several studies have indicated that the size of the cyst and the length of time the cyst has been present are poor predictors of complications. In general, larger cysts are more likely to become symptomatic or cause complications. However, some patients with larger collections do well; therefore, the size of the pseudocyst alone is not an indication for drainage.
Indications for drainage include the following:
Concern about possible malignancy
Consultations
Management of pseudocysts requires a team approach. Gastroenterologists, surgeons, and invasive radiologists must work together to determine the necessity, timing, and method of intervention. If nonsurgical drainage is contemplated, it is important to elucidate the anatomy of the pancreatic duct beforehand. This may be done via endoscopic retrograde cholangiopancreatography (ERCP) or magnetic resonance imaging (MRI). A large number of patients who fail or have complications with nonsurgical drainage have disruption or stenosis of the pancreatic duct.
Diet and activity
Patients may eat a low-fat diet as tolerated. Patients in whom eating causes abdominal pain need parenteral or enteral nutrition through a percutaneously or endoscopically placed jejunal tube.
Patients may engage in activities as tolerated.
Outpatient monitoring
Patients who have endoscopically placed stents must be monitored via serial computed tomography (CT) scans to observe resolution of the cyst. Stents may then be endoscopically removed after resolution.
Closely monitor patients with percutaneous drains for pain, infection, or catheter migration. Remove the drain when drainage ceases.
Surgical Care
Drainage options are outlined below.
Catheter drainage
Percutaneous aspiration is useful only to establish a diagnosis or as a temporizing measure. It has a 54% failure rate and a 63% recurrence rate. This technique has a relatively high risk of infecting the pseudocyst. Percutaneous drainage may have a higher complication rate and inpatient mortality rate than surgical drainage.
Percutaneous catheter drainage is the procedure of choice for treating infected pseudocysts, allowing for rapid drainage of the cyst and identification of any microbial organism. A high recurrence and failure rate exist, but catheter drainage may be a good temporizing measure.
Percutaneous catheter drainage is contraindicated in patients who are poorly compliant and cannot manage a catheter at home. It is also contraindicated in patients with strictures of the main pancreatic duct and in patients with cysts containing bloody or solid material.
Endoscopic drainage
Endoscopic drainage may be either transpapillary (via endoscopic retrograde cholangiopancreatography [ERCP]) or transmural. Both modalities require careful patient selection to ensure success and safety.
Transpapillary drainage
Transpapillary drainage, while safer and more effective than transmural drainage, requires cyst communication with the pancreatic duct. This technique may be technically challenging because it requires wire passage and stenting through the pancreatic duct to the pseudocyst. The success rate is about 80%. The recurrence rate is 10-14%, and, in most series, the complication rate (mainly pancreatitis) is approximately 13%. [4] See the image below.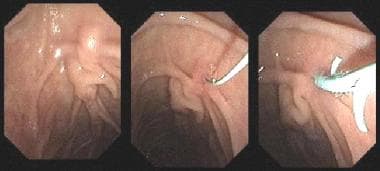 These photographs show the endoscopic view of transpapillary pseudocyst drainage in a patient with pancreas divisum and a pseudocyst that communicates with the pancreatic duct. The image on the left shows the ampullary area. The middle image shows a wire placed in the minor papilla into the dorsal pancreatic duct. The right image shows a stent in place in the minor papilla.
Transmural drainage
Endoscopic transmural drainage is also possible. [5] This involves performing an endoscopy and finding a bulge into the lumen of the stomach or duodenum caused by compression of the pseudocyst. The cyst is generally entered using a needle knife to cut through the gastric or duodenum wall, and a series of pigtail stents are placed through the resulting communication. Some have adapted the technique to avoid diathermy, thus decreasing possible complications. The method has an 82-89% success rate in very experienced hands. The recurrent rate is 6-18%. The complication rate is 20%, with the most feared complication being bleeding.
One report suggested that the complication rate decreases and the efficacy increases with experience. Weckman reported an approximately 86% success rate with endoscopic drainage with a 10% complication rate and a 14% failure rate. [6] There appeared to be about a 15% recurrence rate. There was no real difference in outcome in patients treated with a transpapillary or transmural approach.
In December 2013, the FDA approved marketing of the AXIOS Stent and Delivery System for the treatment of pancreatic pseudocysts. [7] Approval of the stent, which creates a new temporary opening between the pancreas and the gastrointestinal tract, was based on a study of 33 patients with pancreatic pseudocysts at least 6 cm in diameter. [7] In this study, stents were successfully placed 90.9% of the time, 97% of the successfully implanted stents stayed in place for the duration of treatment, 93% of the stents remained open to allow drainage for the duration of treatment, and 86% of the treated pseudocysts decreased in size by at least 50%. [7]
Surgical drainage
Surgical drainage is the criterion standard against which all therapies are measured.
Internal drainage is the procedure of choice. A laparoscopic approach has been used in some cases with good results. [8]
In most series, the mortality rate is 3%, and the complication rate is approximately 24%. The success rate is 85-90%.
Relatively recent studies have suggested that a laparoscopic approach to drainage has a high success rate and a low morbidity rate. [9, 10]
What would you like to print?