Workup
Laboratory Studies
Serum tests have limited use. Amylase and lipase levels are often elevated but may be within the reference ranges. Bilirubin and liver function test (LFT) findings may be elevated if the biliary tree is involved.
Analysis of the cyst fluid may help differentiate pseudocysts from tumors. An attempt should be made to exclude tumors in any patient who does not have a clear history of pancreatitis. Note the following:
Carcinoembryonic antigen (CEA) and carcinoembryonic antigen-125 (CEA-125) tumor marker levels are low in pseudocysts and elevated in tumors.

Fluid viscosity is low in pseudocysts and elevated in tumors.

Amylase levels are usually high in pseudocysts and low in tumors.

Cytology is occasionally helpful in diagnosing tumors, but a negative result does not exclude tumors.

A CEA level of greater than 400 ng/mL within the cyst fluid strongly suggests malignancy.
Ultrasonography
Abdominal ultrasonography
Abdominal ultrasonography may be used to visualize cystic fluid collections in and around the pancreas. However, the technique is limited by the operator's skill, the patient's habitus, and any overlying bowel gas. As such, ultrasonography is not the study of choice to establish a diagnosis.
Endoscopic ultrasonography
Endoscopic ultrasonography (EUS) is not necessary to establish a diagnosis but is very important in planning therapy, particularly if endoscopic drainage is contemplated.
A gastric wall thickness greater than 1 cm next to the cyst tends to predict a poor outcome with endoscopic drainage.
EUS may also be helpful in detecting small portal collaterals from otherwise undetected portal hypertension that may increase bleeding risks with transmural drainage.
Transmural drainage may be performed only when a symptomatic pseudocyst is positioned next to the gut wall. See the image below.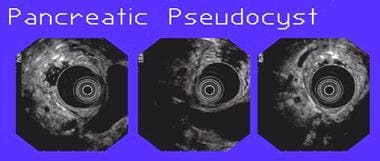 Three views of a pancreatic pseudocyst noted during endoscopic ultrasound. The concentric rings in the center of the images are produced by the ultrasound transducer in the stomach. The cyst is observed as the large hypoechoic structure adjacent to the transducer.
Computed Tomography Scanning
Abdominal computed tomography (CT) scanning is the imaging criterion standard for pancreatic pseudocysts. It has a sensitivity of 90-100% and is not operator dependent. Note the following:
The usual finding on CT scan is a large cyst cavity in and around the pancreas.

Multiple cysts may be present.

The pancreas may appear irregular or have calcifications.

Pseudoaneurysms of the splenic artery, bleeding into a pseudocyst, biliary and enteric obstruction, and other complications may be noted on CT scan.

The CT scan provides a very good appreciation of the wall thickness of the pseudocyst, which is useful in planning therapy.
Endoscopic Retrograde Cholangiopancreatography
Endoscopic retrograde cholangiopancreatography (ERCP) is not necessary in diagnosing pseudocysts; however, it is useful in planning drainage strategy.
A study by Neil et al investigated the use of ERCP and the treatment of pseudocysts and acute pancreatitis and reported that a change in management occurred 35% of the time after the ERCP findings in pseudocysts were evaluated. Therefore, many authors recommend performing an ERCP before contemplated drainage procedures.
Magnetic Resonance Imaging
Magnetic resonance imaging (MRI) is not necessary to establish a diagnosis of pseudocysts; however, it is useful in detecting a solid component in the cyst and in differentiating between organized necrosis and a pseudocyst.
A solid component makes catheter drainage difficult; therefore, in the setting of acute necrotizing pancreatitis with resultant pseudocyst, an MRI may be very important before a planned catheter drainage procedure.
Histologic Findings
Histologic findings vary with age because older cysts have thicker walls with more collagen. The etiology of the cyst does not change the histology. Note the following zone features:
Zone 1 - Hemosiderin pigment and loose connective tissue

Zone 2 - Inflammatory cells and capillary-rich fibrous tissue

Zone 3 - Hyalinized acellular connective tissue

Zone 4 - Capillary-rich fibrous stroma
What would you like to print?