Technique
Exposure and Irrigation
A lid speculum is used to hold the eyelids apart. Surgeons may choose from wire or screw, nasal or temporal, self-retaining eyelid speculums.
Topical antibiotics or a diluted mixture of antiseptic is used to wash out debris and particulates from the conjunctival fornices. Exposure varies from 30-60 seconds and is followed by generous washing with balanced salt solution to remove all traces of antiseptic solution from the surgical field.
Paracentesis
A 1.2-mm or 15º stab knife is used to fashion a small paracentesis at the peripheral cornea usually 3-4 clock hours away from the main surgical incision. This is made along the iris plane and is usually a single plane stab into the peripheral cornea. Other surgeons who perform phacoemulsification advocate a multiplane approach to enhance self-sealing. With the use of a 1.2-mm stab knife, most second instruments, including bimanual aspirating handpieces, fit snuggly and do not make the wound gape, therefore preventing wound leakage. Intracameral injections of anesthetic, vital dye, and viscoelastic are performed after the side ports are made.
Scleral Tunnel Incisions
Scleral tunnel incisions are most likely performed by beginning phacoemulsification surgeons because of the ease with which conversion to manual expression extracapsular cataract extraction may be executed. The initial advantage presented by a scleral tunnel incision is the avoidance of surgically induced astigmatism. The cumbersome nature of fashioning a scleral tunnel incision has made it fall out of fashion with most phacoemulsification surgeons.
Clear Corneal Incisions
A progressive reduction in incision size and related morbidity has marked the recent history of cataract surgery via phacoemulsification. Increased operating efficiency, improved control of astigmatism, and foldable intraocular lens technology have led to increasing use of self-sealing, clear corneal incisions for cataract surgery. Pre-existing corneal astigmatism may be effectively treated at the time of cataract surgery by means of incisional keratorefractive techniques (limbal relaxing incisions, peripheral penetrating corneal incisions). Additional steps such as the creation of­­ a supraincisional penetrating nonperforating corneal incision (Wong incision) have decreased the possibility of wound leaks. Femtosecond lasers that create precise corneal incisions are now available for all phacoemulsification surgeons. They have a unique ability to create a discrete photodisruption of tissue with minimal collateral effects.
Cataract surgery incision is illustrated in the image below.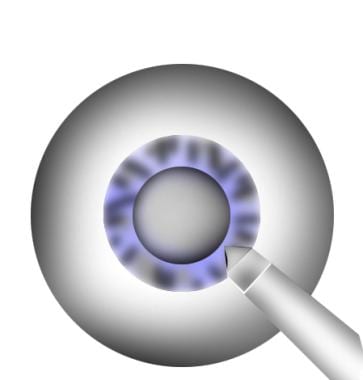 Cataract surgery incision, (1.9-2.75 mm), corneal incision, limbal incision, clear corneal, small incision, sutureless.
Femtosecond Laser–Assisted Corneal Incisions
Femtosecond laser–assisted corneal incisions prior to cataract surgery are used to improve the incision location, length, creation, and closure. One or two side ports may be made. A single-, double-, or three-plane main corneal incision may be fashioned. Single or paired limbal relaxing incisions may be created.
Continuous Curvilinear Capsulorrhexis
A special forceps is used to create a continuous curvilinear capsulorrhexis (CCC, see the image below). CCC has improved stability and centration of intraocular lenses, which helped to reduce posterior capsular opacification and spurred the development of endolenticular nucleofractics techniques. Critical elements of technique for the construction of continuous curvilinear capsulorrhexis include operating in a deep and stable chamber, initiating the tear in the center of the capsule, and regrasping the flap to maintain control of the vector of the tear at all times. The use of vital dyes has extended the application of continuous curvilinear capsulorrhexis to cases with a reduced or absent red reflex. Femtosecond lasers that create precise continuous curvilinear capsulorrhexis are now available for all phacoemulsification surgeons.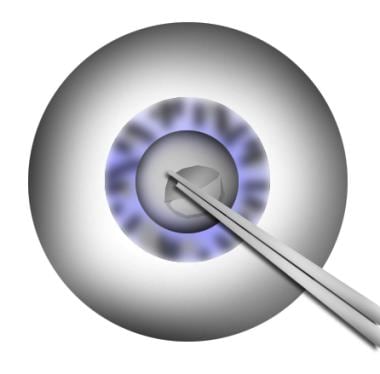 Cataract surgery capsulotomy, capsulorrhexis, continuous tear.
Femtosecond Laser–Assisted Capsulotomies
Femtosecond laser–assisted capsulotomies, when performed correctly, are almost always free floating. The risk of losing a capsulorrhexis edge is eliminated. Capsulotomy size and location may be programmed. When used in white cataract, incomplete capsulotomy may occur, although the risk of a capsule tear is less. [5]
Hydrodissection and Hydrodelineation
Cortical cleaving hydrodissection has reduced the need for irrigation and aspiration of cortical material and the rate of posterior capsular opacification. Critical steps of cortical cleaving hydrodissection include injection of balanced salt solution under the anterior capsule such that a fluid wave traverses the posterior aspect of the lens and decompression of the capsule by depression of the central portion of the lens.
Hydrodelineation means separation of the epinucleus from the endonucleus in order to allow the epinucleus to serve as a protective cushion during manipulation and extraction of the endonucleus.
Nuclear Rotation
Nuclear rotation with a second instrument ensures that the nucleus is completely mobile and reduces the possibility of transferring stress to the posterior capsule and zonules during nuclear disassembly.
Phacoemulsification
Most phacoemulsification machines have parameters for power, vacuum, pulse, burst, and oscillation levels, as well as bottle height. These may be set to allow certain phaco procedures to proceed during different steps of phacoemulsification surgery.
Phacoemulsification may be performed in various locations within the eye.
Anterior chamber phacoemulsification affords protection of the capsular bag, zonules, and iris. Since it is nearer to the corneal endothelium, the risk of corneal endothelial loss is higher, despite the use of viscoelastics for protection. In instances in which a posterior capsular break is present, prolapsing the remaining nucleus into the anterior chamber may be necessary.
Iris plane phacoemulsification affords protections of the capsular bag and the corneal endothelium; however, potential injury to the iris may occur if it is inadvertently pulled into the phacoemulsification handpiece.
Posterior chamber phacoemulsification is currently the most common location where phacoemulsification is performed by surgeons. The increased understanding of proper nucleus rotation and subsequent nuclear disassembly and efficient phacoemulsification machine parameters has increased the safety of phacoemulsification surgery and decreased morbidity such as posterior capsular rupture (shown below) and endothelial cell loss.
Phacoemulsification is illustrated in the images below.
Nucleus Disassembly
One-handed technique
This technique allows the creation of a single corneal incision and the use of a single phacoemulsification handpiece in shaving off each layer of the nucleus and the epinuclear envelope. This is performed with adequate capsulorrhexis and nuclear rotation.
Two-handed techniques
Chop techniques substitute mechanical forces for ultrasound energy to disassemble the nucleus, use high vacuum as an extractive technique to remove nuclear material, and facilitate the achievement of minimally invasive surgery and rapid visual rehabilitation. Bimanual, ultra-small incision cataract surgery and companion IOL technology are now a reality via both laser and new ultrasound power modulations.
The divide and conquer technique uses ultrasonic sculpting of a deep central crater and fracturing of segments of a peripheral rim.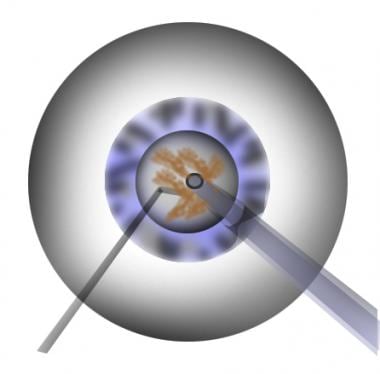 Cataract surgery, phacoemulsification, divide and conquer, phaco, chop.
Phaco fracture involves ultrasonic sculpting of grooves and bimanual cracking of the nucleus into 4 separate quadrants.
Chip and flip means sculpting of a central bowl until a thin chip of endonucleus remains, while crack and flip is a modification of phaco fracture including hydrodelineation.
Phaco chop requires a firm hold with high vacuum and a second sharp instrument to either horizontally or vertically divide the nucleus.
Investigation of the choo choo chop and flip technique led to the conclusion that reduction of ultrasound energy is correlated with improvement of visual acuity on the first postoperative day.
Phacoemulsification with laser systems allows reduction of incision size to 1.5mm.
Surgeons using bimanual microincision phacoemulsification have described improved chamber stability, better ability to follow, and greater ease of irrigation and aspiration.
Femtosecond laser-assisted lens fragmentation techniques
Femtosecond laser–assisted lens fragmentation prior to cataract surgery aims to decrease or eliminate the need for ultrasound energy during nuclear disassembly. For softer nuclei, aspiration techniques may be sufficient. In harder nuclei, ultrasound emulsification is still required. [6] Numerous cutting patterns and algorithms (ie, energy, shot placement, pulse repetition frequency) influence the efficiency of nucleus softening fragmentation.
Irrigation and Aspiration
Cortical material remains attached to the capsular bag after nuclear disassembly and phacoemulsification. A straight irrigation/aspiration handpiece or a bimanual irrigation/aspiration set may be used to remove residual cortex (see the images below). Subincisional cortex is usually removed first, followed by superior cortical remnants. The rest are removed in a clock hour fashion. The capsule is polished with the lowest allowable settings possible. Proper removal of lens epithelial cells prevents posterior capsular opacification and capsular phimosis.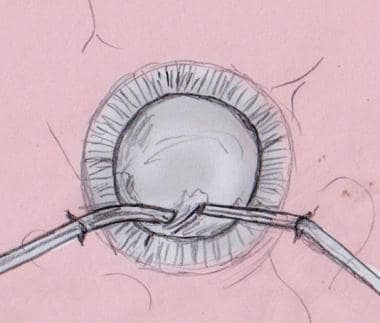 Cataract surgery illustration of cortex and capsule cleanup using IA.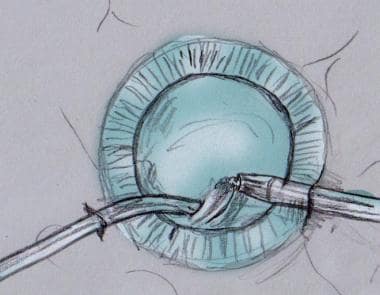 Phacoemulsification with cortex removal. Phaco, aspiration, cataract surgery illustration.
IOL Insertion
The capsular bag and anterior chamber is reformed with viscoelastic. Most foldable IOLs are loaded on to a cartridge prior to injection into the capsular bag. They usually go through a sub 2.75 mm corneal slot. Preloaded foldable IOLs are now on the market. Preloaded IOLs decrease surgical time and decreases handling of the lens, thereby theoretically decreasing the risk of introducing contaminants into the eye. IOL lens insertion is illustrated in the images below.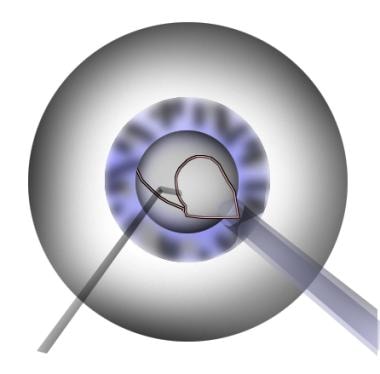 Cataract surgery, lens insertion, 3-piece, IOL, intraocular lens implant, shooter, inserter.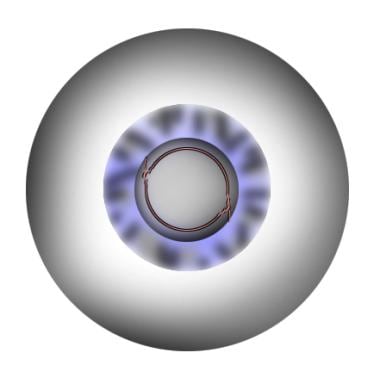 Intraocular lens implant, IOL, 3 piece lens, in the bag.
Infection and Wound Leak Prevention
Intracameral injection
The use of intracameral antibiotics at the end of surgery is now becoming commonplace due to the statistically significant decrease in morbidity due to postoperative infections.
Test for leaks
Testing for wound leaks at the end of each surgery is important. Neglecting a leaking wound may lead to a flat chamber and/or endophthalmitis. A properly constructed corneal incision will be self-sealing. Corneal incision hydration with balanced salt solution is usually effective in providing a tight seal on most corneal incisions. A surgical sponge may be used to check for egress of anterior chamber fluid. The use of fluorescein dye may enhance the visualization of leaks from all incision sites.
Potential Postoperative Complications
Potential postoperative complications include the following conditions:
Descemet's membrane detachment

Intraoperative floppy iris syndrome (IFIS)

Chronic postoperative uveitis

IOL complications (decentration and dislocation, pupillary capture, capsular block syndrome, uveitis-glaucoma-hyphema syndrome, pseudophakic bullous keratopathy, incorrect IOL power, IOL glare, IOL opacification)

Anterior capsular fibrosis and phimosis

Posterior capsular opacification

Hemorrhage (retrobulbar hemorrhage, suprachoroidal effusion, expulsive suprachoroidal hemorrhage, hyphema)
What would you like to print?