Workup
Approach Considerations
Evaluate patients with Budd-Chiari syndrome for underlying predisposing conditions, such as malignancy or hypercoagulable states, and institute appropriate therapy.
Examination of the ascitic fluid provides useful clues to the diagnosis, including the following:
Patients usually have high protein concentrations (>2 g/dL); this may not be present in persons with the acute form of Budd-Chiari syndrome

The white blood cell (WBC) count is usually less than 500/µL

The serum ascites–albumin gradient is usually less than 1.1 (except in the acute forms of the disease)
Routine biochemical test results are usually nonspecific in Budd-Chiari syndrome, although mild elevations in serum aminotransferase and alkaline phosphatase levels are present in 25-50% of patients.
Imaging is essential for the early identification and evaluation of the disease extent in Budd-Chiari syndrome, which aids in mitigating hepatic congestion and, thereby, restoration of the hepatic function and alleviation of portal hypertension. [20]
2016 European Association for the Study of the Liver (EASL) recommendations on Budd-Chiari syndrome
The EASL clinical practice guidelines on vascular diseases of the liver includes the following recommendations [48] :
The diagnosis of Budd-Chiari syndrome should be considered in all patients with symptomatic or asyptomatic acute or chronic liver disease.

The first-line diagnostic study is Doppler ultrasonography; magnetic resonance imaging (MRI) and computed tomography (CT) scanning are for diagnostic confirmation. In the setting of negative imaging studies but high clinical suspicion of Budd-Chiari syndrome, reevaluate the patient with the help of an expert radiologist.

Refer all patients with Budd-Chiari syndrome to institutions with expertise in this condition.

Patients with Budd-Chiari syndrome should be screened for hepatocellular carcinoma. Referral to expert centers may be necessary to determine whether liver nodules are benign or malignant.
Imaging Studies
Ultrasonography
Thrombi can be visualized; color-flow Doppler ultrasonography, the preferred mode, has a sensitivity and specificity of 85-90%. [21, 22] (See the images below.)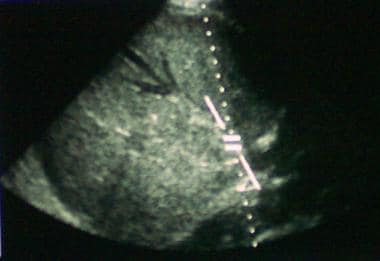 Sonogram showing hepatic vein thrombus, with new vessels forming. The arrow is pointing to the thrombus.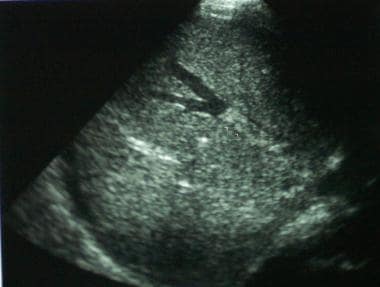 Sonogram showing hepatic vein thrombus.
Computed tomography (CT) scanning
Detailed imaging studies are required to determine the precise level and degree of obstruction. CT scanning can rarely provide such detail, unless a mechanical obstruction, such as a locally invading tumor, is suspected. [23]
Use of spectral CT scanning to determine normalized iodine concentration appears to be effective in assessing liver function in patients with Budd-Chiari syndrome, as well as in providing posttreatment imaging results for reevaluation, prognosis, and follow-up. [53]
Magnetic resonance imaging (MRI)
MRI, which has a sensitivity and specificity of 90% or higher, is becoming increasingly useful in providing less-invasive venography, angiography, and cholangiography findings. [24] MRI may assist in differentiating acute from chronic Budd-Chiari syndrome, because it is able to provide a larger image of the vasculature, as well as determine if edema of the parenchyma is present (acute form).
Venography
Catheterization and venography can clearly delineate the nature and severity of an obstruction. Occasionally, therapeutic interventions can be undertaken at the same time, including balloon angioplasty, localized thrombolysis, and the placement of a stent or transjugular intrahepatic portacaval shunt (TIPS). [23, 25, 26, 27]
Liver Biopsy and Histology
Percutaneous liver biopsy can be of prognostic assistance, particularly if liver transplantation is being considered, to establish the degree of hepatocellular damage and the presence and degree of fibrosis. [28]
Pathologic findings in liver biopsy are (1) high-grade venous congestion and centrilobular liver cell atrophy, and, possibly, (2) thrombi within the terminal hepatic venules. The extent of fibrosis can be determined based on biopsy findings. The most severe findings can include fulminant hepatic failure with massive centrilobular necrosis.
Studies have indicated, however, that early pathology related to Budd-Chiari syndrome does not have a significant impact on survival. [29]
What would you like to print?