Workup
Imaging Studies
Computed tomography (CT) scanning and ultrasonography of the abdomen are not sensitive enough to aid in diagnosing pancreas divisum. [14, 15] However, they can detect dorsal duct dilatation and other changes of chronic pancreatitis.
Magnetic resonance cholangiopancreatography (MRCP) is being used with increasing frequency as a noninvasive alternative to diagnostic endoscopic retrograde cholangiopancreatography (ERCP) in the evaluation of the pancreatic duct and various pathologic conditions of the pancreas, including pancreas divisum. [16, 17, 18] Maximum-intensity projection images from MRCP appear to best illustrate the "crossing duct" sign, in which the dominant dorsal duct crosses the intrapancreatic common bile duct to empty into the minor papilla. [2]
In a systematic review and meta-analysis comparing endoscopic ultrasonography (EUS) with MRCP in idiopathic acute pancreatitis, EUS was more diagnostically accurate than MRCP (64% vs 34%), but MRCP after secretin stimulation (S-MRCP) was superior (12%) to MRCP alone (2%) as well as to EUS (2%) in diagnosing pancreatic divisum. [19] The investigators indicated that EUS should be the preferred study for identifying a potential biliary condition and diagnosis of chronic pancreatitis and that S-MRCP can be helpful in identifying a potential anatomic alteration in the biliopancreatic duct system.
Procedures
Pancreatography
Pancreas divisum is diagnosed by the aid of pancreatography.
Upon endoscopic retrograde cholangiopancreatography (ERCP), the major papilla is often difficult to cannulate, and the duct of Wirsung (ventral duct, see the following image) appears shortened and of small diameter (like a cutoff of the duct) with rapid filling of small accessory ducts.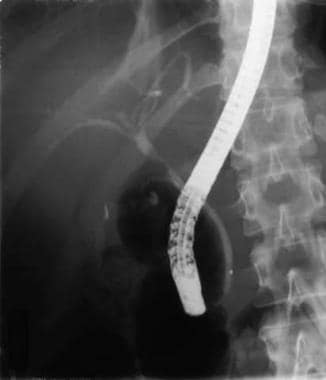 Pancreatic divisum. Cholangiopancreatogram showing small ventral duct (duct of Wirsung) and normal biliary tree upon cannulation of the major papilla
This should not be confused with a mass lesion such as a malignancy or pancreatic pseudocyst.
At this point, the accessory papilla should be cannulated. A variety of maneuvers have been used to facilitate cannulation. These include simple maneuvers, such as using the long scope position and accessories to include a taper cannula, slick wires, secretagogues, such as sincalide or secretin, and the application of vital dyes.
This should reveal the duct of Santorini (dorsal duct, as shown in the image below) running the entire length of the pancreas.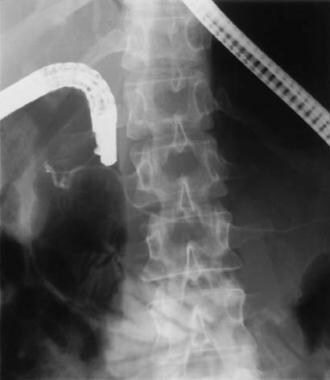 Pancreatic divisum. Pancreatogram showing the dominant dorsal duct (duct of Santorini) upon cannulation of the minor papilla
In symptomatic patients with recurrent episodes of pancreatitis, ERCP may reveal changes in the pancreatic duct characteristic of chronic pancreatitis.
Endoscopic ultrasonography
Endoscopic ultrasonography may be helpful in the identification of pancreas divisum by revealing the absence of a "stalk sign," where the bile duct and pancreatic duct can be seen to run parallel through the pancreatic head. [20]
Manometry
Manometry of the minor papilla is performed infrequently. Symptomatic patients with high basal sphincter pressures might benefit from endoscopic or surgical interventions. However, more studies are needed in this area.
What would you like to print?