Workup
Laboratory Studies
Patients with partial bile duct obstruction have elevated serum alkaline phosphatase (ALP) and gamma-glutamyl transpeptidase (GGT, GGTP). The serum of patients with clinically apparent jaundice shows increases in total and conjugated bilirubin. Alkaline phosphatase levels are increased to more than 3 times normal. Elevated alkaline phosphatase levels are accompanied by increases in gamma-glutamyl transpeptidase and 5' nucleotidase, usually disproportionate to serum transaminase levels. Serum aminotransferase levels are usually less than 300 IU/mL.
The prothrombin time (PT) and international normalized ratio (INR) may be prolonged and can usually be normalized with parenteral administration of vitamin K. Total cholesterol and lipoprotein levels may be elevated in patients with chronic cholestatic disorders.
In malignant bile duct strictures with complete obstruction, the level of total serum bilirubin is generally much higher than that observed in benign strictures, and a bilirubin level of greater than 20 mg/dL is highly suggestive of malignant obstruction. Again, in malignant strictures causing only partial obstruction (eg, Klatskin tumor), a rise in the alkaline phosphatase level may not be accompanied by a rise in the bilirubin level.
Other laboratory abnormalities sometimes observed are anemia, elevated amylase and lipase levels, and an elevated erythrocyte sedimentation rate (ESR) and lactic dehydrogenase (LDH) level.
Several tumor markers may be helpful in the diagnosis of malignant bile duct strictures. A serum carbohydrate antigen 19-9 (CA19-9) value of greater than 100 U/mL is 55-65% sensitive for cholangiocarcinoma and gallbladder cancer. [21]
One study found that serum trypsinogen-2 is a useful marker for diagnosing patients with cholangiocarcinoma. [22] It is unclear whether trypsinogen-2 could be a new method to screen PSC or whether tumor marker combinations would be more useful. Elevated carcinoembryonic antigen levels may be present in 50-70% of cases of pancreatic cancer, and alpha-fetoprotein (AFP) levels are elevated in as many as 60% cases of hepatocellular carcinoma.
Imaging Studies
In patients presenting acutely with features of cholangitis, the initial radiologic study should be an urgent right upper quadrant ultrasonogram. If the ultrasonographic (US) examination findings show dilated bile ducts but do not provide clues to the site or cause of the obstruction, magnetic resonance cholangiopancreatography (MRCP) or abdominal computed tomography (CT) scanning should be performed next. In some patients, endoscopic retrograde cholangiopancreatography (ERCP) may be needed for definitive diagnosis and has the advantage of providing a therapeutic option as well (see images below).
Ultrasonography
Ultrasonography (US) is generally considered the imaging modality of choice for the initial screening of biliary disorders. [23] US does not use ionizing radiation to create the image, and it is the least invasive radiologic technique for imaging the biliary tract. The technique is portable, quick, and is the technique of choice in pregnant women and in patients with contrast allergies. US can help differentiate between intrinsic liver diseases and extrahepatic obstruction. Furthermore, US is more sensitive for detecting stones in the gallbladder.
US can accurately detect dilatation of intrahepatic and extrahepatic bile ducts, thus providing indirect evidence for the presence of bile duct strictures. However, US is less accurate for determining the etiology and level of obstruction.
Cholangiocarcinoma and PSC may cause biliary obstruction without ductal dilatation, and some benign strictures with partial obstruction may not be associated with biliary dilatation.
The sensitivity of US also depends on the degree of obstruction; it has been found to be 94% with a serum bilirubin level of greater than 10 mg/dL but only 47% with bilirubin levels of less than 10 mg/dL. The sensitivity increases with the serum bilirubin concentration and the duration of jaundice.
Computed Tomography Scanning
Spiral computed tomography (SCT) and multidetector CT (MDCT) scanning are highly sensitive for the diagnosis of biliary obstruction, particularly when these modalities are performed with oral and intravenous contrast agents.
Similar to US, CT scanning also helps detect intrahepatic and extrahepatic bile duct dilatation; however, the main value of CT scanning is its ability to detect the site of obstruction with greater accuracy than US and to help predict the cause of obstruction, especially malignant obstruction. CT scanning is rather insensitive for detecting stones in the common bile duct (CBD).
CT cholangiography scanning is another technique that rivals endoscopic retrograde cholangiopancreatography (ERCP) in delineating biliary tract abnormalities but has not achieved widespread use because of some adverse reactions to the contrast material.
CT scanning is superior to US in visualizing the distal CBD area, because gas artifacts may obscure this region when examined by US.
Other important areas that can be seen better on CT scans are the porta hepatis, pancreas, and liver parenchyma.
Magnetic Resonance Cholangiopancreatography
Since its introduction, magnetic resonance cholangiopancreatography (MRCP) has rapidly become an important tool for visualizing the biliary system.
MRCP takes advantage of the fact that bile has a high signal intensity on T2-weighted images, whereas the surrounding structures do not enhance and can be suppressed during image analysis. [24]
MRCP is as sensitive as ultrasonography (US) for helping detect cholelithiasis and is superior to US for helping diagnose common bile duct (CBD) stones, malignant biliary obstruction, and benign pancreatic disease (see image below).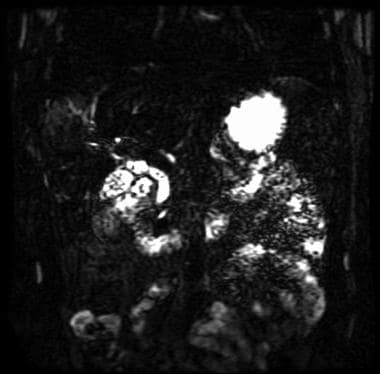 Multiple small bile duct stones seen on magnetic resonance cholangiopancreatography (MRCP).
The presence of biliary dilatation can be accurately detected by MRCP in 97-100% of patients. The level of obstruction is correct in almost 87% cases.
In one study, sensitivity for the detection of any abnormality was 89% and the specificity was 92%; for the detection of malignancy, sensitivity was 81% and specificity was 100%. These results were equivalent to the figures for ERCP (91% sensitivity and 92% specificity for any abnormality; 93% sensitivity and 94% specificity for malignant diseases). High-quality MRCP examinations require a high level of patient cooperation.
Bile duct calculi also appear as low signal intensity. CBD strictures and stones can be differentiated as a cause of obstruction in most cases.
MRCP is also very useful in helping identify cholangiocarcinoma, which characteristically appears as enhancement in delayed images. More importantly, MRCP provides valuable staging information because of its ability to help visualize the hepatic parenchyma and surrounding vascular structures in the same examination.
Benign strictures due to sclerosing cholangitis are multifocal and alternate with slight dilatation or normal-caliber bile ducts, producing a beaded appearance.
Dilatation of both the pancreatic and bile ducts using MRCP is highly suggestive of a pancreatic head malignancy. Side-branch ectasia is the most prominent and specific feature of chronic pancreatitis. Thus, MRCP provides a viable alternative to ERCP and allows imaging of the biliary tree when ERCP is unsuccessful; however, MRCP does not currently allow any intervention to be performed, such as stone extraction, stent insertion, or biopsy.
Hepatic Iminodiacetic Acid Scanning
A hepatic iminodiacetic acid (HIDA) scan is a radionuclide scanning technique commonly used for the diagnosis of acute cholecystitis and biliary leaks. HIDA scanning can help determine the clearance of bile across strictures and surgical anastomosis, thus providing a functional assessment of incomplete strictures and surgical anastomosis.
HIDA scanning is also useful for distinguishing cholangitis from cholecystitis. HIDA scan findings suggest complete biliary obstruction if the small intestine is not visualized in 60 minutes.
However, HIDA scans are insensitive for helping detect biliary dilatation or the site and cause of bile duct obstruction.
Other Tests
Cytologic sampling is best performed by brushing the bile duct stricture during ERCP or percutaneous transhepatic cholangiography (PTC). Under optimal conditions and using a variety of techniques, cytology sampling can provide a cytologic diagnosis in 75% of cholangiocarcinomas and 50% of pancreatic carcinomas. The results in practice are more disappointing.
Routine cytology and histology yield a high specificity but low sensitivity for determining the etiology of bile duct strictures. Advanced cytologic techniques such as digital image analysis (DIA) and fluorescence in situ hybridization (FISH) identify chromosomal abnormalities and improve sensitivity while maintaining high specificity.
DIA and FISH enhance the accuracy of standard techniques in the evaluation of indeterminate bile duct strictures, allowing the diagnosis of malignancy in a substantial number of patients with false-negative cytology and histology. The sensitivity of FISH could improve the clinical management of patients being evaluated for malignant bile duct strictures by enabling a definitive diagnosis at earlier stages in the clinical evaluation.
Cytologic brushing of bile duct strictures is usually performed with wire guidance across the stricture. A plastic brush collects the cytologic specimen from the lining of the bile duct during an ERCP. There is little morbidity associated with brushing of the bile duct.
Histologic sampling of a bile duct stricture is performed with an unguided biopsy forceps. This technique is particularly effective for exophytic lesions.
Procedures
Endoscopic retrograde cholangiopancreatography
Endoscopic retrograde cholangiopancreatography (ERCP) has been used for the examination of the pancreaticobiliary region for more than 30 years and remains the criterion standard.
The endoscope used for ERCP is a side-viewing duodenoscope that has the capacity to control the direction of catheters as they exit the instrument channel of the scope. The endoscopist localizes the ampulla of Vater, which is on the medial wall of the second portion of duodenum; and the entrance to the bile and pancreatic ducts contained within the ampulla of Vater is then cannulated with specialized catheters. This is followed by injection of contrast media into the bile and pancreatic ducts under continuous fluoroscopic monitoring, with visualization of the anatomy of the intrahepatic and extrahepatic bile ducts and the pancreatic duct.
ERCP is a valuable technique in biliary disease because other diagnostic maneuvers (eg, sphincter of Oddi manometry) and therapeutic interventions (eg, stone extraction, biliary drainage, stent placement) can be carried out at the same time as the primary diagnosis. The success rate of ERCP is often 90-95%, with a complication rate of approximately 3-5%. The success rate of ERCP is decreased in the presence of a Billroth II, Whipple, or Roux-en-Y anatomy.
ERCP can help detect intrahepatic and extrahepatic biliary dilatation, stones, and the site of bile duct stricture with the highest sensitivity and specificity (both approximately 90-100%). ERCP findings are also valuable for helping differentiate malignant from benign biliary obstruction. Infectious causes of biliary obstruction can be diagnosed using collected bile samples or brushings.
Usually, ERCP is highly diagnostic for primary sclerosing cholangitis (PSC). ERCP findings show areas of irregular stricturing and dilatation (ie, beading) of the intrahepatic and extrahepatic biliary tree. However, the risk of cholangitis is greater in patients with PSC. Care should be taken to avoid poor biliary drainage after ERCP in patients with PSC.
ERCP is also the criterion standard for the diagnosis of AIDS-related cholangitis and is essential for differentiating PSC from AIDS-related cholangitis.
Nevertheless, ERCP is associated with significant complications, including pancreatitis, bleeding, perforation, infection, and cardiopulmonary depression from conscious sedation.
Endoscopic ultrasonography
Endoscopic ultrasonography (EUS) involves the use of echoendoscopes, which have an US transducer mounted at the end of a side-viewing or oblique-viewing endoscope.
The linear-array EUS system also has color Doppler capability, enabling the endosonographer to be able to differentiate between vascular and fluid-filled structures. The extrahepatic bile duct is readily imaged from the duodenum.
The instrument also has a small biopsy channel for fine-needle aspiration (FNA) and fine-needle injection.
The pancreas, common bile duct (CBD), and the gallbladder are in close proximity to the distal stomach and the duodenum and can be viewed. EUS can help detect choledocholithiasis, especially small stones, with a sensitivity of more than 95%.
EUS and EUS-guided FNA is a sensitive technique for the diagnosis and staging of cholangiocarcinoma and gallbladder, ampullary, and pancreatic cancer because it can also help detect the involvement of regional lymph nodes and vascular invasion by the tumor (an advantage over ERCP in this regard).
EUS is also superior to computed tomography (CT) scanning for tumor, node, and metastases (TNM) staging of luminal and pancreaticobiliary malignancies. Porta hepatis lymph nodes are particularly well seen with EUS, in contrast to the relative inability of CT scanning to evaluate the porta region.
In more recent years, EUS-guided biliary stenting has become possible with the availability of EUS-guided stents. EUS stenting is performed through the duodenal wall and into the bile duct. In Europe, a dumbbell metal stent is available.
Percutaneous transhepatic cholangiography
Since the 1960s, percutaneous transhepatic cholangiography (PTC) has been used for the diagnosis and treatment of biliary tract disorders.
The technique consists of introducing a 22- or 23-gauge needle through the skin in the right ninth or tenth intercostal space in the midaxillary line and advancing into the liver parenchyma under fluoroscopic guidance. Contrast material is injected while the needle is slowly withdrawn, until the bile ducts are opacified.
Indications for PTC in bile duct strictures are the presence of biliary-enteric anastomosis (eg, Roux-en-Y anastomosis with hepaticojejunostomy, choledochojejunostomy, Billroth II gastrectomy), the presence of complex hilar strictures, or when ERCP is unsuccessful. Both the right and left ductal systems can be accessed using this technique.
The success rate of PTC approaches 100% when ducts are dilated. This technique is used for complex intrahepatic strictures or when ERCP is not possible.
Therapeutic intervention, including biliary drainage, dilation of benign bile duct strictures, extraction of biliary tract stones, or placement of a stent across a malignant stricture also can be performed at the same time (see images below).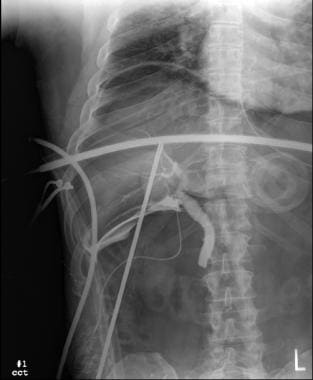 This image is an example of an intraoperative cholangiogram performed during a laparoscopic cholecystectomy.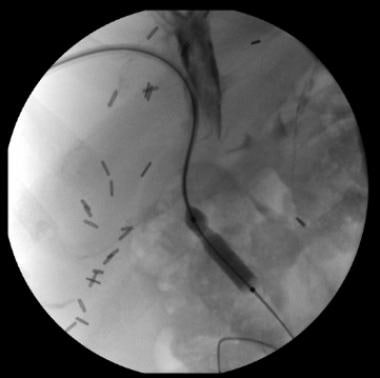 Percutaneous transhepatic cholangiogram with balloon dilation of a postoperative bile duct stricture.
Complications, including sepsis, bile leak, intraperitoneal hemorrhage, hemobilia, hepatic and perihepatic abscess, pneumothorax, and skin infection and granuloma at the catheter entry site, can occur in as many as 10% of cases.
PTC is contraindicated in patients with bleeding diatheses and significant ascites. Patients should be warned before the procedure about the possibility of external drainage.
Fistulography
In postsurgery patients with an external biliary fistula or T tube, contrast medium can be injected into the biliary system through the tube or the fistula. This outlines the intrahepatic and extrahepatic bile ducts and delineates the site of stricture and the anatomy of the fistula.
This study can precipitate cholangitis; therefore, patients should receive antibiotic prophylaxis.
Histologic Findings
Surgically resected segments of the biliary tree will show the etiology of the bile duct stricture. In benign lesions the involved segment of the bile duct is surrounded by a collar of fibrosis causing a narrowing of the lumen (see image below). This is accompanied by a variable amount of inflammatory cellular infiltrate comprising a mixture of neutrophils, lymphocytes, plasma cells, and eosinophils. The mucosa of the strictured segment usually is atrophic, with areas of squamous metaplasia.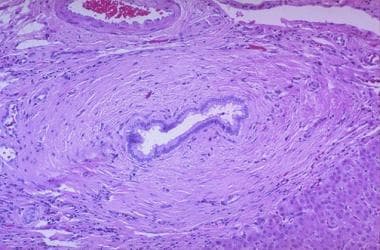 Periductal onion skin fibrosis seen in primary sclerosing cholangitis.
In cholangiocarcinoma, there will be evidence of adenocarcinoma in the cross-sectional histology of the bile duct. In contrast, in autoimmune disease, the hallmark finding is dense lymphocytic and plasma cell infiltration (see image below).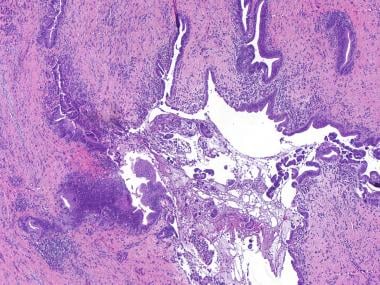 Periductal lymphocytic and plasma cell infiltrate that is consistent with autoimmune cholangiopathy.
Staging
Staging systems have been developed for bile duct strictures due to operative trauma, cholangiocarcinoma, and HIV disease. The choice of operative repair of a bile duct stricture depends on the location of the stricture. Strictures involving the common bile duct (CBD) and low common hepatic duct are easier to repair compared with strictures that are more proximal.
In 1982, Bismuth proposed an anatomic classification of bile duct strictures, based on the location, into the following 5 types:
Type 1: This is a low common hepatic duct stricture. At least 2 cm of the hepatic duct is intact.

Type 2: This is a mid common hepatic duct stricture. The hepatic duct stump is smaller than 2 cm.

Type 3: This is a hilar stricture. The common hepatic duct is not involved, but the confluence of right and left hepatic ducts is intact.

Type 4: In this type of bile duct stricture, the hilar confluence is destroyed. The right and left hepatic ducts are separated.

Type 5: The aberrant right sectorial duct is involved, alone or with the CBD.
The modified Bismuth and Corlette classification of hilar cholangiocarcinoma is the most widely adopted anatomic classification of this tumor. The following 4 types are recognized:
Type 1: The confluence of the hepatic ducts is not involved, but the tumor is generally within 2 cm of the hilum.

Type 2: The obstruction is limited to the confluence of the right and left hepatic ducts.

Type 3a: The confluence is involved, with extension of the tumor into the right hepatic duct.

Type 3b: The confluence is involved, with extension of the tumor into the left hepatic duct.

Type 4: The tumor is multicentric or extends into the right and left hepatic ducts.
Using endoscopic retrograde cholangiopancreatography (ERCP), four distinct patterns of human immunodeficiency virus (HIV) cholangiopathy have been described, as follows:
Papillary stenosis: This occurs in approximately 15-25% of patients. A smooth distal tapering of the CBD associated with proximal dilatation greater than 8 mm is present. Contrast is retained beyond 30 minutes.

Sclerosing cholangitis: This pattern is observed in 20% of patients and is characterized by focal strictures and dilatations involving intrahepatic and extrahepatic bile ducts. The caliber of the extrahepatic ducts is normal.

Combined papillary stenosis and sclerosing cholangitis: This is the most common pattern of HIV cholangiopathy and is observed in more than 50% of cases.

Long strictures of extrahepatic bile ducts: This pattern is observed in approximately 15% of patients. The strictures are 1-2 cm long and do not have features suggesting another cause, such as previous biliary surgery or pancreatitis.
What would you like to print?