Technique
Incision of Tympanic Membrane
For adult patients, the procedure can be done in the outpatient setting with the use of phenol and topical lidocaine; young adolescents, children, and infants require brief general anesthesia.
The patient's head is tilted slightly toward the ear opposite the one undergoing myringotomy. The operative microscope is brought into the field and focused on the external auditory meatus. An appropriately sized speculum is carefully placed into the external auditory canal, and cerumen is removed so that the entire tympanic membrane can be visualized.
Either the anteroinferior quadrant or the posteroinferior quadrant of the tympanic membrane is carefully incised with a myringotomy knife; the incision should be approximately 3-5 mm in length (see the image and the first video below). Next, a 3-mm, 5-mm, or 7-mm tube is inserted and used to release the serous or mucoid effusion (see the second and third videos below). [5]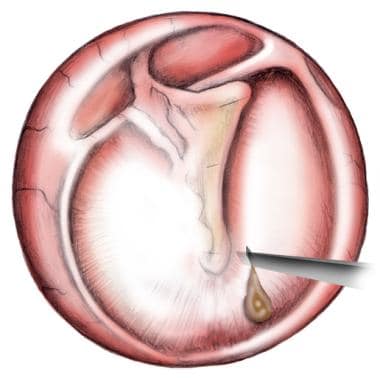 Myringotomy (radial incision).
Myringotomy. Video courtesy of Hamid R Djalilian, MD.
Myringotomy and ear tube placement. Video courtesy of Hamid R Djalilian, MD.
Myringotomy with aspiration of mucoid fluid.
The tympanic membrane usually heals spontaneously. Repeat myringotomy or insertion of ear tubes may be needed if otitis persists.
What would you like to print?