Periprocedural Care
Patient Education and Consent
Patients should be instructed to fast overnight before the procedure.
Informed consent must be obtained from the patient. The procedure to be performed and risks involved with the anesthesia and the procedure should be explained.
Preprocedural Planning
The procedure should be explained to the assisting staff.
All required equipment should be checked before the procedure begins.
Prophylactic antibiotics are usually administered 30 minutes before the procedure.
Equipment
This section includes a few examples of cholangioscopes that have been introduced to date. [6, 54, 55, 53, 56, 36, 37, 38]
Two-operator systems: mother-and-baby scopes and miniscopes
These endoscopes use a large "mother" scope for duodenoscopy and then introduce a smaller "baby" scope to cannulate biliary ducts. When it was introduced, it was a revolutionary technology that provided successful visualization of bile ducts and pancreatic ducts. It also offered excellent diagnostic and therapeutic potential in the management of biliary disorders.
However, these systems are limited. They are fragile and cumbersome; require two endoscopists; are limited to two-way endoscopic steering; lack adequate working channels, widespread availability, and expertise; and have high maintenance costs.
Miniscopes were then developed. They were introduced into bile ducts through standard duodenoscopes. Earlier versions were fragile, did not have tip deflection, and lacked working channels.
Larger miniscopes were later developed to overcome the limitations of earlier, smaller miniscopes. Advantages include therapeutic capability from the instrumentation channel, but they were limited by the absence of separate air and water channels.
Single-operator system: SpyGlass cholangiopancreatoscopy
The initial clinical feasibility study for the SpyGlass cholangioscopy system (developed by Boston Scientific, Marlborough, MA) was described by Chen et al in 2007. [51] This system was considered a major breakthrough in cholangioscope technology and overcame many limitations of earlier versions.
The SpyGlass cholangioscopy system is operated by a single endoscopist. It has four-way tip deflection, separate irrigation and working (instrumentation) channels, and a four-lumen single catheter. It allows for significantly decreased time under fluoroscopy and thus decreased radiation exposure. Multicenter international trials showed promising results in the diagnosis and treatment of many biliary and pancreatic diseases.
The SpyGlass cholangioscopy system [32] consists of capital components and consumable devices (see in the image below).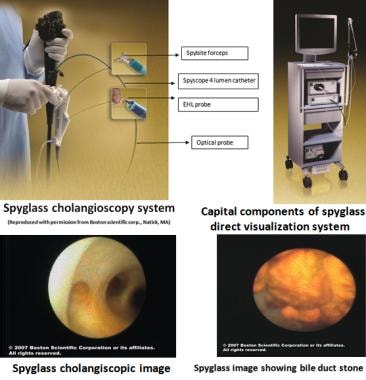 Spyglass System and images from the biliary system.
Capital components include the following:
Component cart and three-joint arm

Light source and cable (300-W high intensity white light)

Camera and camera head (autoshutter camera with color image sensor)

Ocular-optical coupler that interfaces with the probe and camera head

Isolation transformer

Power cable pack

Irrigation pump

Video monitor
Regarding consumable devices, the system makes use of a disposable access and delivery catheter (10-French outer diameter), a reusable optical probe, and disposable biopsy forceps.
The SpyScope access and delivery catheter is a single-operator, disposable catheter used for introducing the SpyGlass system into the biliary system. It has a length of 230 cm and an outer diameter of 10 French. It consists of four lumina: one for the SpyGlass optical probe, one lumen for the SpyBite forceps, and two for electrohydraulic lithotripsy or laser probes. Two irrigation channels exit at the end of the catheter for irrigation of ducts. It is unique because it has a four-way tip deflection to help with navigation and better visualization of the biliary ducts.
The SpyGlass fiberoptic probe is a multiple-use device with a length of 231 cm that conducts light to biliary ducts and captures fiberoptic endoscopic images. It consists of a 6000-pixel image bundle surrounded by an approximately 225-light transmission bundle. A lens connected at the distal end of the image bundle captures a 70º field of view. Images captured are inferior to those captured by video cholangioscopes.
The SpyBite forceps is a single-use device that has a 286-cm working length. The forceps is introduced through the 1.2-mm working channel of the SpyScope catheter. The forceps jaw is designed with a central spike and has an outer diameter of 1 mm for obtaining small target biopsies under direct visualization.
The SpyGlass system is compatible with a few electrohydraulic lithotripsy and laser probe devices introduced through the working channel of the SpyScope catheter.
Direct cholangioscopy
Direct cholangioscopy has superior image quality. Equipment that has been used includes the following:
Olympus Gastroscope GIF-Q 180 with a diameter of 8.8 mm, preloaded with an 11.5-French balloon

Olympus Ultraslim upper endoscope GIF-XP 160 with a diameter of 5.9 mm and a 2-mm instrument channel
Lee et al evaluated the use of a third-generation multibending ultraslim cholangioscope (CHF-Y0010; Olympus Medical Systems, Tokyo, Japan), in 20 patients with difficult bile duct stones for whom previous attempts at conventional endoscopic stone removal had been unsuccessful. [57] Complete ductal clearance was achieved in 19 patients (95%). A median of 2 (range, 1-3) ERCP sessions were required for complete stone removal. One patient (5%) had an adverse event and was treated conservatively.
Patient Preparation
Anesthesia
Cholangioscopy is a time-consuming and labor-intensive procedure. Deep sedation with parenteral midazolam/fentanyl by an anesthesiologist during the procedure is preferred. In few cases, general anesthesia may be required to perform the procedure. Protection of the airway is an important concern during a prolonged procedure such as cholangioscopy, which further emphasizes the need for an anesthesiologist.
The patient should be under continuous monitoring of blood pressure, heart rate, heart rhythm, respiratory rate, and pulse oximetry during the procedure.
Positioning
Patients are generally placed in a prone position during cholangioscopy.
What would you like to print?