Overview
Background
For the majority of patients with hemorrhoids, outpatient treatment is feasible and sufficient. [1] Rubber-band ligation is one of the most common outpatient treatments available for patients with hemorrhoids. In this procedure, a rubber band is applied to the base of the hemorrhoid to hamper the blood supply to the hemorrhoidal mass. The hemorrhoid will then shrink and fall off within 2-7 days.
Rubber-band ligation is readily performed in an ambulatory setting. The procedure causes less pain and has a shorter recovery period than surgical hemorrhoidectomy. Its success rate is between 60% and 80%. [2, 3, 4]
A number of prospective studies have found rubber-band ligation to be a simple, safe, and effective method for treating symptomatic first-, second-, and third-degree hemorrhoids as an outpatient procedure with significant improvement in quality of life. [2, 3, 4, 5, 6] Hemorrhoid ligation has a limited morbidity, good results, long-term effectiveness, and good patient acceptance. It has been found to be safe even for patients with cirrhosis and portal hypertension and for patients on anticoagulation threrapy. [3, 4]
Indications
Hemorrhoid ligation is performed for first-degree, second-degree, and some cases of third-degree hemorrhoids when the patient complains of bleeding or prolapse of hemorrhoids. [7] Band ligation may also be considered for bleeding in severely anemic patients with fourth-degree hemorrhoids who are unfit for surgery.
Contraindications
Rubber-band ligation is contraindicated for the following:
Patients using anticoagulants

Patients with a septic process in the anorectal region (eg, perianal abscess, proctitis, or colitis)

Patients with acutely thrombosed hemorrhoids

Patients with large grade IV hemorrhoids

Patients with hypertrophied anal papilla

Patients with chronic anal fissure (surgical treatment is more appropriate in such cases)

Cases in which insufficient tissue is availagble to be pulled inside the band ligator drum
Technical Considerations
Best practices
Clinically, patients who have hemorrhoids usually present with bleeding, prolapse, pain (with thrombosis or ulceration), perianal mucous discharge, or pruritus. The complications of hemorrhoids are thrombosis, infection with inflammation, ulceration, and anemia.
Internal hemorrhoids are classified into four grades, as follows:
First degree - Veins of anal canal increase in number and size, and they bleed on defecation

Second degree - Hemorrhoids prolapse outside anal canal but reduce spontaneously (see the image below)

Third degree - Hemorrhoids protrude outside anal canal and require manual reduction

Fourth degree - Hemorrhoids are irreducible and remain constantly prolapsed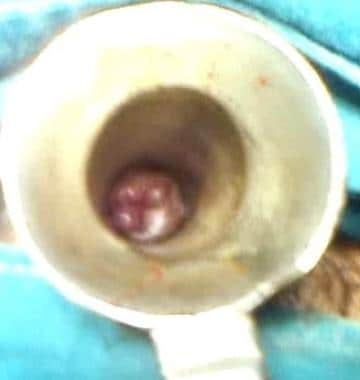 Second-degree hemorrhoids.
The initial treatment for symptomatic first- and second-degree hemorrhoids with a short history of bleeding, prolapse, or itching and pain is directed toward controlling constipation with dietary measures such as a high-fiber diet, sitz bath, stool softeners, laxatives, and various topical creams. [2, 3]
When medical treatment fails, ambulatory treatment is advised. Ambulatory treatments for hemorrhoids include injection sclerotherapy, rubber-band ligation, cryosurgery, infrared coagulation, and ultrasonic Doppler-guided transanal hemorrhoidal artery ligation (HAL). [8, 9, 10] Surgical treatment includes open or closed hemorrhoidectomy and stapled hemorrhoidopexy.
Procedural planning
A proctosigmoidoscopy or anoscopy is always performed before any treatment for hemorrhoids is considered. In patients older than 40 years, polyps and other colonic pathology may be present; therefore, colonoscopy is advised in these patients before they are treated for hemorrhoids. A colonoscopy or barium enema should be always performed before any treatment for hemorrhoids is considered in the following cases [3] :
If there is suspicion of colonic disease based on patient's symptoms and clinical evaluation

When hemorrhoids do not appear to be the cause of bleeding

When bleeding is continuous even after hemorrhoid ligation
It is now widely accepted that piles are nothing more than a sliding downwards of part of the anal canal lining. [2] It is therefore obvious that treatment measures have to address reduction of the prolapse as well as reduction of blood flow to the hemorrhoid mass. The principle of outpatient treatment is to fix the mucosa above the prolapsing hemorrhoid. Preceding lateral internal sphincterotomy under local anesthesia may be done simultaneously for patients with high sphincter tone associated with first-degree hemorrhoids.
Complication prevention
Because of the risk of hemorrhage, rubber-band ligation is absolutely contraindicated in patients on anticoagulant therapy. Patients taking aspirin should stop the medication at least 14 days before the procedure. [2]
The rubber rings must be applied on an insensitive area well above the dentate line to avoid postprocedural pain.
The clinician should carefully examine the patient for anorectal complains before embarking on rubber-band ligation. Failure to recognize a septic process in this region may lead to fatal sepsis with extensive cellulitis and gangrene after the procedure.
Outcomes
The multicenter HubBLe trial compared the outcomes of rubber-band ligation with those of HAL in 370 patients aged 18 years or older who presented with second- or third-degree hemorrhoids, including some who had previously undergone band ligation. [11] The primary outcome was recurrence at 1 year; the secondary outcomes were recurrence at 6 weeks; hemorrhoid severity score; European Quality of Life-5 Dimensions, 5-level version (EQ-5D-5L); Vaizey incontinence score; pain assessment; complications; and cost-effectiveness.
The 1-year recurrence rate was 30% for HAL and 49% for rubber-band ligation; however, when multiple band ligations were performed, the recurrence rate fell to 37.5%. [11] Symptom scores, complication rates, EQ-5D-5L scores, and continence scores did not differ significantly between the two groups, and patients who underwent HAL were found to experience more pain in the early postoperative period. HAL was more expensive and was judged unlikely to be cost-effective.
What would you like to print?