Technique
Creation of Hepaticojejunal Anastomosis
In operating on the biliary tract, various incisions can be used to gain proper exposure. Common approaches include the following:
Right subcostal incision

Right paramedian incision

Midline incision
Some authors believe the best possible exposure is afforded by the bilateral subcostal incision.
Upon entry into the abdomen, adhesions to the biliary structures are often encountered, and these must be meticulously dissected and taken down so as to free up the duodenum, and possibly the colon, from the biliary tree. The hepatoduodenal ligament must be dissected free of these adhesions, and adequate kocherization of the duodenum must be carried out.
A useful trick that can help identify a dilated common bile duct is to use a finder needle. Aspirating the portal structures with a fine (eg, 25-gauge) needle can facilitate identification of the common duct. In dissecting the portal structures, finding the hepatic artery medially is beneficial. Variations in hepatic arterial supply can occur in as many as 45% of patients, and it is vital to be aware of these important differences. [14] A case in point is a replaced right hepatic artery that originates from the superior mesenteric artery; this artery can pass posterior and lateral to the portal vein and common bile duct.
When the common duct has been identified, two traction sutures of 4-0 monofilament are placed on either side of the dilated bile duct. The distal common duct is ligated with two 0-0 ties, and the common duct is divided below the traction sutures. The end of the common duct is then trimmed to achieve maximal diameter. Excessive dissection of the common duct must be avoided because the arterial supply runs at the 9 o'clock and 3 o'clock positions. [15] (See the image below.)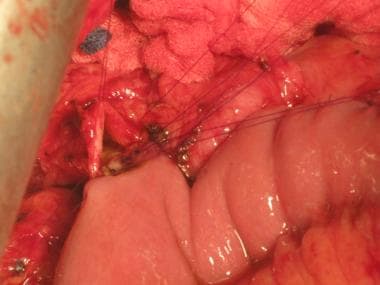 Posterior wall of hepaticojejunostomy anastomosis completed, with anterior wall retracted by stay sutures.
At this point, a bile specimen is obtained for culture and sensitivity testing, any debris present is removed from the bile duct, and the area is irrigated with saline run through a No.5 or No. 8 pediatric feeding tube.
Occasionally, one encounters a biliary stricture or bile duct injury at the confluence of the right and left hepatic ducts. In this situation, not enough tissue is present to allow anastomosis of the common bile duct to the jejunum. Knowledge of the anatomy is crucial for this procedure. One must be aware that the extrahepatic part of the left hepatic duct runs parallel to the liver hilum and that the right hepatic duct dives directly into the liver parenchyma. Because the extrahepatic left hepatic duct does not cross vasculature and does not receive biliary ducts, a side-to-side anastomosis between it and a jejunal limb is ideal.
For anastomosis to either the common bile duct or the confluence of the hepatic ducts, it is necessary to fashion a Roux-en-Y jejunal limb. [16, 17] This limb is identified and transected with a stapling device 30-35 cm from the ligament of Treitz. Transection at this point along the jejunum provides sufficient bowel mesentery length to reach the hepatic hilum when an antecolic Roux procedure is performed. A single-layered anastomosis can be performed with a permanent 4-0 monofilament suture.
The key point to remember is that to achieve a stable anastomosis, mucosal contact must exist between the bowel and the biliary tree. For a choledochoenterostomy, such contact can be achieved by performing an end-to-side anastomosis with 4-0 monofilament suture. For a hepaticojejunostomy, this is achieved by performing a side-to-side anastomosis to the Roux limb as first described by Hepp and Couinaud, again with a 4-0 monofilament suture.
Postoperative Care
If drainage is necessary, a closed suction drain is preferable because of the reduced risk of infection. This drain can typically be removed in 3-5 days, depending on output. If bile output increases, a bile leak should be assumed, and the drain should remain in place as long as needed. Most biliary fistulas of this sort close in less than 3 weeks.
A nasogastric tube should be in place after the operation and should be attached to wall suction. The patient should also receive intravenous fluids for the first few days after surgery. Subsequently, the intravenous fluid therapy and nasogastric tube suctioning are discontinued as warranted by the patient's clinical appearance and progression of bowel activity.
Complications
Complications during hepaticojejunostomy can arise from any of the following three major points during the operation:
Isolation of the bile duct

Resection of the bile duct

Creation of the biliary-enteric anastomosis
Any of the portal structures, including the common hepatic artery, can be injured during isolation of the common bile duct. Unintentional injury to the common hepatic artery (most commonly due to anatomic variation [18] ) results in hemorrhage and accidental ligation, and division of this vessel can cause ischemia to the right hemiliver.
If a lateral injury occurs to the vessel, proximal and distal control should be obtained, and the artery should be repaired in a transverse fashion with a monofilament suture so as to avoid stricture or stenosis. If complete transection occurs, an end-to-end anastomosis should be performed. [19] If injury occurs and is identified, proximal and distal control should be gained, and primary repair should be performed. [20, 21]
Leakage can occur at the biliary-enteric anastomotic site, [22] most often secondary to a technical error such as imprecise suture placement or an anastomosis performed under tension. When tension is likely to be present, a Roux-en-Y anastomosis of appropriate length is preferred to remove the tension.
In a hepaticojejunostomy, the biliary-enteric anastomosis is usually to smaller ducts, which can be multiple if the injury or stricture is above the bifurcation of the right and left ducts. In such cases, a small accessory duct can be missed and give rise to bile leakage and all the sequelae that occur with this complication. These missed ducts commonly necessitate reoperation with additional anastomosis formation. These complications can be minimized or eliminated by obtaining a thorough understanding of the biliary anatomy preoperatively with the help of imaging modalities such as magnetic resonance cholangiopancreaticography (MRCP) or percutaneous transhepatic cholangiography (PTC). [23, 24]
AbdelRafee et al carried out a retrospective cohort study in which 120 patients with postcholecystectomy bile duct injuries that were treated by means of Roux-en-Y hepaticojejunostomy were followed for a mean of 149 months (range, 70-246 months). [25] Of the 120, 88.3% had successful long-term outcomes, and 29% had long-term complications. Anastomotic stricture developed in 11.6%, and 14.2% experienced recurrent episodes of cholangitis. Predictors of poor outcome included post-ERCP pancreatitis, grreater number of anastomoses, longer operating time, early postoperative complications, and postoperative bile leakage.
In rare cases of major biliary complications necessitating surgical intervention after hepaticojejunostomy, portoenterostomy may be considered as a salvage procedure, though this is not step to be taken without appropriate consideration of other possible options. [26]
What would you like to print?