Technique
Approach Considerations
Basic surgical principles of laparoscopic hernia repair include the following:
No tension

Appropriate trocar placement

Use of mesh
The abdominal wall defect remains, and the mesh is placed without any tension so as to prevent herniation of the abdominal cavity content.
The number of trocars used and their placement are related to the location of the hernia in the abdominal wall and its size. The most important consideration is to be able to maintain the surgical principles during the hernia repair. Good exposure, triangulation, traction, and countertraction must never be compromised in an attempt to use fewer trocars.
When mesh is not used, the recurrence of incisional hernias may be as high as 63% after 10 years, compared with 32% when mesh is used. [28, 29, 30, 31]
Zheng et al described a novel enhanced transabdominal preperitoneal (ETAP) technique for laparoscopic suprapubic incisional hernia repair in 57 patients. [32] Dissection of the peritoneum was carried out 2 cm above the abdominal wall defect and 2 cm below the pubic arch and was closed with full-thickness transabdominal sutures. The peritoneal flap was closed with continuous sutures after placement of the mesh with 5 cm overlap on all sides. The mean length of hospital stay was 2.6 days, and the rate of complications (including seroma, postoperative pain, and urinary retention) was 17.86%. None of the complications required further management.
Morioka et al described the use of a subcutaneous switching suture technique for hernia defect closure during laparoscopic ventral and incisional hernia repair in 16 patients. [33] A suture passer was used to advance the thread through the incision into the abdomen and also to bring the thread out through the incision on the opposite side of the defect. The threads were placed into the subcutaneous plane with the help of the suture passer and were tied. There were no complications after the procedure.
Robotic-assisted laparoscopic approaches have been described. In a multicenter case series (N = 368), Gonzalez et al reported short-term perioperative outcomes for robotic-assisted repairs that were comparable to those cited in published studies of laparoscopic and open ventral hernia repairs. [34] Compared with standard laparoscopic repairs, robotic-assisted repairs appear to be associated with a longer operating time but a shorter length of stay. [35, 36]
Guidelines regarding laparoscopic treatment of incisional hernias have been published by the International Endohernia Society (IEHS). [11, 12]
Laparoscopic Repair of Incisional Hernia
Trocar placement and creation of pneumoperitoneum
The procedure starts by gaining access to the abdominal cavity. Pneumoperitoneum must be established. A 5-mm or 10-mm trocar can be used with an open or a needle technique. The authors prefer to place a 10-mm optical port and two 5-mm ports, with an additional 5-mm port contralateral to the optical port to deploy additional fixation tacks (see the image below).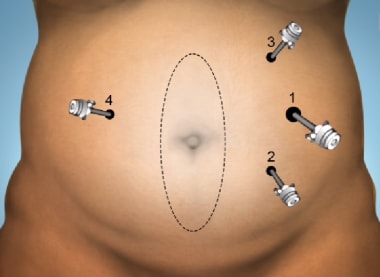 Ideal port placement. 1. Optical trocar 2,3,4. Working trocars.
The placement and number of trocars is related to the location of the hernia in the abdominal wall and its size. The most important considerations are to be able to maintain the surgical principles during the hernia repair. Good exposure, triangulation, traction, and countertraction must never be compromised in an attempt to use fewer trocars. Once pneumoperitoneum is created, a pressure of 12 mm Hg is maintained throughout the case.
Lysis of adhesions and sac reduction
Intra-abdominal adhesions are often present. These are usually omental and located inside the hernia sac. Safely lysing these adhesions is an important step, and enterotomies can occur if too much force is used or if electrosurgical instruments are used without caution. The authors advocate blunt dissection, use of sharp scissors, and minimal use of electrocautery to avoid electrical injury. If there is no clear plane between intra-abdominal viscera and the abdominal wall, the authors resect abdominal wall tissue to preserve bowel integrity.
The sac is reduced into the abdominal cavity. At this point, bleeding can occur and should be controlled mechanically with clips, sutures, or endoscopic loops rather than with energy so as to prevent inadvertent injury to the viscera.
Sac management
The authors routinely refrain from excising the hernia sac unless it is small; this avoids prolonged operating times and excessive bleeding.
Mesh placement
The mesh is introduced through the 10-mm trocar. A swatch that overlaps at least 5 cm from the hernia edges should be used. The authors use a dual-surface mesh that has a textured surface to maximize tissue incorporation to the abdominal wall and a smooth surface to minimize intra-abdominal adhesions to the underlying omentum and bowel. Another option is to use a polytetrafluoroethylene (PTFE) mesh.
The mesh is oriented with the textured surface into the hernia and the smooth layer facing inward. A fixation device may be used in the form of a tacker that places absorbable or nonabsorbable tacks; one study suggested that the former may be associated with a higher recurrence rate. [37] The authors use two lines of tacks, creating a double-circle configuration, with the outer line located close to the edge to prevent the mesh from folding on itself.
The authors strongly advocate placement of transfascial sutures to prevent migration of the mesh, especially in obese patients. A Carter-Thomason suture passer is a good option for performing this step. At least four of these anchoring sutures are placed (see the image below).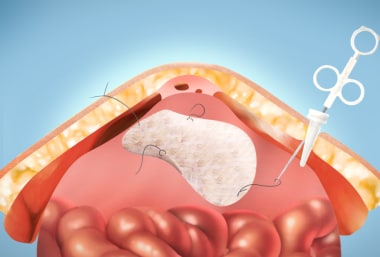 Mesh fixation using transfascial sutures.
The mesh is inspected for adequate coverage and absence of tension, and hemostasis is ensured. Following this, pneumoperitoneum is released, and the trocars are removed under direct visualization. The 10-mm port is closed with figure-eight 0 absorbable suture. The skin is closed with a 4-0 absorbable suture.
Postoperative Care
Ambulatory or outpatient is considered for cases of small incisional hernias. Patients may be released after voiding and postanesthesia routine care, usually after 4 hours.
Pain is controlled with intravenous opioids given as patient-controlled analgesia (PCA). Muscle relaxants such as methocarbamol or cyclobenzaprine are routinely used.
Patients are started on a clear liquid diet and advanced as tolerated. Activity is ad libitum.
The authors routinely use abdominal binders, which may help prevent seroma formation and provide a sense of support to the patient.
Complications
Approximately 3% of patients who undergo laparoscopic incisional hernia repair develop prolonged ileus, which is usually managed with gastric decompression and, in some cases, parenteral nutrition and observation.
As many as 2% of patients may experience prolonged pain after the procedure.
A literature review of 3925 patients who underwent laparoscopic ventral hernia repair showed an overall enterotomy rate of 1.78%. About 97% of enterotomies are recognized intraoperatively and can be repaired. Missed enterotomies are associated with increased mortality. [38] A retrospective sudy comparing complication rates between open and laproscopic incisional hernia repair found that although the latter had a low incidence of complications overall, it was associated with a higher risk of undetected enterotomy. [39]
Although most patients develop seromas after laparoscopic repair, persistent seromas occur in as many as 3% of patients.
Port-site hernia is an uncommon complication. A 2010 study found the incidence to be 1.7%. [40] A 2017 study that included both primary and incisional ventral hernias found the incidence of this complication to be only 0.02%. [41]
Mesh infection is a serious complication, and although its incidence is very low, its consequences are severe. Most infections are caused by skin pathogens. Infected mesh is treated with drainage and removal of unincorporated pieces of mesh. In most cases, removal of the entire synthetic material is required. The reported incidence in 3276 patients was 0.6%. [42]
What would you like to print?