Overview
Background
The majority of benign gastric tumors are asymptomatic, but in very rare cases, they present with epigastric pain, gastric outlet obstruction, and bleeding. Adenomatous polyps have a truly neoplastic behavior with the potential for the development of malignancy. Also, gastrointestinal stromal tumors (GISTs) have different behavioral patterns, ranging from benign to malignant. The etiology of benign tumors varies according to the type of tumor and the associated pathology.
With the advent of modern techniques and the widespread use of gastric endoscopy, benign gastric wall lesions are now diagnosed more frequently and can be studied using the tissue obtained by biopsy or polypectomy. In the past, the diagnosis of gastric tumors was based on radiographic examination, but in 1922, Schendler was the first to make an endoscopy-based diagnosis. [1]
Pathophysiology
All layers of the stomach wall have the potential to produce tumorous growths. In 40% of patients with benign gastric tumors, the lesions are mucosal tumors. Another 60% are nonmucosal-based. Gastric polyps are defined as luminal lesions projecting above the plane of the mucosal surface and are relatively frequent in routine pathology practice. Various subtypes of gastric polyps are recognized and divided into nonneoplastic and neoplastic and are also further classified by their association with polyposis syndromes. [2, 3]
Benign gastric tumors may be classified according to the following schema (see image below):
1 - Mucosal tumors

1.1 - Nonneoplastic polyps

1.1.1 - Not associated with polyposis syndromes

1.1.1.1 - Hyperplastic polyps

1.1.1.2 - Inflammatory fibroid polyp (eosinophilic granuloma - Vanek tumor)

1.1.1.3 - Xanthoma/xanthelasma

1.1.1.4 - Ectopic pancreas

1.1.2 - Associated with polyposis syndromes

1.1.2.1 - Hamartomatous polyp (Peutz-Jeghers syndrome)

1.1.2.2 - Juvenile polyps

1.1.2.3 - Cowden disease

1.1.2.4 - Cronkhite-Canada syndrome

1.1.2.5 - Gardner syndrome

1.2 - Neoplastic polyps

1.2.1 - Fundic gland polyp

1.2.2 - Adenomatous polyp

1.2.3 - Gastric carcinoid

2 - Nonmucosal tumors

2.1 - Mesenchymal

2.1.1 - GIST

2.1.2 - Lipoma

2.1.3 - Fibroma

2.1.4 - Glomus tumor

2.2 - Vascular

2.2.1 - Hemangioma

2.2.2 - Lymphangioma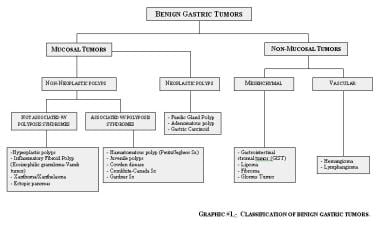 Classification of benign gastric tumors.
Epidemiology
Benign tumors of the stomach are uncommon, with an incidence of 0.4% in autopsy series and 3-5% in upper endoscopic series, most of them performed for unrelated reasons. Polyps account for 3.1% of all gastric tumors, and their frequency increases to almost 90% of benign gastric tumors. They can become inflamed or eroded, but bleeding still remains unusual. Large distal lesions have been associated with symptoms of gastric outlet obstruction. [2]
Age and sex distribution depend on the type of tumor. There is no difference in distribution by race.
What would you like to print?