Workup
Imaging Studies
Air-contrast studies of the stomach are sensitive in delineating mucosal details and lesions. Lesions are often found incidentally on computed tomography (CT) or other radiologic evaluations of the upper gastrointestinal (GI) tract. (See the image below.)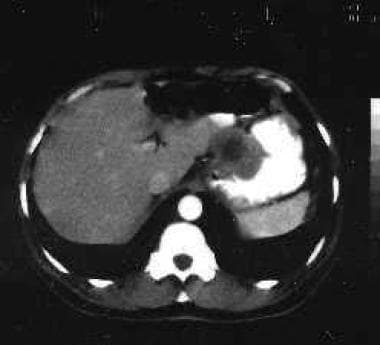 Benign gastric tumors. CT scan of the abdomen showing a large GIST in the wall of the lesser curvature of the stomach.
Multidectector CT (MDCT) may be useful for evaluating the involvement of the gastric wall and assessing the extragastric extent of the disease. [5] A study by Meng et al found quantitative analysis in dual-energy spectral CT (DESCT) imaging parameters to be useful for distinguishing malignant gastric mucosal lesions from benign gastric mucosal lesions. [6]
Endoscopy
Endoscopy has become more common for both diagnostic and therapeutic purposes. [7] (See the image below.) Endoscopic findings that suggest malignancy include red coloring, the presence of surface erosions, and the absence of a pedicle. In a study of endoscopic risk indicators for gastric cancer, Yamashita et al found gastric xanthomas to be positively associated with gastric cancer and fundic gland polyps to be negatively associated. [8]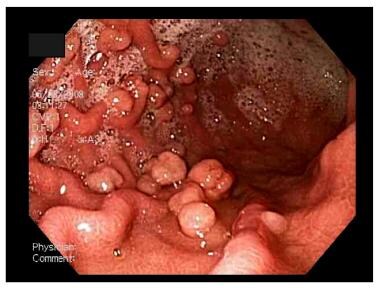 Upper endoscopy showing multiple gastric polyps.
If small superficial lesions are removed endoscopically, follow-up should include a regular annual endoscopy.
Endoscopic biopsies are difficult to interpret and may be misleading because deep layers of the stomach wall or the tumor are not sampled. Snare biopsies that retrieve the whole specimen are preferred whenever technically possible.
Endoscopic ultrasonography (EUS) is helpful in broad-based lesions, where the relation of the tumor to the layers of the stomach is important. Disruption of the normal appearance of five layers on EUS may signify invasion. Contrast enhancement of EUS may prove useful for differentiating various submucosal lesions of the stomach. [9]
In a prospective blinded study comparing conventional gastroscopy and standing-type magnetically controlled capsule endoscopy (SMCE) with respect to feasibility and safety in detecting gastric lesions, Lai et al found that SMCE was equivalent to gastroscopy and could be useful for screening of gastric illnesses without anesthesia. [10]
Histologic Findings
Hyperplastic polyps
There is marked elongation of the pits with branching, resulting in a corkscrew appearance or in cystic dilatation of foveolae. Also, there is an excess of lamina propria with plasma cells, lymphocytes, eosinophils, mast cells, macrophages, and neutrophils. The gastric glands do not normally participate in the formation of the polyps. The surface may be ulcerated and inflamed with regenerative atypia. There may also be invagination of the surface mucosa with budding. [2]
Gastric hyperplastic polyps must be distinguished from hyperplasia of the foveolar layer of the gastric mucosa (polypoid foveolar hyperplasia [PFH]). [11] Although PFH is considered to be a precursor of gastric hyperplastic polyps, it has a slightly different microscopic structure.
Inflammatory fibroid polyps
These polyps are centered on the submucosa. Small, thin-walled vessels surrounded by spindle cells are arranged in an "onion-skin" pattern. Polyps are CD34-positive and c-Kit-negative. [2, 12]
Hamartomatous polyps of Peutz-Jeghers type
Gastric mucosa is less frequently involved than the small bowel and the colon. The polyps are composed of hyperplastic glands separated by branching cores of smooth muscle with atrophy of deep glandular components. Dysplasia is very uncommon. [2]
Juvenile polyps
These polyps are very rare and are usually associated with juvenile polyposis. They are composed of edematous and inflamed mucosa with tortuosity of the foveolar zones and are easily confused with hyperplastic polyps. There is an association with an increased risk of cancer. [2]
Gastric polyps in Cowden disease
The foveolar glands are enlarged and elongated. Smooth-muscle fibers are intermingled within the mucosal components, and the cystic structures extend into the submucosa. [2]
Gastric polyps in Cronkhite-Canada syndrome
These polyps are usually associated with lesions in other parts of the GI tract. They are indistinguishable from juvenile polyps and hyperplastic polyps, and they are diagnosed if in the presence of alopecia, nail atrophy, or hyperpigmentation. [2]
Fundic gland polyps
These are dilated glands lined by fundic epithelium mixed with normal glands. There is usually no inflammation or atypia, but some disordered muscle fibers may be seen. [2]
Adenomatous polyps
They are composed of tubules or villi of dysplastic epithelium with some degree of intestinal-type differentiation. They can be low-grade or high-grade, depending on the degree of dysplasia. The risk of malignancy is related to the size, the degree of dysplasia, and the villosity of the growth pattern. About 40-50% of lesions larger than 2 cm contain carcinomatous transformation. [2]
Gastric carcinoids
Gastric carcinoids are very rare, representing fewer than 0.5% of gastric neoplasms, and are seen in three different settings: autoimmune atrophic gastritis, Zollinger-Ellison syndrome, and multiple endocrine neoplasia (MEN)-1 syndrome. They may also be seen sporadically. They are usually broad-based, yellowish polypoid lesions overlined by normal mucosa. Chromogranin A is positive, but chromogranin B is usually negative. Synaptophysin is positive in 50% of cases. [2]
What would you like to print?