Overview
Background
Pancreaticoduodenectomy has evolved since Kausch performed the first successful procedure as a two-stage operation in 1912. He was preceded by Codivilla in Italy, who performed the first pancreaticoduodenectomy in the 1890s; however, the patient unfortunately died in the immediate postoperative period.
The modern colloquial name for this operation (ie, Whipple procedure) refers to Dr Allen Oldfather Whipple, the surgeon who reported his series of pancreaticoduodenectomies in 1935. He had performed the procedure on three patients as a two-stage operation for periampullary neoplasms, then later refined his methodology to a one-stage procedure.
In 1937, Brunschwig extended the indications for pancreaticoduodenectomy by performing the operation for pancreatic head lesions.
In 1946, Waugh and Clagett described a formal en-bloc resection of the gallbladder with the common bile duct (CBD), gastric antrum, duodenum, and pancreatic head performed as a one-stage procedure, which we recognize today as the classic pancreaticoduodenectomy. However, the operation, though refined since Codivilla and Kausch, was utilized sparingly; perioperative mortality continued to be prohibitive, estimated as being close to 25% into the 1960s.
As advances in medicine yielded better perioperative outcomes across surgical applications, interest in the Whipple procedure was revitalized, and the procedure was performed increasingly often. In an effort to decrease postgastrectomy syndromes, especially nutritional, in post-Whipple patients, Traverso and Longmire described a pylorus-preserving modification in 1978. Important subsequent advances included the application of new technologies (ie, laparoscopic and robotic approaches to pancreaticoduodenectomy). [1, 2, 3, 4, 5, 6, 7] More recently, a pylorus-resecting pancreaticoduodenectomy (PRPD) was described, intended mainly to address the issue of delayed gastric emptying (DGE).
Although innumerable details of pancreaticoduodenectomy yield to continued innovation, a comprehensive discussion of intraoperative variants (ie, duct to mucosa vs invagination of the pancreaticojejunal anastomosis, diverse approaches to vein resection and reconstructions, nuances of each enteric anastomosis, and modifications of Roux-en-Y reconstructions, to name a few) is beyond the scope of this article. We will focus on the technical aspects and perioperative impacts of the Traverso modification of pancreaticoduodenectomy.
See also Ampullary Carcinoma, Pancreatic Cancer, Pancreatic Trauma, and Carcinoma of the Ampulla of Vater.
Indications
Pylorus-preserving pancreaticoduodenectomy (PPPD) is indicated for the following benign conditions:
Benign periampullary neoplasms not amenable to local resection with ampullectomy

Benign duodenal neoplasms not amenable to local resection

Pancreatoduodenal trauma (rare)
PPPD is also indicated for the following malignant conditions:
Pancreatic ductal adenocarcinoma (PDAC)

Ampullary carcinoma

Distal CBD carcinoma (cholangiocarcinoma)

Duodenal carcinoma

Pancreatic islet cell carcinoma

Malignant intraductal papillary-mucinous neoplasm (IPMN) and mucinous cystic neoplasm (MCN)
Contraindications
Resectability is best described as the absence of contraindications for resection (see Technical Considerations). Pancreatic-protocol computed tomography (CT) with thin collimation will detect anatomic contraindications for surgical resection.
Technical Considerations
Anatomy
The pancreas is prismoid in shape and appears triangular in cut section, with superior, inferior, and anterior borders as well as anterosuperior, anteroinferior, and posterior surfaces.
The head of the pancreas lies in the duodenal C loop in front of the inferior vena cava (IVC) and the left renal vein (see the images below). The uncinate process is an extension of the lower (inferior) half of the head toward the left; it is of varying size and is wedged between the superior mesenteric vessels (vein on the right, artery on the left) in front and the aorta behind it.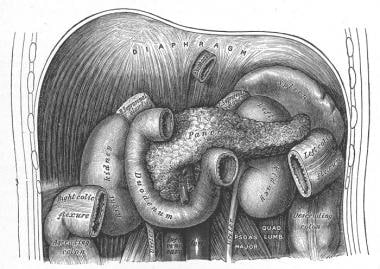 Duodenum and pancreas.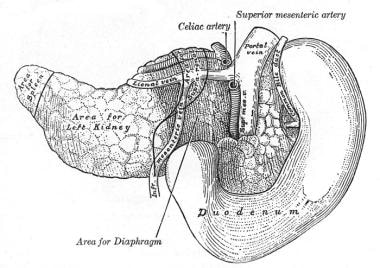 Pancreas and duodenum, posterior view.
For more information about the relevant anatomy, see Pancreas Anatomy.
See Pancreatic Adenocarcinoma Imaging: What You Need to Know, a Critical Images slideshow, to help identify which imaging studies to use to identify and evaluate this disease.
Procedural planning
Head-to-head comparison between the classically described pancreaticoduodenectomy and PPPD has not detected any significant differences with regard to operating time, perioperative morbidity, perioperative mortality, and long-term survival at 1, 3, and 5 years. Operative blood loss is slightly lower with PPPD, but the clinical significance of this is not clear.
Thus, PPPD can be considered a technical variant of pancreaticoduodenectomy, in which blood supply to the proximal duodenum is preserved. Therefore, it is important to emphasize that broad indications for resection will not differ between the two approaches. [1, 2, 3, 4] The two main points of difference between classical pancreaticoduodenectomy (ie, the Whipple procedure) and PPPD that merit discussion are the following:
Achievement of R0 oncologic resection (ie, surgical margins negative for tumor)

Postoperative DGE
From an oncologic perspective, PPPD should not be performed with large, bulky tumors or with any tumor that may involve the first or second portion of the duodenum. In addition, with the gastric antrectomy performed in classic pancreaticoduodenectomy, an average of four more nodes are harvested than would be harvested with PPPD. These will be positive for nodal metastases approximately 5% of the time. The question therefore arises as to whether the incidence of non-R0 resection in this small cadre of patients should bias the surgeon against PPPD.
Patients who undergo PPPD have a much higher incidence of DGE than those who undergo classic pancreaticoduodenectomy. This is the primary morbidity with PPPD patients, leading to more medical interventions and thus increased cost postoperatively, related to hospital stay, cost of jejunal feedings, and jejunal tube maintenance (eg, home nursing for tube care, emergency department [ED] visits for dislodgment, and tube replacement for dysfunction). If aspiration then complicates the matter, there can be a threat to the patient's life as well.
In view of the aforementioned considerations and the lack of statistical difference between classic pancreaticoduodenectomy and PPPD with regard to patient morbidity, mortality, and survival, the surgeon's choice of approach should be based on the individual patient profile and the specific characteristics of the tumor.
Determination of resectability
Tumor resectability must be assessed well before the patient arrives at the operating room. The tumor is considered resectable if it is locally confined (ie, if there is no distant disease). Preoperative imaging studies are the cornerstone of evaluation.
As noted, pancreatic-protocol contrast-enhanced CT with thin collimation is the most effective tool for identifying local extension. The tumor can be evaluated in relation to important vascular structures. A fat plane should be seen between the low-density tumor and surrounding structures.
The disease is considered resectable if the following conditions are met:
The tumor does not encase the celiac axis or SMA (does not involve >180º of circumference)

The superior mesenteric vein (SMV), the portal vein (PV), and the SMV-PV confluence are all patent (with no thrombosis)

There is no extraregional nodal disease

There is no distant metastatic disease
Additional imaging is usually not necessary, but in certain cases, endoscopic ultrasonography (EUS), fine-needle aspiration cytology (FNAC), or both may be employed for tissue diagnosis before the initiation of neoadjuvant therapy.
Complication prevention
The following are considerations in preventing complications:
Intravenous antibiotics for cholangitis or biliary sepsis

Prophylactic mechanical bowel preparation

Sequential compression devices for deep venous thrombosis (DVT) prevention

Preoperative biliary decompression if delay to surgery or preoperative cholangitis

Nasogastric decompression

Promotility agents, selective mu-receptor antagonists, pancreatic enzyme replacement
Outcomes
A 2014 Cochrane review examined six randomized controlled trials (RCTs) comparing classic Whipple pancreaticoduodenectomy with PPPD in a total of 465 patients with periampullary or pancreatic carcinoma. [8] The authors found no significant differences in mortality, morbidity, or survival between the two operations.
This review was updated in 2016 to include eight RCTs with a total of 512 participants. [9] Again, the investigators found no evidence of any significant differences in mortality, morbidity, and survival between the two operations, though some perioperative outcome measures favored PPPD to a significant degree.
What would you like to print?