Overview
Overview
Background
Strictures are focally narrowed segments of intestine that often result in bowel obstruction. A number of factors can lead to the development of strictures, such as inflammatory bowel disease, malignancy, infection, and prior operations. Crohn disease is an inflammatory disorder in which transmural inflammation can occur anywhere in the gastrointestinal tract, [1] and this often results in the formation of strictures. Several studies have reported that a high proportion of patients with Crohn disease require surgical intervention during their lifetime, with most studies citing numbers in the range of 70-90%. [2, 3, 4, 5]
Today strictureplasty is a well-established surgical treatment for patients with Crohn disease. It is a safe and effective procedure that preserves bowel length and averts metabolic sequelae associated with short-gut syndrome in patients with symptomatic obstructive Crohn disease. According to data from the American College of Surgeons National Surgical Quality Improvement Program (ACS-NSQIP), strictureplasty to treat Crohn disease is becoming less common; however, when the procedure is performed, postoperative rates of infectious complications and reoperation remain low. [6]
Indications
Indications for strictureplasty include the following:
Prior resection of more than 100 cm of small bowel

Rapid recurrence of Crohn disease with obstructive symptoms

Obstructing, fibrotic small-bowel stricture without associated sepsis
Contraindications
Contraindications for strictureplasty include the following:
Stricture close to a planned anastomotic site

Multiple strictures within a short segment

Any stricture with evidence of dysplasia or malignancy
Outcomes
One meta-analysis by Yamamoto et al examined 1112 patients who underwent surgical treatment for strictures and found strictureplasty to be a safe and effective procedure for Crohn disease of the jejunum and ileum. [2] Although recurrence is a frequent problem in patients with obstructive Crohn disease, numerous studies have found that in most patients who underwent strictureplasties, recurrence occurred at nonstrictureplasty sites. [2, 7]
Periprocedural Care
Preprocedural evaluation
Routine preoperative assessment of the patient's nutritional status with albumin and prealbumin levels should be performed. Those who are malnourished should receive preoperative supplements or parenteral nutrition in order to optimize postoperative wound healing. [8]
Preoperative computed tomography (CT) or magnetic resonance enterography should be obtained to define the extent and location of small-bowel strictures, to visualize any unsuspected fistulas or perforations, and to obtain an estimate of small-bowel length.
An ostomy nurse should meet with the patient before the procedure to discuss the possibility of a stoma and mark the potential site of an ostomy.
Equipment
Equipment used for strictureplasty includes the following:
Blade for skin incision

Bovie electrocautery

Abdominal retractors

Bowel clamps

Suture scissors

Any thermal device for mesentery ligation

Sutures for bowel repair (the authors use 3-0 polyglactin and 3-0 silk SH needle)

O-looped polydioxanone suture for fascial closure and staples or poliglecaprone suture for skin closure
Patient preparation
General anesthesia is used as expected. Place the patient in the supine position. Ensure that all pressure points are well padded.
Technique
Approach considerations
The optimal strictureplasty technique depends on the length of the stricture, as follows [5] :
Short strictures (<10 cm) – Heineke-Mikulicz strictureplasty

Medium-length strictures (10-20 cm) – Finney strictureplasty

Long strictures (>20 cm) – Side-to-side isoperistaltic strictureplasty

[9]
Multiple variations of these techniques have been described in the literature [10] ; however, the most common strictureplasty is the Heineke-Mikulicz version.
Regardless of the type of strictureplasty performed, the following important surgical principles must always be observed:
The bowel should always be incised along the antimesenteric border

The enterotomy must be extended 1-2 cm proximal and distal to the diseased segment

Any lesions suggestive of disease should be resected to rule out carcinoma

Excellent hemostasis should be obtained

After the strictureplasty, the surgeon should ensure that the lumen is patent and will accommodate peristalsis
Heineke-Mikulicz strictureplasty
A longitudinal incision is made along the antimesenteric border of the bowel. This incision is carried 1-2 cm proximal and distal to the diseased segment onto normal bowel.
Two 3-0 stay sutures are placed at the ends of the opening of the stricture. The stay sutures are then pulled perpendicular to the long axis of the bowel (see the image below). The enterotomy is closed transversely in one or two mucosal layers with 3.0 polyglactin sutures; the seromuscular layer is closed with 3-0 silk sutures.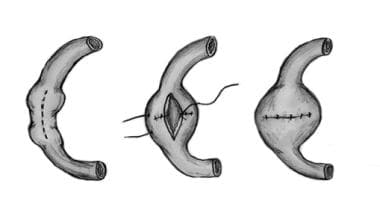 Heineke-Mikulicz strictureplasty.
Modified Heineke-Mikulicz strictureplasty
The modified Heineke-Mikulicz strictureplasty is used when two short-segment strictures are positioned very close to one another on the small bowel. A single enterotomy is made and extends through both strictures, as well as through the normal intervening segment. The enterotomy is then closed in a transverse fashion as described above.
Finney strictureplasty
Finney strictureplasty is ideal for medium-length strictures (10-20 cm). The bowel is folded at the stricture site, bringing the normal proximal and normal distal bowel alongside one another. The strictured segment is then opened up along the antimesenteric border and closed in a side-to-side hand-sewn anastomosis (see the image below).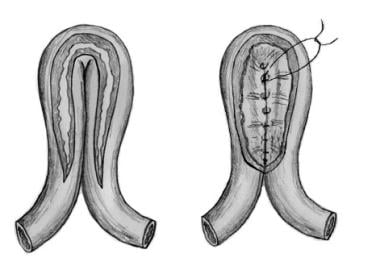 Finney strictureplasty.
Jaboulay strictureplasty
Jaboulay strictureplasty is used for bypass of strictures wherein the lumen is too narrow to allow passage of food contents; it is also used if the bowel wall at the stricture site is unsuitable to hold a suture line. The small bowel is folded at the stricture site so as to bring together normal proximal and distal small-bowel segments. These normal bowel segments are then opened up at the antimesenteric border and handsewn to each other in two layers as described above (see the image below).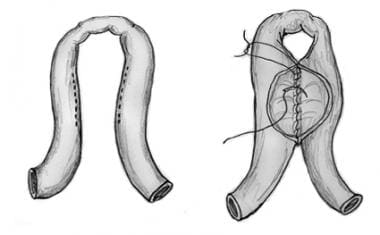 Jaboulay strictureplasty.
Complications
Complications of strictureplasty include recurrence of stricture, abscess, fistula, obstruction, and postoperative ileus. [2, 3] A retrospective review with 7.7 years of follow-up data cited intraluminal bleeding as the most common complication; [4] however, this was almost always self-limited and rarely required surgical intervention.
One meta-analysis found that the overall complication rate for jejunal and/or ileal strictureplasties was 13%, with septic complications (eg, leak, fistula, and abscess) occurring in as few as 4% of cases. [2]
What would you like to print?