Technique
Contrast Examination of Bladder
Procedure
The steps in contrast examination of the bladder are as follows:
Obtain an image of the abdomen and pelvis (kidneys-ureters-bladder [KUB]).
Catheterize and drain the patient's bladder using aseptic technique. Secure the catheter. A urine sample may collected at this point.
Introduce the contrast agent. An intravenous (IV) pole to suspend the contrast from above may be useful at this point to allow gravity to pull the contrast through the catheter into the bladder.
Instill the contrast according to the bladder capacity of the patient. For adults: 300-400 mL. For children: (age + 2) x 30 in mL.
Obtain images in several views. Once the patient is prepared and positioned, scout films (KUB) will confirm that the patient is in position for the fluoroscope. Pulsing during fluoroscopy may skew the results by reducing exposure to radiation.
The first view is an early filling (anteroposterior [AP]) view of the bladder. In this view, an ureterocele or bladder tumor may be visualized, which may later become obscured by additional contrast material entering the bladder (see the image below). [7]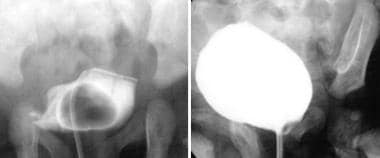 Ureterocele. Early anteroposterior voiding cystourethrography (VCUG) demonstrates small ureterocele (left). Ureterocele had been seen at prior ultrasonography of bladder. On VCUG obtained after bladder filling (right), ureterocele is obscured by contrast material. Image courtesy of Fernbach SK, Feinstein KA, Schmidt MB. Pediatric voiding cystourethrography: a pictorial guide. Radiographics. 2000;20:155-16.
Next, obtain full bladder (oblique) views, centered on the ureterovesical junction (UVJ). Vesicoureteral reflux (VUR) and bladder diverticula at the posterolateral UVJ can be visualized, as well as the appearance of the bladder wall at capacity (see the image below). [7]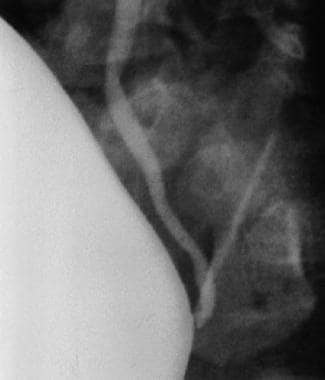 Oblique voiding cystourethrogram obtained at left ureterovesical junction demonstrates primary vesicoureteral reflux (ie, reflux without underlying abnormality such as bladder diverticulum, neurogenic bladder, or bladder outlet obstruction). Image courtesy of Fernbach SK, Feinstein KA, Schmidt MB. Pediatric voiding cystourethrography: a pictorial guide. Radiographics. 2000;20:155-16.
For a voiding urethra view (see the images below), turn males to the left or right anterior oblique position; females remain in the supine position (see images below). Voiding around the catheter is encouraged and will not obscure detection of posterior urethral valves. [8, 7]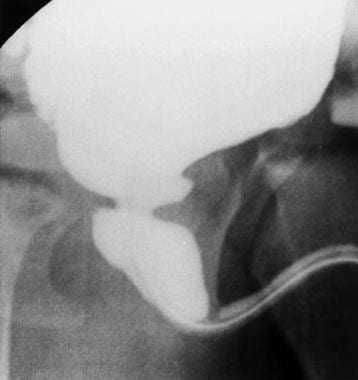 Posterior urethral valves. Oblique voiding cystourethrogram shows filling defect in the urethra with marked change in urethral caliber at level of defect, which indicates obstruction. Although catheter has remained in place during voiding, secondary changes crucial to diagnosis—trabeculated bladder, abnormally prominent bladder neck, and dilated and elongated posterior urethra—are clearly depicted. Image courtesy of Fernbach SK, Feinstein KA, Schmidt MB. Pediatric voiding cystourethrography: a pictorial guide. Radiographics. 2000;20:155-16.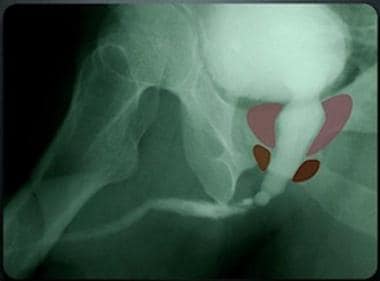 Voiding cystourethrogram (VCUG) in patient with bulbar urethral stricture. Graphics are superimposed on VCUG to show locations of prostate and external sphincter muscle (posterior urethra). Image courtesy of Joel Gelman, MD.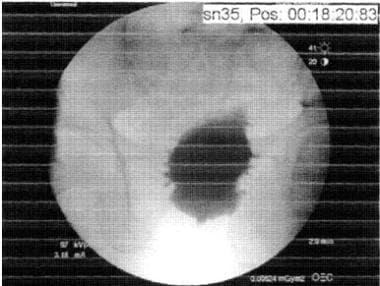 Voiding cystourethrogram in patient with detrusor sphincter dyssynergia shows trabeculated bladder wall and lack of cone-shaped bladder neck during voiding.
Next, obtain a postvoiding (AP) bilateral renal view, centered on each renal fossa, to determine whether any contrast has reached the upper urinary tract. If a high degree of reflux is present, obtaining delayed images 15 minutes after voiding can help differentiate between simple reflux and reflux associated with an ureteropelvic or UVJ obstruction.
Finally, obtain a postvoiding (AP) bladder view to assess the degree of emptying (see the image below). [9]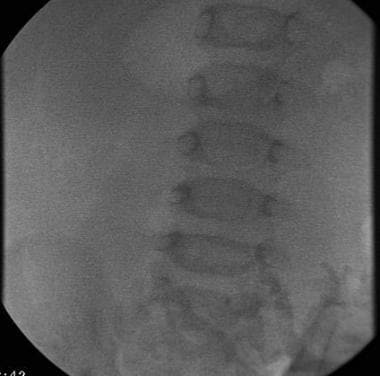 Postvoiding film shows no residual contrast material. Image courtesy of Radswiki.net.
The final images can be obtained multiple times in repeated voiding studies. Results from multiple voiding studies may be advisable to increase the likelihood of detecting VUR and having a more accurate picture of the grade of the VUR. Joaquim et al reported that of 362 cystographic examinations, VUR was detected correctly in 21% of patients in the first voiding cycle, with 5.5% and 2.5% in the second and third cycles, respectively, pointing to the utility of tracking multiple voiding cycles. [10]
At completion, the bladder is drained and the catheter is removed. For videourodynamics, the bladder is drained before insertion of the urodynamics catheter. Contrast material is infused via catheter and controlled by a pump, with the rate of contrast infusion calculated at the discretion of the radiologist.
Contraindications and Considerations
Cystography is contraindicated in the following conditions:
Active clinical urinary tract infection (UTI)

Pregnancy

Allergy or sensitivity to contrast medium

Labial adhesions – Voiding cystourethrography (VCUG) should be performed after the adhesions have been released.

Severe dementia or psychosis – A worthwhile videourodynamic examination depends on the patient and the examiner being able to communicate.
The American Urological Association's Best Practice Policy Statement on Antimicrobial Prophylaxis recommends prophylaxis only for patients with risk factors, [11] whereas the American Heart Association no longer recommends prophylaxis for the prevention of infective endocarditis in such procedures. [12]
Special consideration must be taken when performing this procedure in spinal cord injury patients who are affected above the splanchnic sympathetic outflow tract (T5-T6). It is necessary to fill the bladder with contrast during cystourethrography and urodynamics, which can induce autonomic dysreflexia (changes include sudden, severe hypertension with diaphoresis and flushing, and compensatory bradycardia). For these patients, it is important to have a urinary catheterization kit prepared in case the bladder needs to be drained emergently. In patients with a history of autonomic dysreflexia, consider prophylactic nifedipine or an alpha-blocker, in addition to careful blood pressure monitoring.
Complications
Patients commonly experience dysuria and perineal irritation following cystography, both of which are short-lived complications and likely caused by catheterization, although hypersensitivity to the contrast as it enters the bloodstream via bladder mucosa occurs rarely. UTI is another post-procedural complication; however, the risk can be mitigated by close adherence to aseptic technique and antibiotic prophylaxis when indicated. Bladder perforation rarely occurs during cystography. Perforation risk can be minimized by paying close attention not to advance the catheter more than 1-2 cm farther after obtaining the return of urine.
On urodynamic evaluation, bladder filling may trigger a vasovagal response, which can be managed by temporarily stopping contrast instillation and having the patient lie down. Autonomic dysreflexia (discussed above) is a dangerous complication that may also ensue following bladder filling. Immediate bladder drainage is recommended, and the study must be stopped. It is helpful to have a catheterization kit and antihypertensive drugs (for persistent hypertension) in anticipation of this complication, especially in patients with known spinal cord injury.
What would you like to print?