Overview
Background
Cystostomy is the general term for the surgical creation of an opening into the bladder; it may be a planned component of urologic surgery or an iatrogenic occurrence. Often, however, the term is used more narrowly to refer to suprapubic cystostomy or suprapubic catheterization. In a setting where an individual is unable to empty his or her bladder appropriately and urethral catheterization is either undesirable or impossible, suprapubic cystostomy offers an effective alternative.
Cystostomy for the purpose of suprapubic catheterization may be performed in 2 ways, as follows:
Via an open approach, in which a small infraumbilical incision is made above the pubic symphysis

Via a percutaneous approach, in which the catheter is inserted directly through the abdominal wall, above the pubic symphysis, with or without ultrasound guidance or visualization through flexible cystoscopy
This article focuses on the percutaneous approach because this method can potentially be performed in outpatient, bedside, or urgent care settings.
Relevant anatomy
The adult bladder is located in the anterior pelvis and is enveloped by extraperitoneal fat and connective tissue. It is separated from the pubic symphysis by an anterior prevesical space known as the retropubic space (of Retzius). The dome of the bladder is covered by peritoneum, and the bladder neck is fixed to neighboring structures by reflections of the pelvic fascia and by true ligaments of the pelvis.
The body of the bladder receives support from the external urethral sphincter muscle and the perineal membrane inferiorly and the obturator internus muscles laterally (see the image below).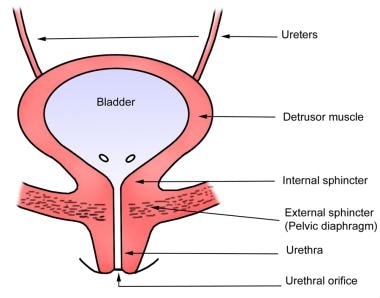 Gross anatomy of the bladder.
For more information about the relevant anatomy, see Bladder Anatomy. See also Female Urinary Organ Anatomy and Male Urinary Organ Anatomy.
Indications
At least 4 situations exist in which suprapubic cystostomy is considered:
Acute urinary retention in which a urethral catheter cannot be passed (eg, because of prostatic enlargement secondary to benign prostatic hyperplasia or prostatitis, urethral strictures or false passages, or bladder neck contractures secondary to previous surgery)

Management of a complicated lower genitourinary tract infection

Requirement for long-term urinary diversion (eg, because of neurogenic bladder)
Acute urinary retention without urethral catheterization
For a patient who is difficult to catheterize transurethrally, various steps are suggested before suprapubic cystostomy is performed (see the image below). [1]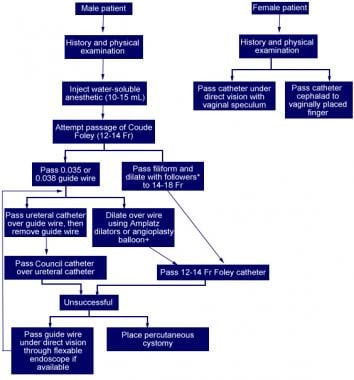 Algorithm for managing difficult-to-catheterize patient. Arrows indicate next reasonable step; horizontal lines indicate that either option is reasonable.
Failure to pass a urethral catheter may result from a false passage created by multiple attempts at urethral catheterization or from urethral stricture disease. After a reasonable attempt at catheterization has been made, including use of a coudé catheter, and if a urologist is not available to perform a flexible cystoscopy with potential catheter placement over a wire, a suprapubic cystostomy is reasonable.
Urethral trauma
In the setting of urethral trauma, functional bypass of the urethra may be required because of the possibility of urethral disruption. Urethral disruption is usually associated with pelvic fractures or saddle-type injuries and should be suspected when the triad of (1) blood at the urethral meatus, (2) inability to urinate, and (3) a palpably distended bladder is observed. The urethral injury should be addressed by a urologist; however, a suprapubic cystostomy may be a valuable measure for emergency drainage of the bladder.
Complicated lower genitourinary infection
In a complicated infection of the lower genitourinary tract with associated urinary retention (eg, acute bacterial prostatitis), bladder drainage with suprapubic cystostomy should be considered.
Another indication for suprapubic catheter placement is Fournier's gangrene, which often necessitates multiple genitourinary debridement procedures and, potentially, skin grafting. If a urethral catheter impedes wound care and surgical management of this complicated, dangerous disease, consider a suprapubic cystostomy to divert urine from these surgical sites.
Long-term urinary diversion
Suprapubic catheterization may also be considered as an option in patients who require long-term urinary diversion. The British Association of Urological Surgeons issued practice guidelines suggesting that clinicians should consider whether a suprapubic catheter would be preferable to an urethral catheter for patients who require a long-term indwelling catheter. [2]
A suprapubic catheter may be considered in patients with neurogenic bladder secondary to spinal cord injuries, stroke, multiple sclerosis, neuropathy, or detrusor sphincter dyssynergia who are unable to void and who are unable or unwilling to perform clean intermittent catheterization. [3, 2]
Patients who undergo phallic reconstruction or fistula repair [1] may also require longer-term urinary diversion. In a retrospective study that included more than 10 years of follow-up data from 179 predominantly male patients with spinal cord injuries, similar rates of urinary tract infections, bladder and renal calculi, and renal function preservation were reported for those managed with urethral catheters and those managed with suprapubic catheters. [4]
In this study, [4] urethral strictures, urethral fistulas, and scrotal abscesses were found only in the urethral catheter group; 3 patients with urethral strictures and 3 patients with urethral-cutaneous fistulas switched to suprapubic catheters as a result of these complications. Catheter-specific complications included erosion associated with urethral catheters and leakage around the suprapubic catheter site and from the urethra.
Contraindications
Percutaneous suprapubic cystostomy is absolutely contraindicated in the following circumstances:
The bladder is not distended, is not easily palpable, or cannot be localized with ultrasonographic assistance

The patient has a history of bladder cancer
Relative contraindications include the following:
Previous lower abdominal or pelvic surgery (because of the possibility of adhesions between the bowel and the bladder)

Pelvic cancer, with or without a history of irradiation (because of the possibility of adhesions)

Placement of orthopedic hardware for pelvic fracture repair – Although some reports suggest that suprapubic tubes leading to infection of hardware is a relatively rare complication, [5] consult with the orthopedist before performing suprapubic catheterization in patients with hardware
If percutaneous placement is contraindicated and an open surgical approach to suprapubic cystostomy is necessary to provide appropriate dissection through adhesions, avoid bowel injury, and achieve effective hemostasis, this would probably have to be done by a general surgeon or urologist in an operative setting. [3]
Technical Considerations
Procedural planning
There are 2 key issues that must be kept in mind when placement of a suprapubic cystostomy is being considered. The first issue is whether the patient's bladder can be sufficiently well drained with a urethral catheter. If this is the case, urethral catheterization may be a more appropriate choice because it is often easier and is associated with less short-term morbidity, especially in women and men who develop acute urinary retention and may regain the ability to void with straightforward medical management (eg, alpha-blocker therapy).
On the other hand, suprapubic cystostomy may be preferable to urethral catheterization when the catheter is needed for long-term bladder management, as in patients with neurogenic bladders. For instance, male patients with suprapubic cystostomies have a decreased incidence of traumatic hypospadias and a reduced risk of urinary tract infection, prostatitis, urethritis, and epididymitis. Male patients also retain sexual function. Female patients have a decreased incidence of urinary tract infection and can avoid development of a patulous urethra.
If the procedure can be planned in advance, referring the patient to a urologist for an informed discussion of elective procedures might be best. In those emergent situations where the patient is unable to empty his or her bladder and a urethral catheter cannot be placed, suprapubic cystostomy is a viable option.
The second issue is selecting the method that will be used to place the suprapubic cystostomy. As noted (see Background), either an open approach or a percutaneous approach to suprapubic catheterization may be taken. Most individuals with training in general surgery or urology find the open procedure straightforward. Most other physicians prefer a percutaneously placed suprapubic cystostomy, which can be performed by means of 5 different methods (see Technique). Unfortunately, the percutaneous option is not always a safe possibility.
Complication Prevention
Regardless of how a suprapubic cystostomy is placed, it is always advisable to distend the bladder during localization of the surgical site. This affords the physician the best opportunity to find the bladder quickly and avoid bowel injury.
In urgent circumstances, when the urethra cannot be cannulated and the bladder must be decompressed, the bladder is probably already distended with urine. This can be observed on physical examination. Otherwise, if the urethra can be cannulated with a Foley catheter or a flexible cystoscope, the bladder can be distended with normal saline. To prevent gram-negative bacteremia, an appropriate preprocedural intravenous gram-negative antibiotic should be administered before instrumentation of the genitourinary tract. [3]
Outcomes
A study by Lavelle et al indicated that suprapubic catheterization improves the urologic quality of life in patients with neurogenic bladder. Only 3 of 58 patients (5.2%) who responded to the Patient Global Impression of Improvement (PGI-I) questionnaire reported a negative score, with more than 80% reporting a better quality of life (mean time of 48.3 mo between catheter placement and questionnaire). [6]
What would you like to print?