Treatment
Medical Care
In general, strict medical management currently has no role in benign small-bowel tumors. Patients with suggestive abdominal pain, particularly if associated with evidence of anemia or intermittent obstruction, should be referred for surgical evaluation and management. Asymptomatic evidence of small-bowel mass, stricture, or intermittent obstruction discovered on incidental radiographs should be referred for surgical evaluation. [41]
Surgical Care
Surgical excision remains the recommended therapy for benign small-bowel tumors. Exploratory laparotomy with excision of the lesion provides the safest and most direct method for lesion identification and treatment. Tumors discovered incidentally at laparotomy should be removed to prevent future symptom development and secondary complications.
Both segmental resection and enterotomy/polypectomy have been used for lesion removal. If the pathology cannot be established at the time of resection, full segmental resection with adequate margins is recommended. (See the image below.) The literature confirms an excellent prognosis for tumors resected prior to tumor perforation or onset of massive gastrointestinal (GI) hemorrhage. Laparoscopic, endoscopic, and robotic-assisted approaches have been described. [42, 43, 44, 45, 46, 47, 48]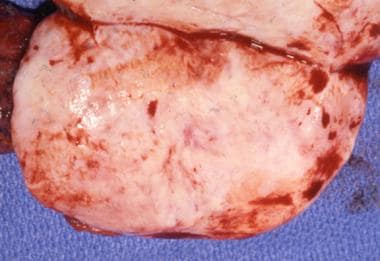 Benign neoplasm of the small intestine. Cross section of a gross ependymal small bowel stromal tumor after removal. Mixed stromal elements and a high degree of cellularity are apparent.
Complications
Surgical complications for small-bowel tumor resection should be minimal and limited to the technical aspects of the operation. Intraoperative bleeding, wound infections, anastomotic leakage, and failure to localize the tumor at the time of operation have all been reported.
Postoperative complications include ileus, incisional hernia, and delayed small-bowel obstruction from adhesions. Given the limited amount of bowel commonly resected for these rare tumors, short-bowel syndrome typically is not a concern.
Activity
Activity is generally as tolerated for the patient. If the patient requires operative exploration for a benign small-bowel tumor, the postoperative activity regimen should follow the recommendation of the operating surgeon.
Consultations
Consultations with either gastroenterology or general surgery may be helpful when abdominal pain of unknown origin or suspicion of small-bowel pathology exists so that the patient may benefit from full endoscopy, capsule endoscopy, or intraoperative push enteroscopy. [49]
What would you like to print?