Workup
Laboratory Studies
Results from routine laboratory testing do not reveal abnormalities in most patients with small-bowel tumors. Microcytic anemia may be observed in conjunction with vascular or ulcerated bleeding lesions. Electrolyte abnormalities are not commonly identified in patients with small-bowel tumors.
Imaging Studies
Radiography
Findings from plain films of the abdomen are frequently normal. Larger lesions may demonstrate signs of complete or partial small-bowel obstruction (eg, dilated small bowel, air-fluid levels, volvulus).
Barium contrast studies (eg, upper gastrointestinal [GI] series, small-bowel enteroclysis) are the most frequently used diagnostic tools.
Images from upper GI series may demonstrate the lesion in as many as 29% of cases. The radiographic appearance on upper GI series includes the following:
Irregular mucosal surfaces

Extraluminal barium-filled cavities (showing central lesion necrosis)

Dumbbell-shaped lesions (indicating intraluminal and extraluminal growth)
Barium enema helps identify distal ileal lesions with successful reflux of contrast through the ileocecal valve. [29]
Selective arteriography may be used to aid in the diagnosis of possible vascular lesions and potential embolization of active bleeding. Both subserosal tumors and hemangiomas may be identified by a characteristic tumor blush visualized on arteriograms. Additional clues include multiple feeding arteries, irregular draining veins, and venous pooling around the lesion.
Arteriography may assist in differentiating malignant lesions from benign lesions. Benign tumors frequently receive arterial supply from either the gastroduodenal artery or the superior mesenteric artery. Malignant lesions often demonstrate aberrant arterial inflow from renal arteries, lumbar arteries, or both. (See the image below.)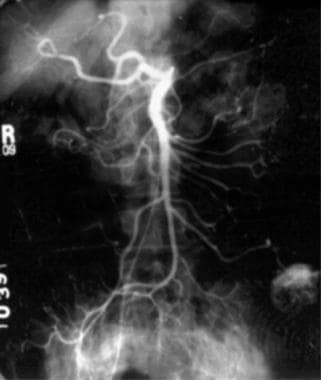 Benign neoplasm of the small intestine. Arteriogram demonstrating small bowel gut stromal tumor, indicated by round tumor blush in lower right corner of the image.
Computed tomography
In reports, computed tomography (CT) scans of the abdomen have demonstrated as many as 27% of benign small-bowel tumors. Gastrointestinal stromal tumors (GISTs) larger than 2 cm are frequently imaged successfully by using CT. Accurate size, evidence of ulceration, and lesion necrosis are often detected. Multidetector CT (MDCT) may be particularly useful for diagnosis and staging of small-bowel neoplasms. [30]
Bowel-wall thickening noted on abdominal CT may be caused by neoplastic, inflammatory, infectious, or ischemic conditions but may also be a normal variant. Conventional or capsule endoscopy may be considered in this setting. [31]
Ultrasonography
Ultrasonographic (US) images of the abdomen may demonstrate larger tumors (>4 cm) and can help differentiate intraluminal, intramural, and extraluminal growth patterns. [32]
Magnetic resonance imaging
Magnetic resonance enterography (MRE) is receiving increased attention as a potential means of assessing small-bowel tumor. [33]
Endoscopy
Upper endoscopy/intraoperative enteroscopy
Upper endoscopy has been used successfully in the detection of proximal benign small-bowel lesions in 12-30% of reported cases. For more distal small-bowel lesions, intraoperative enteroscopy is an effective technique that allows simultaneous palpation and visualization of the small bowel in its entirety to increase the possibility of lesion identification. [34, 35]
Endoscopy allows concomitant biopsy of intraluminal lesions. [36] Polypectomy may also be performed for small lesions.
GISTs and lipomas frequently cannot be removed via endoscopy because of their deep intramural location and the subsequent elevated risk of bowel perforation during attempted removal. In addition, some authorities caution against endoscopic lesion biopsy because of the increased risk of shedding cells, which could lead to nests of local tumor recurrence. (See the image below.)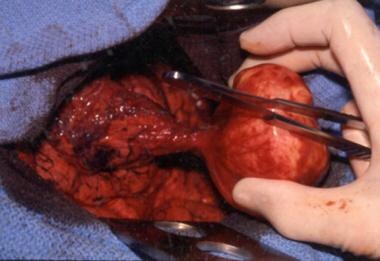 Benign neoplasm of the small intestine. Intraoperative view of an ependymal small bowel stromal tumor. Notice the narrow lesion stalk and high degree of vascularity.
Capsule endoscopy
Capsule endoscopy has been successfully used to detect small-bowel lesions that have previously remained undiagnosed by other methods. [23, 37, 38, 39, 40] Both color video images and transit time values can be analyzed for regional mucosal abnormalities.
Solid benign tumors, such as leiomyomas, as well as vascular lesions (eg, angiodysplasia and varices), have been identified in patients through the use of capsule endoscopy.
What would you like to print?