Overview
Overview
Background
Bullectomy is the surgical removal of a bulla, which is a dilated air space in the lung parenchyma measuring more than 1 cm. [1] The term giant bulla is used if the bulla occupies more than 30% of the hemithorax. The most common cause of lung bulla is chronic obstructive pulmonary disease. Other conditions associated with lung bullae are alpha-1 antitrypsin deficiency, Marfan syndrome, Ehler-Danlos syndrome, cocaine smoking, sarcoidosis, HIV infection, and intravenous drug abuse.
Bullae increase physiological dead space and compress surrounding normal lung tissue. Giant bulla also exert pressure on the diaphragm and effect its contractility. The natural history of bullae is enlargement causing worsening of dyspnea; the rate of expansion, however, is unpredictable. The clinical course of a giant bulla can be complicated by a pneumothorax and fluid accumulation within the bulla. [2]
Indications
Patient selection is one of the most important aspects of successful bullectomy. [1] The most common indications for bullectomy include the following [3, 4, 5] :
Severe dyspnea due to giant bulla (ie, 30% or more of the hemithorax)

Spontaneous secondary pneumothorax
Some authors also recommend surgery for bullae that are increasing in size on serial chest radiographs, as well as lesions occupying more than 50% of hemithorax, even if the patient is asymptomatic. [4, 5]
Contraindications
Contraindications to bullectomy include the following:
Significant comorbid disease

Poorly defined bullae on chest imaging
Forced expiratory volume in 1 second that is less than 35%, hypercapnia, cor pulmonale, and carbon monoxide diffusing capacity less than 40% are associated with an increased risk of surgical intervention. [6]
An increased risk of surgery exists with older age, but it is not a contraindication. [7]
Outcomes
Following bullectomy, expansion of surrounding healthy lung tissue and improvement in chest mechanics by remodeling of the thorax and diaphragm occurs. Symptomatic improvement (dyspnea, exercise capacity, need of oxygen) and functional improvement occurs. [8, 9, 10, 11, 12, 13, 14, 15]
The greatest benefit is seen in patients with large bullae accompanied by crowding of adjacent structures, upper lobe predominance, and minimum underlying emphysema. [16]
Preoperative bulla size is the most important determinant of improvement in ventilatory capacity after bullectomy. [17]
Maximum benefit is seen in the first year of surgery. The improvement in symptoms and lung parameters decline after few years of surgery but remains better than the presurgical period. [10, 11, 12, 15]
Pulmonary rehabilitation and smoking cessation are important in management of these patients. Decline of lung function after surgery is less in those patients who stopped smoking than in those who continue to smoke.
Periprocedural Care
Pre-Procedure Planning
Preoperative evaluation includes chest radiographs, computed tomography of the thorax, full pulmonary function test, and, for some patients, ventilation-perfusion scan and pulmonary angiography. [1, 14] Computed tomography scan provides detailed information of location, size, number of bullae, and adjacent lung, pleural, and mediastinal structures (see the image below).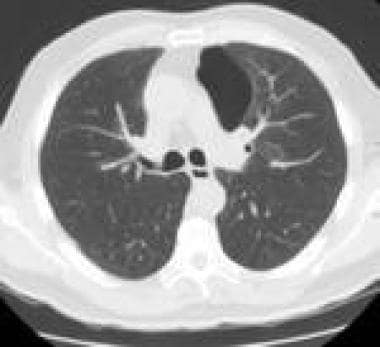 Computed tomography scan of chest showing bulla in left lung. Image courtesy of Richard Lazzaro, MD, New York Methodist Hospital.
Ventilation/perfusion lung scan provides a functional assessment of the vascular and parenchymal integrity of the lung. Detailed cardiac evaluation is needed because many patients with chronic obstructive pulmonary disease (COPD) have associated heart disease. Medical therapy for the COPD should be optimized. Smoking cessation and outpatient pulmonary rehabilitation are usually done for all eligible patients preoperatively. [1]
Equipment
Equipment for bullectomy includes the following:
Double lumen endotracheal tube and bronchial blockers for anesthesia
Patient Preparation
Anesthesia
Patients with lung bullae are at increased risk of perioperative complications due to underlying chronic lung disease. Bullectomy is typically performed under general anesthesia with single
lung ventilation.
A double lumen endotracheal tube is used to provide single lung ventilation to the lung not being operated. If single lung ventilation cannot be achieved, low tidal volume ventilation during surgery and apneic oxygenation during stapling can be performed.
Close intraoperative monitoring should be done with pulse oximetry, capnography, and measurement of arterial and central venous pressure. [18]
Use of short-acting anesthetic agents is preferred to enable early extubation. [18] Inhalational agents may have unpredictable uptake and distribution due to the increased dead space. Use of nitrous oxide is avoided due to risk of bulla expansion.
Positioning
The patient is placed in the lateral decubitus position with the nonoperative site in the dependent position and operated side of lung unventilated.
Monitoring & Follow-up
Early extubation is the goal. Epidural analgesia and opioids are generally used for pain management in the postoperative period. [18] Epidural analgesia should be used liberally to provide regional pain control and minimize postoperative narcotics and respiratory suppression.
Early postoperative ambulation on the day of surgery is encouraged. Ambulating patients early is important because it drives CO 2 production, forcing the patient to ventilate and thereby mitigating postoperative atelectasis.
The chest tubes are left in the thoracic cavity until the air leak is resolved and the lung is fully expanded. Patients are monitored for hypoxia and hypercarbia. Chest radiographs are performed as needed for pneumothorax.
The patient should receive bronchodilators and prophylactic antibiotic coverage, along with deep venous thrombosis prophylaxis.
Complications
Careful patient selection is the cornerstone of minimizing patient mortality and morbidity.
The most common pulmonary complications are air leak, postoperative respiratory failure, pneumonia, bleeding, and atelectasis. The most common cardiac complications are arryhthmia and myocardial infarction. Other complications include deep venous thrombosis, pulmonary embolism, wound infection, and pain at the incision site. [8, 10, 19, 14, 20]
In a series of 43 patients who underwent resection of giant bulla, prolonged air leak of more than 7 days was seen in 53%, atrial fibrillation in 12%, postoperative mechanical ventilation in 9%, and pneumonia in 5%. [10] Another study described prolonged air leak of more than 7 days in 46% and subcutaneous emphysema in 53% of patients undergoing video-assisted thoracic surgery. Better results are expected in patients without underlying diffuse emphysema. [16]
In a series of 41 patients, mortality within the first year was 7.3% and late mortality was 4.9%. [12] Causes of death include postoperative pneumonia, acute and chronic respiratory failure, pulmonary embolism, and myocardial infarction.
Some tenets of complication prevention are as follows:
Early extubation, which minimizes the duration of positive pressure ventilation and the risk of barotrauma associated with it [18]

Low intraoperative tidal volumes, which minimizes barotrauma to the nonoperative lung during surgery

Minimal intraoperative fluid resuscitation and postoperative fluids, which minimizes the risk of pulmonary edema and hypoxemia

Pulmonary toileting in early postoperative period
Technique
Approach Considerations
Careful patient selection is the key for good results.
Early extubation and appropriate invasive and noninvasive monitoring are needed.
Air leak can be reduced by minimizing the duration of positive pressure ventilation and application of a secure staple line with or without buttress material/fibrin sealants and creation of a pleural tent.
Chest tube connection to water seal/suction and monitoring for development or worsening of a pneumothorax is needed.
Postoperative pain control, bronchodilators, antibiotics, and pulmonary toileting are needed.
Choice of Approach
The choice of surgical technique depends on size and number of bullae to be removed.
The surgical approaches are video-assisted thoracic surgery (VATS) or open thoracotomy/sternotomy, with VATS being less invasive. [21, 22, 23, 24, 25]
When an open thoracotomy is performed, the anterolateral or posterolateral approach is generally used for unilateral and median sternotomy for bilateral disease. [14, 26] VATS is the preferred approach for patients with excessive risk for thoracotomy. [27] VATS also allows quicker recovery and is associated with less pain than thoracotomy and can be used for bilateral disease.
General Procedure
The objectives of concern for surgeon are the following:
How much of the lung adjacent to bulla to remove

The prevention of air leaks
A bulla with a broad stalk is managed with stapler excision or plication. If several bullae exist and it is hard to define healthy tissue, wedge resection is performed. If an entire lobe of lung is affected, lobectomy is done. See the images below.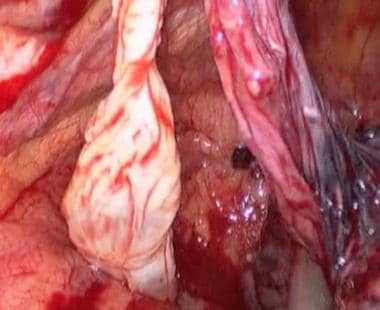 Flattened bulla. Image courtesy of Richard Lazzaro, MD, New York Methodist Hospital.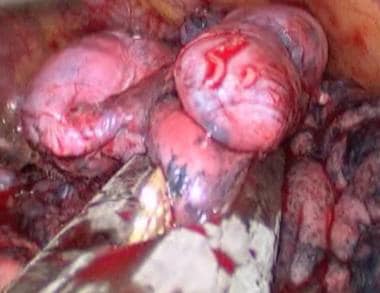 Surgical field showing multiple bullae. Image courtesy of Richard Lazzaro, MD, New York Methodist Hospital.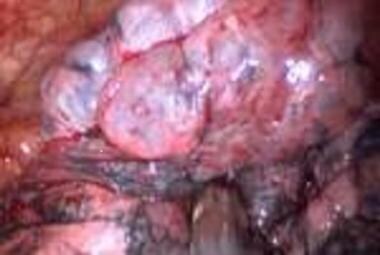 Surgical field showing bullae. Image courtesy of Richard Lazzaro, MD, New York Methodist Hospital.
The bulla is usually excised with a rim of normal lung parenchyma to avoid leaving open bronchioles. The various techniques include stapler excision, plication, or (less commonly) laser ablation. Additional small bullae and blebs in the residual lung are often excised.
Buttressing of the suture line to prevent an air leak can be done with exogenous material, fibrin sealant, or creation of apical postoperative pleural tent.
Bovine pericardial strips and other synthetic material (polytetrafluoroethylene) are used to buttress fragile lung tissue. Use of fibrin glue, cryoprecipitate, and even reinforcement by the wall of the bulla have been performed to reduce air leaks.
Another surgical technique is the creation of a pleural tent, which reduces the size of the pleural cavity and enables apposition between the sutured surface of lung and chest wall. This is done by dissecting parietal pleura from chest wall and tailoring it to make a tent for residual lung. [28, 29, 30, 5, 31, 19, 20]
After resection of bulla, the lung is examined for air leaks and bleeding. Gentle reexpansion of the residual lung is achieved to check how it fills the pleural cavity. One or two chest tubes are left in pleural cavity.
The management of drains and tubes is highly variable among surgeons. A retrospective analysis of 838 patients who underwent elective pulmonary resection found that chest tubes on water seal are safe for most patients with an air leak and a pneumothorax. Chest tubes were connected to the drainage system and then -20 cm H2 O of suction was added on the day of surgery. The chest tubes were then placed on water seal on the morning of postoperative day 1.
Chest radiographs were obtained daily. All tubes remained on water seal unless they failed water seal. For those who failed water seal (eg, development of new-onset hypoxia, enlarging pneumothorax, development of new-onset or enlarging subcutaneous emphysema), chest tubes were then placed to –10 cm H2 O of suction. If the problem continued after 24 hours, the tubes were then placed to –20 cm H2 O of suction.
What would you like to print?