Periprocedural Care
Preprocedural Planning
Preoperative evaluation includes chest radiography, computed tomography (CT) of the thorax, full pulmonary function testing, and, for some patients, ventilation-perfusion scanning and pulmonary angiography. [1, 15] CT provides detailed information on the location, size, and number of bullae, as well as on adjacent lung, pleural, and mediastinal structures (see the image below).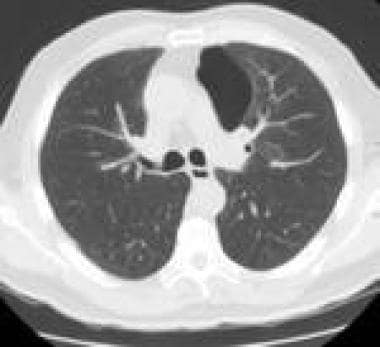 Computed tomography scan of chest showing bulla in left lung. Image courtesy of Richard Lazzaro, MD, New York Methodist Hospital.
Ventilation/perfusion lung scanning provides a functional assessment of the vascular and parenchymal integrity of the lung. Detailed cardiac evaluation is needed because many patients with chronic obstructive pulmonary disease (COPD) have associated heart disease. Medical therapy for COPD should be optimized. Smoking cessation and outpatient pulmonary rehabilitation are usually instituted for all eligible patients preoperatively. [1]
Equipment
Equipment for bullectomy includes the following:
Double-lumen endotracheal tube and bronchial blockers for anesthesia

Thoracoscope

Ports

Endoscopic stapler

Sponge-holding forceps

24-French chest tubes

Sealant material
Patient Preparation
Anesthesia
Patients with lung bullae are at increased risk for perioperative complications due to underlying chronic lung disease. Bullectomy is typically performed with general anesthesia with single-lung ventilation. A double-lumen endotracheal tube is used to provide single-lung ventilation to the lung not being operated on. If single-lung ventilation cannot be achieved, low–tidal volume ventilation during surgery and apneic oxygenation during stapling may be provided. Single-incision thoracoscopic surgery (SITS) with two-lung ventilation has been described. [19]
There has been increasing interest in nonintubated video-assisted thoracic surgery (VATS) with local anesthesia, and the application of this approach to bullectomy has been described. [20]
Close intraoperative monitoring should be done with pulse oximetry, capnography, and measurement of arterial and central venous pressure. [8]
Use of short-acting anesthetic agents is preferred to enable early extubation. [8] Inhalational agents may have unpredictable uptake and distribution as a consequence of the increased dead space. Use of nitrous oxide is avoided, because of the risk of bulla expansion.
Positioning
The patient is placed in the lateral decubitus position with the nonoperative site in the dependent position and the operated side of the lung unventilated.
What would you like to print?