Periprocedural Care
Preprocedural Planning
Occasionally, the patient is premedicated with atropine, glycopyrrolate, or scopolamine in an effort to reduce secretions. These medications are almost outdated.
Computed tomography (CT) of the chest is usually performed before bronchoscopy and is useful in predicting the yield of transbronchial biopsy on the basis of the anatomic distribution and appearance of any abnormalities. CT sometimes enables a specific diagnosis in the appropriate clinical context, particularly in patients with sarcoidosis, usual interstitial pneumonia, subacute hypersensitivity pneumonitis, acute eosinophilic pneumonia, Langerhans cell histiocytosis, or lymphangioleiomyomatosis. CT images should be reviewed by the bronchoscopist before the procedure; radiology reports alone cannot be relied upon.
Even when CT scans are nonspecific, peribronchovascular and central abnormalities are much more amenable to specific diagnosis by transbronchial biopsy than peripheral or nonsegmental disease is. Transbronchial biopsy is often diagnostic in patients in whom the CT findings are those of centrilobular nodules of ground-glass attenuation. [24]
Equipment
Transbronchial lung biopsy must be performed in a well-equipped room with facilities for monitoring blood pressure, oxygen saturation, heart rate, respiratory rate, and possibly end-tidal CO2. An adult-sized flexible bronchoscope, a light source, video monitoring equipment, a biopsy forceps (see the image below), specimen containers, equipment for cardiopulmonary resuscitation, a suction apparatus, and supplemental oxygen are necessary for performing transbronchial biopsy. Most important, a bag-valve mask must be easily available.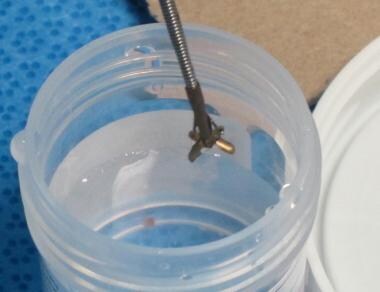 Transbronchial biopsy forceps.
There are three common types of biopsy forceps that may be used for the procedure, as follows:
Cup forceps

Toothed forceps

Forceps with an impaler needle
Biplane fluoroscopy equipment is necessary for accurate localization of the lesion (see the image below). These machines may be portable or fixed.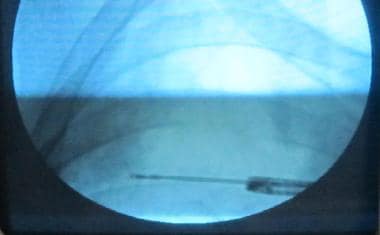 Fluoroscopic image of transbronchial biopsy forceps.
Patient Preparation
Transbronchial biopsy is usually performed with the patient in the supine position. Typically, topical anesthesia with lidocaine (2-4%) is applied directly to the nasal mucosa with an atomizer; alternatively, cotton-tipped applicators saturated with lidocaine can be applied to the nose. Lidocaine spray is used to anesthetize the oropharynx. Laryngeal anesthesia is accomplished by aerosolizing lidocaine with an ultrasonic nebulizer system.
The procedure is then carried out with the patient under conscious sedation induced by intravenous (IV) narcotics and benzodiazepines. Incremental dosing of sedatives is safe and facilitates the performance of transbronchial biopsy. Careful monitoring is required because both benzodiazepines and narcotics cause varying degrees of respiratory depression. General anesthesia may be required if rigid bronchoscopy is performed.
Midazolam is the benzodiazepine of choice for short-term sedation because it has the highest lipid solubility, the fastest onset of action (1-5 minutes), and the shortest duration of action (1-2 hours) of all the IV benzodiazepines. The loading dose is 0.02-0.1 mg/kg.
Fentanyl is the narcotic most frequently used for conscious sedation. It is 600 times more lipid-soluble than morphine and thus is more readily taken up into the central nervous system. Fentanyl causes fewer hemodynamic effects than morphine, has a quicker onset of action (1-2 minutes), and provides equivalent analgesia at a fraction (1/100) of the dose of morphine. The loading dose is 50-100 µg, and the duration of action is 30-60 minutes.
Propofol and dexmedetomidine are increasingly used.
What would you like to print?