Overview
Background
Surgical removal of the coccyx is the treatment for coccygodynia (defined as pain in the region of the coccyx) in cases where conservative treatment has failed. [1, 2, 3, 4, 5, 6, 7, 8] The initial treatment for coccygodynia (coccydynia) consists of rest, anti-inflammatory medications, use of a cushion, appropriate physiotherapy, and corticosteroid injection. Surgical excision is considered as a last resort for coccygodynia. [9]
The surgical procedure of coccygectomy is described in many textbooks of orthopedic and spinal surgery. Several studies have shown good to excellent outcomes in pain relief after coccygectomy. The procedure is performed as either a partial or a complete coccygectomy [10] ; however, a few studies found that partial coccygectomy has a higher incidence of surgical failure as compared with total coccygectomy. [11, 12] This procedure is not very commonly performed but can be efficiently conducted by orthopedic or spinal surgeons who have experience with it.
Indications
The etiology of coccygodynia is still not fully understood. However, the causes of coccygodynia and the indications for coccygectomy can be divided into two broad categories: local causes and factors from other regions. [13]
Local causes include the following:
Trauma

[14]

(fracture, fracture dislocations, and childbirth)

Congenital

Tumors

Degenerative

Psychosomatic

Unknown
Referring pain from the adjacent structures can also mimic coccygodynia. These factors should be ruled out before surgery is planned. Factors from other regions include the following:
Lumbosacral injuries

Episacral sarcoma

Disk herniation or painful degenerated disk

Pain from the sacrococcygeal joint
Contraindications
Contraindications for coccygectomy include the following:
Absence of organic pathology

Significant improvement with conservative treatment

Infection in local region
Technical Considerations
Anatomy
The coccyx is a dynamic and mobile structure as a consequence of its muscle attachments. It is more prominent in females than in males, a difference that has been suggested as a possible explanation for why coccygodynia is more common in females. [15] A clear understanding of the anatomy of the coccygeal region is important because the coccyx serves as an attachment for many important muscles and ligaments within the region. (See the image below.)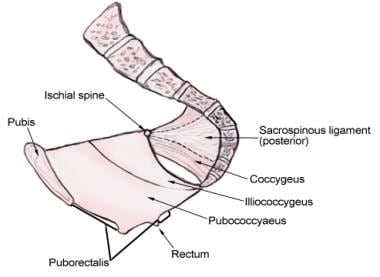 Transverse process of coccyx provides attachment to lateral sacrococcygeal ligaments.
Surgeons and patients should be mindful of the importance of these attachments when considering coccygectomy. For example, the levator ani and other pelvic floor muscles are attached anteriorly to the coccyx and prevent the sagging of pelvic contents. Attached to the coccyx is the sphincter ani externus, which is responsible for bowel continence (some authors have reported fecal incontinence occurring as a result of damage to this muscle during coccygectomy). The coccyx is attached superiorly to the sacrum by anterior and posterior coccygeal ligaments. The transverse process of the coccyx provides attachment to the lateral sacrococcygeal ligaments.
What would you like to print?