Technique
Guillotine Amputation at Ankle
The patient is placed supine on the operating table. A single dose of prophylactic antibiotic is administered if the patient is not already on a therapeutic antimicrobial regime. Prophylaxis against deep vein thrombosis must be considered, and mechanical and/or chemical modalities are initiated if indicated.
Any open ulcers on the foot are covered with a dressing soaked in povidone-iodine. The foot is then covered with an impervious stockinette, which is firmly secured to the foot with a bandage such as Coban. After the extremity is prepared with antiseptic solutions, the part of the leg from the knee to just below the malleoli is exposed in a sterile field, with the rest covered in sterile drapes.
A circumferential incision is made at the narrowest part of the ankle (see the image below), which is at the proximal malleoli. The incision is then carried through the skin and soft tissues to the bone. At this level in the leg, the musculotendinous units continue as tendons; therefore, the bleeding that occurs from transected muscle bellies in a higher-level amputation is not encountered. Nerves are severed with a scalpel and not crushed with scissors. The periosteum is not elevated or stripped.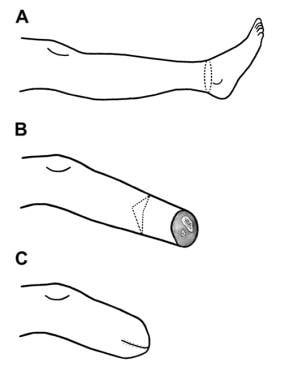 Guillotine amputation. Illustration shows level of cut (A), end of stump (B), and revision to below-knee amputation (C).
The distal tibia and fibula are then divided with a Gigli saw. Careful hemostasis of all vessels, including small vessels in the stump, is essential, lest later elevation of the blood pressure of a patient previously in shock cause bleeding from vessels that were not identified at operation.
The tourniquet is released, and once again hemostasis is checked. The wound is irrigated with saline. The end of the stump is covered with dry, fine-mesh gauze.
Postoperative Care
After the procedure, the patient is kept on bed rest and given systemic antibiotics if indicated. A definitive higher-level below-the-knee amputation is planned if, after 48 hours, the stump appears clean and the condition of the stump and the patient's general health are optimized. Alternative options for wound closure include application of vacuum therapy to encourage granulation tissue and wound closure by secondary intention or by application of wound traction.
Complications
Patients may experience phantom limb sensation (ie, the sensation that the amputated foot is still present). This phenomenon occurs in nearly all patients who undergo amputations; however, it tends to decrease gradually. Phantom limb pain is described as a painful, burning sensation. This can lead to direct nerve-end stimulation during dressing changes or motion.
Continuous pulsatile arterial stimulation of the nerve occurs when the neurovascular structures are ligated together. If the vascular ligatures come off, bleeding can occur postoperatively.
The open wound at the end of guillotine amputation allows free drainage, but if necrotic tissue is left behind, control of infection can prove difficult.
What would you like to print?