Overview
Background
After Cahan's first description of radical mediastinal lymphadenectomy in 1951, [1] complete mediastinal lymph node dissection for non-small cell lung cancer (NSCLC) remained a controversial procedure. The procedure was found to provide optimal staging for resectable NSCLC, but its therapeutic value continued to be debated. One study reported that only 57.3% of patients had any mediastinal nodes removed at the time of pulmonary resection. [2]
Accurate pretreatment staging of mediastinal lymph nodes in lung cancer is essential to determining prognosis and treatment because patients with involved mediastinal lymph nodes may not benefit from upfront surgical resection. Computed tomography (CT) and positron emission tomography (PET) lack both sensitivity and specificity for accurate lymph node staging. Transbronchial and esophageal needle aspiration provide specificity, but technical constraints hamper sensitivity.
Surgical mediastinoscopy is the pretherapeutic staging maneuver with the highest sensitivity and specificity, but it is dependent on the number of lymph nodes sampled and has technical limitations, especially for left-upper-lobe tumors. Additionally, the lymphatic system of the lungs has substantial anatomic variability, and skip metastasis can be found in 25% of cases. [3] Thus, a significant number of patients who undergo surgical resection of their lung cancer may harbor positive mediastinal lymph nodes.
A mediastinal lymphadenectomy may be performed to achieve complete staging (possibly to make postoperative treatment decisions), better locoregional control, and improved overall survival. Arguments against the procedure include increased operating time, possible increased morbidity, and lack of conclusive evidence to support an increased survival rate from the procedure.
The results of the American College of Surgeons Oncology Group (ACOSOG) Z0030 study suggested that complete mediastinal lymphadenectomy does not improve survival for early-stage NSCLC. However, in this trial, complete dissection was compared with rigorous systematic sampling. Thus, surgeons adhering to the highest standards of complete lung cancer staging should continue to perform thorough mediastinal lymph node sampling.
There is growing acceptance of video-assisted thoracoscopic surgery (VATS) in the surgical treatment of early-stage lung cancer. The difficulty in performing a mediastinal lymphadenectomy thoracoscopically may affect the continued use of this procedure. The statement made by Robert Ginsberg in 1997 remains true today: "The addition of mediastinal lymph node dissection produces the best possible surgical and pathologic staging of lymph node disease but has yet to be proven more efficacious as a curative procedure." [4]
Complete mediastinal lymphadenectomy will continue to be performed in medical centers demanding the most comprehensive information. This is justified by previous data demonstrating that the dissection can be performed with minimal time and no increase in morbidity and mortality.
For centers pursuing minimally invasive techniques, VATS mediastinal lymph node staging and video-assisted mediastinal lymphadenectomy (VAMLA) are clinically feasible procedures with accurately staging and acceptable complication rate. Academic medical centers with the infrastructure and experience will provide the data needed validate the application of noninvasive techniques to optimally stage and ultimately treat patients with NSCLC.
Transcervical extended mediastinal lymphadenectomy (TEMLA) is another approach that has been the subject of increasing interest. [5, 6]
Indications
Mediastinal lymphadenectomy is indicated for T1-3 N0-1 resectable NSCLC. Patients should be without evidence of mediastinal lymph node involvement as assessed by preoperative imaging (CT, PET, or both) and sampling by means of mediastinoscopy, a Chamberlain procedure, endoscopic ultrasonography (US), or a transbronchial technique.
Technical Considerations
A critical review of published literature on mediastinal lymphadenectomy requires an understanding of the described operative technique. Sampling refers to the technique of removing easily found and obviously abnormal mediastinal lymph nodes. Systematic sampling refers to the routine biopsy of lymph nodes at levels or stations as specified by the authors. Complete mediastinal lymph node dissection refers to the routine complete removal of all mediastinal tissue as described by the authors.
The classification of regional lymph node stations for lung cancer staging reported by Mountain and Dresler in 1997 describes the anatomic landmarks for 14 levels of intrapulmonary, hilar, and mediastinal lymph nodes stations. [7] The TNM classification for lung cancer [8] classifies lymph node stations into six zones, as follows:
Peripheral (levels 12-14) or hilar (levels 10-11) for N1 nodes

Upper (levels 1-4) or lower mediastinal (levels 8-9), aortopulmonary (levels 5-6), and subcarinal (level 7) for N2 nodes (see the image below)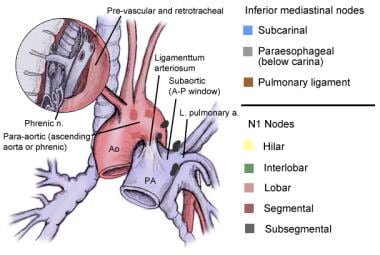 Regional lymph node stations.
N3 lymph nodes are contralateral mediastinal, ipsilateral scalene, or supraclavicular. Among the primary tumors that had only a single involved N2 station, the most common site of lymph node metastases was level 4R for right-upper-lobe tumors, levels 5/6 for left-upper-lobe tumors, and level 7 for middle- and lower-lobe tumors. [9]
Outcomes
Four published randomized trials compared mediastinal lymph node dissection and mediastinal lymph node sampling. [10, 11, 12, 13] A meta-analysis of the first three trials reported a survival advantage for stages I, II, and IIIA, and a fixed-effects model by the same group reported that mediastinal lymph node dissection reduced the risk of death. [14, 15]
In the multicenter, prospective, randomized ACOSOG Z0030 Trial, [13] median survival was 8.1 years for mediastinal lymph node sampling and 8.5 years for mediastinal lymph node dissections. The authors concluded that mediastinal lymph node dissection does not improve survival in patients with early-stage NSCLC, but results are not generalizable to patients staged radiographically or those with higher-stage tumors. Formal en-bloc mediastinal resection may still affect survival and certainly optimally stages patients who do not undergo rigorous preoperative (mediastinoscopy) and intraoperative (mediastinal lymph node sampling) procedures.
Call et al assessed the results of VAMLA for staging NSCLC in 160 cases, 138 of which involved clinical N0-1 cancers. [16] They found VAMLA to be highly accurate, with a sensitivity of 0.96 (95% confidence interval [CI], 0.81-99.3), a specificity of 1 (95% CI, 0.97-1), a positive predictive value of 1 (95% CI, 0.87-1), a negative predictive value of 0.99 (95% CI, 0.95-0.99), and a diagnostic accuracy of 0.99 (95% CI, 0.96-0.99). Complications developed in 5.9% of patients.
Wang et al retrospectively studied 712 consecutive cases of clinical N0-1 lung cancer (including 152 cases of pathologic N2 disease and 560 cases of pathologic N0-1 disease confirmed after surgery) to assess whether mediastinal lymphadenectomy compliant with National Comprehensive Cancer Network (NCCN) criteria (≥3 stations of N2 node dissection) improved oncologic outcomes in this group. [17] They found that such a lymphadenectomy was a significant prognostic factor for overall survival both in the cohort as a whole and the patients with pathologic N2 status; more extended N2 node dissection did not appear to improve outcome further in the latter.
What would you like to print?