Overview
Background
Gastroesophageal varices have been and continue to be a major source of morbidity and mortality among patients with portal hypertension. The reported 6-week mortality following each episode of variceal bleeding remains in the range of 15-20%. [1]
To understand the function that esophagogastric devascularization and transection (EDT) serves, an understanding of the underlying anatomy that results in esophagogastric varices must be understood. The coronary vein and gastric veins are connected to tributaries of the superior vena cava by collateral channels in the submucosa of the esophagus, between the two muscular layers, and in the periesophageal area (adventitial plexus). This represents a conduit between the portal and systemic system.
In portal hypertension, there is abnormal upward and increased flow through this system, creating large dilated venous varices. The goal of the esophagogastric devascularization procedures is to disconnect the esophagus and stomach from this collateral system while maintaining a portosystemic shunt in place via the adventitial plexus surrounding the esophagus.
Myriad nonshunting surgical techniques used to correct esophageal varices have been described in the literature.
Sugiura and Futagawa first introduced their technique of extensive gastroesophageal devascularization and transection for the treatment of esophageal varices in 1973. This technique involves paraesophagogastric devascularization with esophageal transection and splenectomy via thoracic and abdominal incisions. [2]
After the initial description in 1973, this technique was modified by Peracchia et al in 1980 to involve only a single abdominal incision and the use of circular stapling devices for esophageal transection. [3] This appears to be a variation of techniques described earlier.
In 1967, Hassab described esophagogastric devascularization via a single abdominal incision without esophageal transection. In 1974, Vankemmel first used a circular stapling device for performing esophageal transection.
This procedure continues to be modified in subtle ways by a multitude of surgeons. [4, 5] The goal of all these procedures is to treat variceal bleeding without the encephalopathy and liver failure associated with decompressive surgical shunts.
The approach chosen should be based on the experience and comfort level of the operating surgeon. Nonetheless, a pure abdominal approach is generally performed.
Indications
Currently, there are few indications for EDT in the Western Hemisphere for the treatment of esophageal varices in patients with cirrhosis. American Association for the Study of Liver Diseases (AASLD) practice guidelines have not included devascularization procedures in their recommendations in the acute or prophylactic setting. Recommendations include nonselective beta blockade with endoscopic ligation therapy for prophylaxis and episodes of rebleed.
If these therapies fail, transjugular intrahepatic portosystemic shunt (TIPS) [6] or selective shunt is considered. [7] The goal is a bridge to liver transplantation whenever possible.
EDT is rarely indicated in the emergency setting; the operative mortality is as high as 100% in Child C patients in some series. [8] However, EDT does have an emergency role when vascular anatomy is unsuitable for shunt procedures in patients with good liver function. Generally, these patients have extensive portal, splenic, and superior mesenteric vein thrombosis. [9] Even in an elective setting, EDT should be considered in a patient with cirrhosis in whom other treatment options have failed or who is not a candidate for alternative treatments. [10] (See the image below.)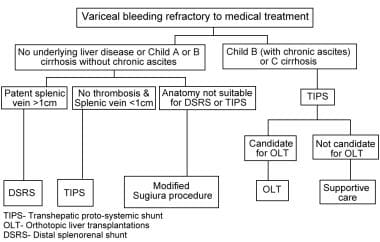 Management of patients with variceal bleeding refractory to medical treatment
There is a clear indication for EDT in combination with postoperative endoscopic treatment in patients with a hepatosplenic form of schistosomiasis causing portal hypertension. [11, 12, 13]
Contraindications
EDT is absolutely contraindicated in patients who are unstable or medically unfit to undergo a surgical procedure.
EDT is relatively contraindicated in Child C cirrhosis and when other treatment options for esophageal varices are not exhausted.
Technical Considerations
Best practices
EDT procedures should be performed only by specially trained surgeons who have previous experience with the procedure in a hospital equipped to handle complicated surgical intensive care unit (SICU) patients.
Procedural planning
In the elective setting, patients should undergo preoperative evaluation by a cardiologist and hepatologist. The patient should have hopefully developed a working relationship with his or her hepatologist prior to arriving at the decision to perform EDT. Such patients should be cross-matched, with packed red blood cells available. Platelets and fresh frozen plasma should be available. If the prothrombin time is elevated on preoperative testing, fresh frozen plasma may be infused prior to or at the start of the procedure.
Outcomes
Perioperative mortality figures vary among series and differ depending on whether the procedure is performed in the elective or emergency setting.
Sugiura and Futagawa published one of the largest series in 1984. A total of 363 elective and 104 emergency procedures were performed, with a perioperative mortality of 3% for the former and 13% for the latter. [14] These results were difficult to reproduce in the Western literature, where perioperative mortality for elective procedure was as high as 22%. [15] In one of the larger Western studies, published by Mathur et al, emergency EDT mortality was 28%. [16]
Subsequently, Qazi et al published outcomes on 142 consecutive patients in whom nonoperative management with endoscopic sclerotherapy failed, necesitating EDT in the emergency setting. Their outcomes were similar to those of Sugiura and Futagawa, with a perioperative mortality of 12.7%. In this study, 15-year survival rates were recorded on the basis of the Child-Pugh classification at the time of procedure. The survival rate was 44% in Child A patients, 22.5% in Child B patients, and 0% in Child C patients. [17]
In other series, the 5-year overall survival rate ranged from 58% to 93%. [10, 15, 18]
What would you like to print?