Technique
Clamping of Hepatic Pedicle
In the setting of trauma, when a surgeon enters the abdomen and is faced with significant hemorrhage, this maneuver should be used expeditiously. If a nasogastric tube is not already in position, it should be placed while exposure is obtained so as to decompress the stomach. The left lateral section of the liver, which includes segments II and III, should then be elevated. This allows visualization of the caudate lobe.
Division of the lesser omentum through the avascular plane between the caudate lobe/falciform junction of the liver and the lesser curvature of the stomach may then be accomplished. The foramen of Winslow may then be accessed by placing a finger directly on the caudate lobe and sweeping it to the right, thereby encircling the hepatoduodenal ligament/porta hepatis through the foramen of Winslow.
An alternative approach after division of the lesser omentum is from the lateral aspect, along the inferior border of the right hemiliver, cephalad to the pylorus, and through the epiploic foramen (of Winslow). An atraumatic vascular clamp should be applied at this location.
The Pringle maneuver is illustrated in the image below.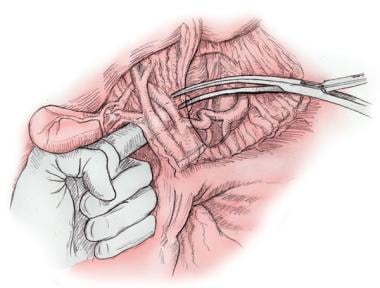 Pringle maneuver.
Modified forms of the maneuver that use tapes, tubes, or tourniquets have been described for use in laparoscopic and robot-assisted liver resection. [13, 14, 15, 16, 17, 18]
Complications
Ischemia and portal hypertension are complications that result from either prolonged clamping time during the Pringle maneuver or normal clamping time in patients with compromised liver function (eg, from cirrhosis).
To minimize the risk of ischemic injury to the liver parenchyma, especially in patients with already compromised liver function, the surgeon should intermittently clamp and release the portal inflow at 15- to 20-minute intervals. This "warm ischemia" minimizes the time for which the liver is without blood supply, thereby minimizing ischemia.
A prospective pilot study by Donadon et al suggested that giving N-acetylcysteine or methylprednisolone before the Pringle maneuver during liver resection yielded less postoperative aberration in liver function test results than placebo when the maneuver was maintained for longer than 70 minutes. [19] Further studies are required to determine what role pharmacologic modulation of ischemia-reperfusion injury may play when the Pringle maneuver is employed in liver surgery.
A study by Ueda et al evaluated the effectiveness of portal vein flow after the Pringle maneuver and the impact that massaging the hepatoduodenal ligament after the Pringle maneuver had on portal vein flow in 101 patients (divided into a massage group and a nonmassage group). [20] Portal vein flow after the Pringle maneuver was improved after massage of the hepatoduodenal ligament. After hepatectomy, serum prothrombin time was significantly higher and serum C-reactive protein was significantly lower in the massage group than in the nonmassage group.
Total vascular occlusion is accomplished by occluding the portal triad inflow and the infrahepatic and suprahepatic inferior vena cava. Total occlusion is associated with significant hemodynamic instability and spontaneous splenic rupture. [3]
What would you like to print?