Periprocedural Care
Equipment
A C-arm fluoroscopy unit is required to verify atrial catheter position.
If the Seldinger technique is used for vascular access, an appropriately sized vascular access kit is needed. The standard 2.4-mm shunt catheter will fit down a 10-French peelaway sheath.
Some surgeons recommend using an open-ended distal shunt catheter to allow for the positioning of a guide wire through the catheter during future replacement or revision. It is also recommended that the distal catheter have a radiopaque tip to aid visualization.
Portable ultrasonography (US) may be useful in identifying access vessel location.
Some authors promote the use of intraoperative transesophageal echocardiography (TEE). [6]
Patient Preparation
Anesthesia
As with other cerebrospinal fluid (CSF) shunt operations, general anesthesia is administered. The anesthetist must assume that intracranial pressure (ICP) may be elevated. Rapid-sequence intubation should be considered in patients with a recent history of nausea or vomiting. Situations that might increase the risk of elevated ICP, such as premedication with anxiolytics that may result in hypoventilation, should prompt caution.
Anesthetic considerations specific to ventriculoatrial shunts (VASs) include the increased risk of cardiac arrhythmias associated with placement of a wire or catheter into the cardiac atrium and the risk of venous air embolism that may occur if spontaneous ventilation is used.
All shunt operations carry with them a significant risk of surgical infection and the subsequent need for complicated treatment of such infections. Preoperative antibiotics, diligent adherence to aseptic technique, and other measures to minimize the risk of infection are essential.
Positioning
VASs are not commonly chosen as an initial CSF-shunting procedure. Accordingly, patient positioning is usually influenced by the location (side and cranial entry site) of the existing shunt system. In the case of initial shunt placement, the surgeon's selection of the most favorable site for ventricular catheter placement will dictate the patient's position.
In all cases, the patient is placed supine on an operating table that will allow anteroposterior (AP) fluoroscopy with minimal artifact. The shoulders should be appropriately bolstered to facilitate the subcutaneous passage of the shunt catheter and access to the prospective feeding vein. The surgeon should be prepared to access a second vein in the event that difficulty is encountered with the initial vessel. For example, the ipsilateral subclavicular region would be prepared in addition to the neck.
Monitoring & Follow-up
The authors' practice is to administer 24 hours of intravenous (IV) vancomycin to all patients who undergo surgery for a VAS. Pain is controlled with alternating acetaminophen and ibuprofen, ketorolac, or low doses of opiates for breakthrough pain.
A radiographic shunt series consisting of AP and lateral skull radiographs and an AP view of the chest is obtained in the recovery room. (See the images below.) Postoperative axial imaging, usually rapid T2-weighted magnetic resonance imaging (MRI) of the brain, is obtained between 1 and 4 weeks after surgery, depending on the surgeon's preference.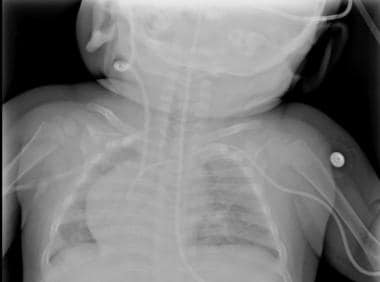 Ventriculoatrial shunt placement: Anteroposterior radiograph.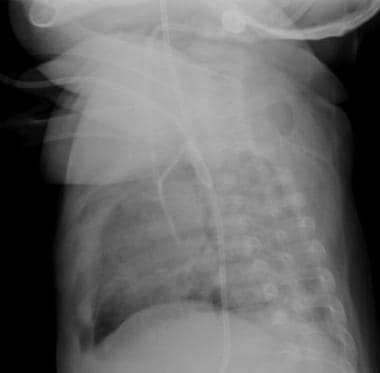 Ventriculoatrial shunt placement: Lateral radiograph.
In growing children, annual AP chest radiography is recommended to assess the level of the atrial catheter tip. If the tip is positioned above T4, revision or conversion to another distal site is recommended.
VASs can become secondarily infected from transient bacteremia. Antibiotic prophylaxis should be considered for dental and other invasive procedures.
What would you like to print?