Treatment
Approach Considerations
Therapeutic intervention is indicated for symptomatic patients. Symptoms usually involve recurrent episodes of anorectal sepsis. An abscess develops easily if the external opening on the perianal skin seals itself.
Crohn disease of the perineum with multiple and often complex fistulas requires careful surgical treatment. Acute perianal abscess requires incision and drainage. Definitive repair of fistulas in these patients requires that the intra-abdominal disease be under control with medical therapy. If the disease is controlled, routine therapy is warranted. Recurrent fistulous disease to the rectum and perineum with persistent anorectal sepsis is an indication for panproctocolectomy.
Studies have identified a role in Crohn disease for fistula therapy with infliximab, with 50-60% response rates for perianal fistulas. [19, 20] Adipose-derived stem-cell therapy is currently being studied for use in the treatment of Crohn fistula and other complex fistulas. [21, 22]
If patients are without symptoms and a fistula is found during a routine examination, no therapy is required.
Surgery for fistula-in-ano should not be performed for definitive repair of the fistula in the setting of anorectal abscess (unless the fistula is superficial and the tract is obvious). In the acute phase, simple incision and drainage of the abscess are sufficient. [23] Only 7-40% of patients will develop a fistula. Recurrent anal sepsis and fistula formation are twofold higher after an abscess in patients younger than 40 years and are almost threefold higher in nondiabetics.
Preoperative considerations include the following:
Rectal irrigation with enemas should be performed on the morning of the operation

Anesthesia can be general, local with intravenous (IV) sedation, or a regional block

Administer preoperative antibiotics

The prone jackknife position with buttocks apart is the most advantageous position
Intraoperative considerations include the following:
Examine the patient under anesthesia to confirm the extent of the fistula

Identifying the internal opening to prevent recurrence is imperative

A local anesthetic block at the end of the procedure provides postoperative analgesia
Guidelines for the management of fistula-in-ano have been published by the American Society of Colon and Rectal Surgeons (ASCRS). [24] (See Guidelines.)
Fistulotomy
The laying-open technique (fistulotomy) is useful for 85-95% of primary fistulas (ie, submucosal, intersphincteric, and low transsphincteric; see the image below). [24, 25, 26, 27]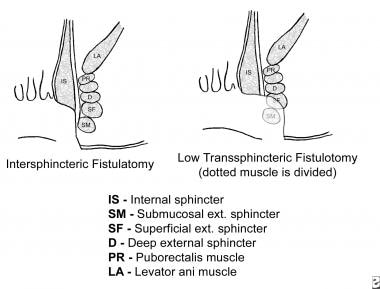 Schematic of intersphincteric and low transsphincteric fistulotomy.
A probe is passed into the tract through the external and internal openings. The overlying skin, subcutaneous tissue, and internal sphincter muscle are divided with a knife or electrocautery, and the entire fibrous tract is thereby opened.
At low levels in the anus, the internal sphincter and subcutaneous external sphincter can be divided at right angles to the underlying fibers without continence being affected. This is not the case if the fistulotomy is performed anteriorly in female patients. If the fistula tract courses higher into the sphincter mechanism, seton placement should be performed. Curettage is performed to remove granulation tissue in the tract base.
Opening the wound out on the perianal skin for 1-2 cm adjacent to the external opening with local excision of skin promotes internal healing before external closure. Some advocate marsupialization of the edges to improve healing times. Perform a biopsy on any firm, suggestive tissue.
Complete fistulectomy creates larger wounds that take longer to heal and offers no recurrence advantage over fistulotomy.
Seton Placement
A seton can be placed alone, combined with fistulotomy, or in a staged fashion. This technique is useful in patients with the following conditions [28, 29] :
Complex fistulas (ie, high transsphincteric, suprasphincteric, extrasphincteric) or multiple fistulas

Recurrent fistulas after previous fistulotomy

Anterior fistulas in female patients

Poor preoperative sphincter pressures

Patients with Crohn disease or patients who are immunosuppressed
Beyond giving a visual identification of the amount of sphincter muscle involved, the purposes of setons are to drain, to promote fibrosis, and to cut through the fistula. Setons can be made from large silk suture, silastic vessel markers, or rubber bands that are threaded through the fistula tract.
Single-stage seton (cutting)
Pass the seton through the fistula tract around the deep external sphincter after opening the skin, subcutaneous tissue, internal sphincter muscle, and subcutaneous external sphincter muscle. The seton is tightened down and secured with a separate silk tie.
With time, fibrosis occurs above the seton as it gradually cuts through the sphincter muscles and essentially exteriorizes the tract. The seton is tightened on subsequent office visits until it is pulled through over 6-8 weeks. A cutting seton can also be used without associated fistulotomy. (See the image below).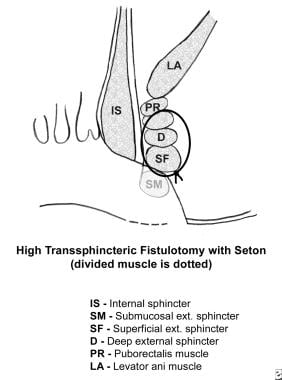 Schematic of high transsphincteric fistulotomy with seton.
Recurrence and incontinence are important factors to consider when this technique is employed. The success rates for cutting setons range from 82-100%; however, long-term incontinence rates can exceed 30%. [30, 31, 32]
Two-stage seton (draining/fibrosing)
Pass the seton around the deep portion of the external sphincter after opening the skin, subcutaneous tissue, internal sphincter muscle, and subcutaneous external sphincter muscle.
Unlike the cutting seton, the seton is left loose to drain the intersphincteric space and to promote fibrosis in the deep sphincter muscle. Once the superficial wound is healed completely (2-3 months later), the seton-bound sphincter muscle is divided.
Two studies (74 patients combined) supported the two-stage approach with a 0-nylon seton. Once wound healing is complete, the seton is removed without division of the remaining encircled deep external sphincter muscle. The researchers reported eradication of the fistula tract in 60-78% of cases.
Mucosal Advancement Flap
A mucosal advancement flap is reserved for use in patients with chronic high fistula but is indicated for the same disease process as seton use. [19, 33, 34] Advantages include a one-stage procedure with no additional sphincter damage. A disadvantage is poor success in patients with Crohn disease or acute infection.
This procedure involves total fistulectomy, with removal of the primary and secondary tracts and complete excision of the internal opening.
A rectal mucomuscular flap with a wide proximal base (two times the apex width) is raised. The internal muscle defect is closed with an absorbable suture, and the flap is sewn down over the internal opening so that its suture line does not overlap the muscular repair.
Plugs and Adhesives
Advances in biotechnology have led to the development of many new tissue adhesives and biomaterials formed as fistula plugs. By their less-invasive nature, these therapies lead to decreased postoperative morbidity and risk of incontinence, but long-term data are lacking for eradication of disease, especially in complex fistulas, which carry high recurrence rates. [35, 36, 34]
Reported series exist of fibrin glue treatment of fistula-in-ano, with 1-year follow-up showing recurrence rates approaching 40-80%. [37, 38, 39] The Surgisis fistula plug has also had mixed long-term results in direct clinical trials. [40, 41, 42]
Early success rates have been reported for newer materials, such as acellular dermal matrix and the bioabsorbable Gore Bio-A fistula plug, in low fistulas and good animal model data. [43] Assessment of long-term success rates with plug techniques for complex disease will be based on further data from randomized trials.
In a randomized, controlled study designed to evaluate the efficacy and safety of the anal fistula plug in patients with fistulizing anoperineal Crohn disease, Senéjoux et al did not find the plug to be superior to seton removal for achieving fistual closure, regardless of whether the fistula was simple or complex. [44]
A combined sphincter-sparing repair that includes both an anal fistula plug and a rectal advancement flap has been proposed for the treatment of transsphincteric fistula-in-ano. [45]
LIFT Procedure
Ligation of the intersphincteric fistula tract (LIFT) is a sphincter-sparing procedure for complex transsphincteric fistulas first described in 2007. It is performed by accessing the intersphincteric plane with the goal of performing a secure closure of the internal opening and by removing the infected cryptoglandular tissue. [46]
The intersphincteric tract is identified and isolated by performing meticulous dissection through the intersphincteric plane after making a small incision overlying the probe connecting the external and internal openings. Once isolated, the intersphincteric tract is hooked with a small right-angle clamp, and the tract is ligated close to the internal sphincter and then divided distal to the point of ligation. Hydrogen peroxide is injected through the external opening to confirm the division of the correct tract. The external opening and the remnant fistulous tract are curetted to the level of the proximity of the external sphincter complex.
Finally, the intersphincteric incision is loosely reapproximated with an absorbable suture. The curettaged wound is left opened for dressing. [46, 47, 48]
Because of its relative novelty, LIFT has not been extensively researched. In a randomized trial of 39 patients with complex fistula-in-ano who had failed previous procedures and were treated with LIFT technique, success rates were comparable to those seen with the anorectal advancement flap technique. [49] The probability of recurrence at 19 months was 8% for the LIFT technique versus 7% for the anorectal advancement flap. Time to return to work was shorter in the LIFT group (1 vs 2 wk), but there was no difference in incontinence scores. [49]
Further randomized surgical trials are needed to determine whether this technique is a viable—or, possibly, a better—alternative to the other previously mentioned procedures for the treatment of fistula-in-ano.
Diversion
In rare cases, the creation of a diverting stoma may be indicated to facilitate the treatment of a complex persistent fistula-in-ano. The most common indications include, but are not limited to, patients with perineal necrotizing fasciitis, severe anorectal Crohn disease, reoperative rectovaginal fistulas, and radiation-induced fistulas. Fecal diversion alone is effective in these select patients to control sepsis and symptoms; however, long-term success rates after reanastomosis are low because of recurrence from the underlying disease. Thus, this approach should be avoided unless the underlying fistula-in-ano disease process is repaired or has healed completely, which is unlikely.
Postoperative Care
After the operation, most patients can be treated in an ambulatory setting with discharge instructions and close follow-up care. Sitz baths, analgesics, and stool-bulking agents (eg, bran and psyllium products) are used in follow-up care.
Complications
Early postoperative complications may include the following:
Urinary retention

Bleeding

Fecal impaction

Thrombosed hemorrhoids
Delayed postoperative complications may include the following:
Recurrence

Incontinence (stool)

Anal stenosis - The healing process causes fibrosis of the anal canal; bulking agents for stool help to prevent narrowing

Delayed wound healing - Complete healing occurs by 12 weeks unless an underlying disease process is present (ie, recurrence, Crohn disease)
Postoperative rates of recurrence and incontinence vary according to the procedure performed, as follows:
Standard fistulotomy - The reported rate of recurrence is 0-18%, and the rate of any stool incontinence is 3-7%

Seton use - The reported rate of recurrence is 0-17%, and the rate of any incontinence of stool is 0-17%

Mucosal advancement flap - The reported rate of recurrence is 1-17%, and the rate of any incontinence of stool is 6-8%

[33]
Long-Term Monitoring
Frequent office visits within the first few weeks help to ensure proper healing and wound care.
It is important to ensure that the internal wound does not close prematurely, causing a recurrent fistula. Digital examination findings can help distinguish early fibrosis. Wound healing usually occurs within 6 weeks.
What would you like to print?