Workup
Laboratory Studies
General laboratory studies are not highly specific for gallbladder cancer.
In the later stages, liver function enzyme levels may be slightly elevated; these levels are generally not elevated in stages I and II. An elevated bilirubin or alkaline phosphatase (ALP) level generally indicates advanced or obstructive disease.
Elevated carbohydrate (cancer) antigen (CA) 19-9 is 79.4% sensitive and 79.5% specific for gallbladder cancer. Elevated carcinoembryonic antigen (CEA) is also associated with gallbladder cancer and is 93% specific and 50% sensitive. Serum D-dimer may be a potential biomarker for gallbladder cancer, especially in conjunction with CA 19-9. [15]
Ultrasonography
Ultrasonography (US) is a very useful tool in the workup of gallbladder cancer. Polypoid lesions must be at least 5 mm in size to be detected by US. Cholesterol polyps generally appear as pedunculated lesions attached to the gallbladder wall.
US findings that indicate possible malignancy or the need for further workup include the following:
Thick gallbladder wall (see the image below)

Vascular polyp

Mass projecting into the lumen or invading the wall

Multiple masses or a fixed mass in the gallbladder

Porcelain gallbladder

Extracholecystic mass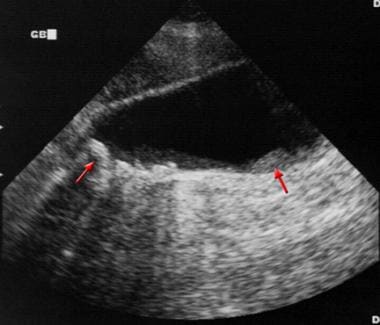 Sagittal ultrasonogram in a 71-year-old woman. This image demonstrates heterogeneous thickening of the gallbladder wall (arrows). The diagnosis was primary papillary adenocarcinoma of the gallbladder.
Invasion of the liver can also be seen on US.
Displacement of a stone to one side of the gallbladder is suggestive of possible malignancy.
Endoscopic US (EUS) with fine-needle aspiration (FNA) can be used to evaluate for peripancreatic and periportal lymphadenopathy.
CT, MRI, and PET
Computed tomography (CT) and magnetic resonance imaging (MRI) are useful in evaluating the extent of invasion and resectability of gallbladder tumors. CT results suggestive of gallbladder cancer include asymmetrical wall thickening or gallbladder mass, with or without invasion into the liver. CT of the chest, abdomen, and pelvis is a common staging modality that can determine the presence of distant metastases and give reliable information about involvement of other organs and vascular structures.
A porcelain gallbladder has been commonly associated with gallbladder cancer; however, studies have shown that the type of calcification is more important in determining the risk for malignancy. Selective mucosal calcifications carry an increased risk when compared to diffuse intramural wall calcification. (See the image below.)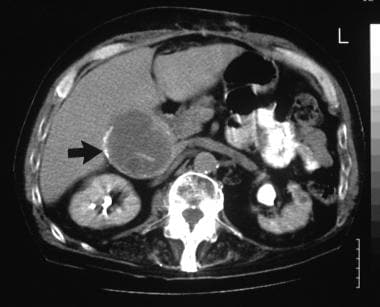 A transaxial enhanced computed tomography (CT) scan of a 60-year-old man with right upper quadrant pain shows a partially calcified gallbladder (arrow). At laparotomy and histology, an infiltrating adenocarcinoma of the gallbladder was confirmed.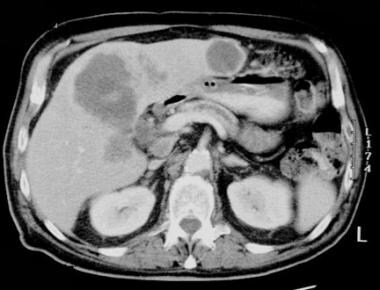 Computed tomography (CT) scan in a 65-year-old man. This image depicts squamous cell carcinoma of the gallbladder and invasion of the liver.
Positron emission tomography (PET) has a sensitivity of 75% and a specificity of 88% in gallbladder cancer but has not been used routinely in the preoperative staging or postoperative surveillance of the disease. [16, 17] Quantitative parameters of 18F-fluorodeoxyglucose (FDG) PET/CT, including metabolic tumor volume (MTV), have been found to be useful for the identification of patients with locally advanced and metastatic gallbladder cancer who have a poorer prognosis. [18]
Biopsy
Percutaneous CT-guided biopsy is avoided in patients whose tumors are considered resectable on the basis of preoperative imaging. Because of the substantial risk of peritoneal seeding, percutaneous biopsy and diagnostic cholecystectomy are not necessary in patients suspected of having gallbladder cancer. In these patients, exploration with curative intent is planned on the basis of preoperative imaging alone.
Percutaneous CT-guided biopsy is a useful diagnostic tool in patients who appear to have a nonresectable tumor. Tissue diagnosis is necessary for palliative treatment.
Histologic Findings
The vast majority of gallbladder cancers are adenocarcinomas. Papillary adenocarcinomas have a better prognosis, because they tend to be well-differentiated and less invasive. A number of other histologic subtypes have been described, but the prognostic implications are unknown. Some authors have described metaplastic and nonmetaplastic subtypes and have suggested that metaplastic tumors have a more favorable prognosis.
Unfortunately, most gallbladder cancers are poorly differentiated and present at an advanced stage; accordingly, the prognostic importance of histologic subtypes is limited.
Staging
Gallbladder tumors are commonly staged according to the tumor-node-metastasis (TNM) system of the American Joint Committee on Cancer (AJCC; see Tables 1 and 2 below). [19]
Table 1. AJCC TNM Classification of Gallbladder Tumors (Open Table in a new window)
| | |
| --- | --- |
| Tumor (T), Node (N), Metastasis (M) | Description |
| TX | Primary tumor cannot be assessed |
| T0 | No evidence of primary tumor |
| Tis | Carcinoma in situ |
| T1 | Tumor invades lamina propria (T1a) or muscle layer (T1b) |
| T2 | Tumor invades perimuscular connective tissue on peritoneal side, without involvement of serosa (visceral peritoneum) (T2a); or tumor invades perimuscular connective tissue on hepatic side, with no extension into liver (T2b) |
| T3 | Tumor perforates serosa (visceral peritoneum) and/or directly invades liver and/or 1 other adjacent organ or structure, such as stomach, duodenum, colon, pancreas, omentum, or extrahepatic bile ducts |
| T4 | Tumor invades main portal vein or hepatic artery or invades multiple extrahepatic organs or structures |
| NX | Regional lymph nodes cannot be assessed |
| N0 | No regional lymph node metastasis |
| N1 | Metastases to 1-3 regional lymph nodes |
| N2 | Metastases to ≥4 regional lymph nodes |
| MX | Distant metastasis cannot be assessed |
| M0 | No distant metastasis |
| M1 | Distant metastasis |
Table 2. AJCC Staging of Gallbladder Tumors According to TNM Classification (Open Table in a new window)
AJCC Stage

TNM

0

Tis, N0, M0

I

T1(a/b), N0, M0

IIA

T2a, N0, M0

IIB
T2b, N0, M0

IIIA

T3, N0, M0

IIIB

T1-3, N1, M0

IVA

T4, N0-1, M0

IVB

Any T, N2, M0

Any T, any N, M1
What would you like to print?