Workup
Laboratory Studies
Obtain a complete blood count (CBC). Check the hemoglobin and hematocrit to rule out the possibility of anemia. Obtain an electrolyte panel. As noted previously, identifying and correcting electrolyte abnormalities that tend to occur is essential. Liver function tests may be helpful, particularly when a malignant etiology is suspected. A test for H pylori is helpful when the diagnosis of peptic ulcer disease (PUD) is suspected.
Imaging Studies
Plain abdominal radiography, contrast upper gastrointestinal (GI) studies (Gastrografin or barium), and computed tomography (CT) with oral contrast are helpful. (See the images below.) Plain radiographs, including the obstruction series (ie, supine abdomen, upright abdomen, chest posteroanterior), can demonstrate the presence of gastric dilatation and may be helpful in distinguishing the differential diagnosis.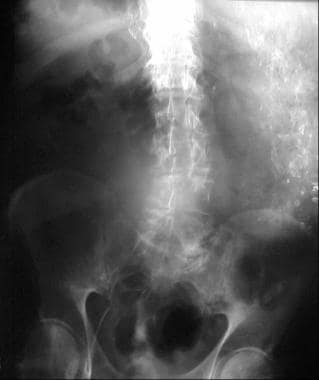 Plain radiograph of the abdomen. Enlarged stomach with calcified content.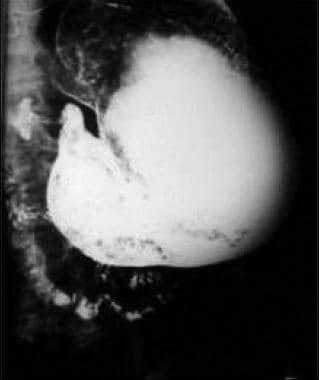 Contrast study demonstrating an enlarged stomach. The point of obstruction is visualized at the pyloric-duodenal junction (string sign).
Diagnostic Procedures
Upper endoscopy (see the image below) can help visualize the gastric outlet and may provide a tissue diagnosis when the obstruction is intraluminal.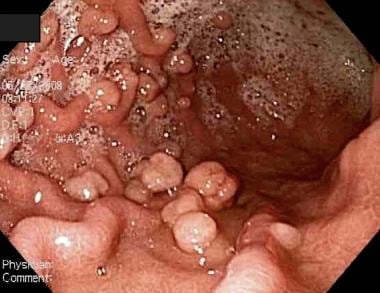 Upper endoscopy showing multiple gastric polyps. Such polyps are a major cause of gastric outlet obstruction.
The sodium chloride load test is a traditional clinical nonimaging study that may be helpful. The traditional sodium chloride load test is performed by infusing 750 mL of sodium chloride solution into the stomach via a nasogastric tube (NGT). A diagnosis of gastric outlet obstruction (GOO) is made if more than 400 mL remains in the stomach after 30 minutes.
Nuclear gastric emptying studies measure the passage of orally administered radionuclide over time. Unfortunately, both the nuclear test and the saline load test may produce abnormal results in functional states.
Barium upper GI studies are very helpful because they can delineate the gastric silhouette and demonstrate the site of obstruction. An enlarged stomach with a narrowing of the pyloric channel or first portion of the duodenum helps differentiate GOO from gastroparesis.
The specific cause may be identified as an ulcer mass or intrinsic tumor.
In the presence of PUD, perform endoscopic biopsy to rule out the presence of malignancy. In the case of peripancreatic malignancy, CT-guided biopsy may be helpful in establishing a preoperative diagnosis. Needle-guided biopsy also may be helpful in establishing the presence of metastatic disease. This knowledge may impact the magnitude of the procedure planned to alleviate the GOO. Histologic findings relate to the individual underlying cause.
What would you like to print?