Treatment
Approach Considerations
The presence of any solid mass lesion of the mesentery that is not thought to be a reactive lymph node or lymphoma is an indication for surgical removal. The inability to exclude malignancy definitively makes prolonged observation and repetitive studies an ill-advised management strategy.
In selected circumstances, biopsy is indicated to help confirm the diagnosis of certain lesions. For example, lymphoma might represent a likely diagnosis on the basis of radiologic findings. If no other more readily accessible tissues were available, it would be necessary to obtain mesenteric tissue to guide therapy.
A small simple cyst of the mesentery discovered incidentally can be observed. In the setting of interval enlargement, significant symptoms (generally pain), or evolution of symptoms, surgical excision is advisable for simple cysts as well. Complex cystic structures related to the omentum must prompt consideration of the possibility of a neoplastic process.
The use of laparoscopic methods to investigate and treat mesenteric masses is an evolving area of surgical care. In patients whose disease must be distinguished only from that requiring resection (ie, lymphoma, mesenteric lipodystrophy), laparoscopy offers a method of obtaining tissue for diagnostic purposes without subjecting the patient to a full laparotomy incision.
Medical Therapy
In general, effective medical treatment for neoplastic mesenteric masses is not available. Pain and other gastrointestinal complaints can be treated with analgesics and antiemetics, but these agents do not affect the underlying disease.
Mesenteric lymphoma is treated by cytotoxic chemotherapy. Mesenteric desmoid tumors reportedly respond to sulindac therapy, hormonal manipulation, and cytotoxic chemotherapy. [10, 21]
Surgical Therapy
In general, surgical treatment of benign mesenteric masses consists of local excision for smaller lesions and resection for bulkier tumors, provided that the blood supply to the gut is not jeopardized. Although the bowel can be preserved in most circumstances, resection can be quite treacherous, depending on the relationship of the lesion to larger branches of the superior mesenteric artery. Most cystic mesenteric lesions can be easily excised. Resection of small intestine is rarely indicated for this problem.
Approaches to different tumor types
Malignant mesenteric tumors
Surgical treatment is the only therapy of demonstrated benefit for these tumors. The goal of surgical treatment is removal of gross disease with a margin of normal tissue. This requires resection of any involved intestine, as well as any intestine robbed of mesenteric arterial blood supply by the dissection to remove the tumor. As in the treatment of intestinal stromal tumors or retroperitoneal sarcomas, operative management may involve en-bloc resection of other involved structures.
Mesenteric desmoid tumors
These are very difficult lesions to treat surgically. Surgical treatment may increase recurrence risk, because it has been observed that desmoid tumors generally occur after abdominal surgery. Surgical debulking may be dangerous and ultimately unsuccessful and is generally reserved for patients with intestinal obstruction. [10, 11]
Mesenteric lymphoma
In contrast to primary small-bowel lymphoma, for which surgical treatment may play a valuable role in selected cases, mesenteric lymphoma is best treated with combination chemotherapy. Although some cases are diagnosed after resection of an uncharacterized mesenteric mass, surgical treatment is best used as a diagnostic tool when the diagnosis is probable but uncertain. Laparoscopy may play an important role when procurement of tissue for diagnostic purposes is the operative goal.
Mesenteric carcinoid tumor
This pattern of disease is treated by surgically resecting the mesenteric masses. This procedure should be performed en bloc with any extant primary intestinal tumor. Resection of mesenteric disease should be accomplished without endangering the blood supply to normal bowel, except in the immediate area of the disease. A primary carcinoid tumor, which may be quite small and multicentric, is generally found in the resected intestinal specimen.
Castleman disease
Because this problem is nonneoplastic and generally localized, treatment consisting of resection of the lymph node mass has had good results. Successful treatment via a laparoscopic approach has been reported. [22]
Operative details
At exploration, the mass is generally found to be completely contained within the mesentery. In the case of liposarcoma, encasement of the bowel with fatty tumor tissue can occur (see the image below).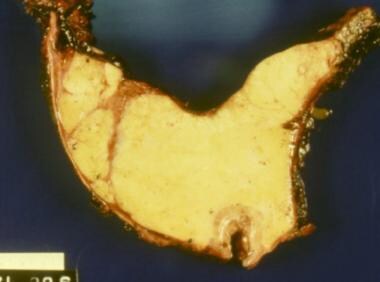 Resected mesenteric liposarcoma specimen. This firm, fatty mass replaced large-segment of small bowel mesentery and surrounded short segment of ileum (lower edge of specimen). Principal presenting problem was partial small-bowel obstruction.
The gross extent of the tumor must be carefully defined in order to obtain clear margins of resection. Definition of proximity to large mesenteric blood vessels is vital. Normal intestine should be preserved to the greatest extent possible while good oncologic surgical principles are still observed. If resection requires so much intestine to be removed that maintenance of nutrition cannot be expected, the patient's clinical situation (eg, age, general health) must be taken into consideration before the operation proceeds.
Complications
Complications of surgical treatment of mesenteric masses are not specific to the disease type, except when extensive resection of solid tumors may endanger the mesenteric blood supply or when extensive small-bowel resection is necessary to remove the disease. Although short-bowel syndrome is an infrequent occurrence in surgery involving the mesentery, appropriate precautions must be taken to prevent this condition, which can result from overresection or from inadvertent damage to the blood supply to otherwise normal bowel.
What would you like to print?