Workup
Imaging Studies
Abdominal computed tomography
Radiologic characterization of malignant mesenteric tumors generally requires computed tomography (CT), which can provide important information regarding size and involvement of adjacent structures, as well as some tissue characteristics of the tumor. [19] (See the image below.) The localization of a mass to mesentery is generally possible with this study. CT can also distinguish between solid and cystic masses and can identify hepatic metastases in the presence of advanced malignant disease.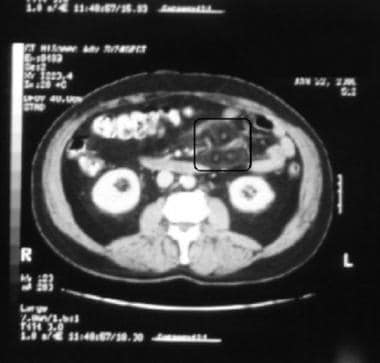 Computed tomography (CT) scan of mesenteric stromal tumor (circled area). Shown is infiltrative lesion surrounding vascular structures within proximal jejunal mesentery.
Abdominal CT can be strongly suggestive of the diagnosis of lipoma as opposed to other solid tumors, though liposarcoma cannot be completely excluded on the basis of appearance on CT. These lesions have the density of fat and may surround mesenteric vessels and lymph nodes. To some extent, tumor vascularity can also be characterized with the administration of intravenous contrast during imaging.
Magnetic resonance imaging
Magnetic resonance imaging (MRI) is sometimes used in conjunction with CT to help characterize mesenteric masses. It provides information similar to that provided by CT but can also define tissue characteristics (ie, fatty vs fibrous) with greater sensitivity. No studies have compared CT with MRI in the examination of mesenteric masses; however, MRI may be of great value, particularly in patients with mesenchymal tumors. Diffusion-weighted sequencing may improve detection of mesenteric small-bowel tumors in comparison with standard unenhanced MRI enterography. [20]
Arteriography
Arteriography is seldom used as a preoperative study in patients with mesenteric tumors unless there is a significant possibility that vascular involvement by the tumor may greatly complicate operative management. This procedure may define areas of mesenteric arterial blood supply that are compromised by tumor and may suggest the need for either extensive bowel resection with the mesenteric mass or arterial reconstruction.
Ultrasonography
The successful use of ultrasonography (US) to characterize mesenteric masses is well described. US is employed far less frequently in this setting than CT is, largely because of operator-dependent issues that can influence study consistency.
What would you like to print?