Workup
Angiography
Angiography is the criterion standard for determining diagnosis and treatment (see the image below). Digital subtraction angiography (DSA) provides high-resolution imaging of small arteries and allows percutaneous vascular intervention in the same setting. [15]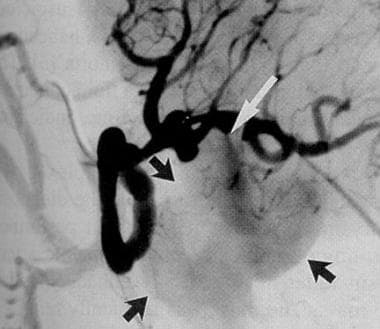 Splenic artery angiogram demonstrating contrast (white arrow) extravasating into a pseudoaneurysm (black arrow).
If the patient is hemodynamically stable, performing a preoperative angiogram helps to confirm the diagnosis. Angiography defines the character—unique or otherwise—of the lesion and allows therapeutic planning. Angiography greatly facilitates identification of the location and serves as a topographic guide to the pseudoaneurysm, thereby aiding in operative proximal and distal control of the bleeding vessel.
Preoperative angiography may constitute an opportunity to gain temporary control over the bleeding vessel by performing transcatheter embolization, thus providing a time window within which the surgeon can operate on a high-risk patient under optimum clinical conditions. [16]
CTA and MRA
Computed tomography (CT) angiography (CTA) has a sensitivity of up to 94.7% and a specificity of 90%. (See the image below.) [17]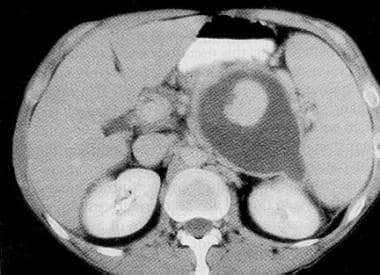 A CT scan with intravenous contrast enhancement (arrow) within a pancreatic pseudocyst indicating the presence of a pseudoaneurysm.
Magnetic resonance angiography (MRA) is highly sensitive and specific. Limitations of MRA include its long study time, limited availability, high cost, and restricted utility for patients with certain implantable devices and hardware.
What would you like to print?